The Lady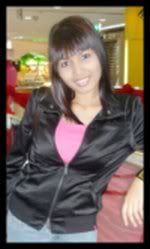 ♥Zura is the name♥
♥22-Dec-1987♥
♥A Wife & A Mummy♥


Her Love Ones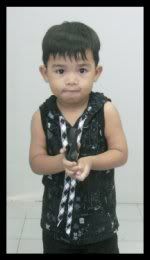 ♥Muhd Aniq Nufael♥
♥Born on 23/06/06♥
♥Son whom she loves dearly♥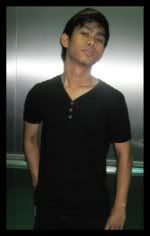 ♥Muhd Adam Firdaus♥
♥Blissfully married on 15/09/05♥
♥Hubby whom she is devoted to♥


Speak, don't bark.
Her Daily Reads
Tuesday, March 30, 2010 5:51 PM



Last weekend was e 1st time ever I woke up early, on both days! On Sat I woke up at 7am to get ready & off to Yuhua CC for the Pesta Budaya Yuhua 2010 show. We danced 2 items on that day so had to be there by 9am. 1st performance was at 4pm while the 2nd show was at 9pm. Im very proud of our 2nd performance, which is the main item for the day. We did really well, I must say. *smile*

Anyway, wana thank hubby for helpin me look after lil' boi on that day. N furthermore he was there since 3pm & waited till e whole event finished close to 11pm. Really appreciate him for supporting me in my passion. =)



The next mrn I was hoping I could wake up late to make up for the many late nights I had but then by 10am hubby woke me up to have breakfast at Arnold. I was very sleepy but at e same time very hungry as well so in the end forced myself up to get ready. We headed down to HG where I accompanied hubby to his job site awhile before off to Arnold to fill our tummys.

Later at noon received a msg from Faz sayin she just gave birth in e mrn so I told hubby y not we drop by to visit her in e afternoon since we'll b sendin my parents to BP. So yeah, at 4pluz went to SK to fetched my parents afterwhich to BP to drop them & off to NUH to visit Faz. Her dotter super adorable! Anywae we didnt stayed long since we've booked tixs for How to train your dragon as promised to lil' boi. So by 630pm rushed to CP to catch e movie which started at 705pm.

After e movie we shopped at Metro till closing time! Hahahah. Since we were hungry then decided to have supper at Al-Ameen therefore I called up Fyra to meet up as well. Finally get to meet that babe! It was nice to do some catching up. Since e next day is a workin day we made a move close to 12am.

I cant wait for this weekend coz we'll b goin to KL! 3 more days babey! Weeeeeee~


Friday, March 26, 2010 4:11 PM
T.G.I.F.
Tuesday, March 23, 2010 1:10 PM
HAPPY 45 MONTHS PRECIOUS!

3 more months to his big day. Me & hubby are still planning what we shall do for him. Well definitely not a bdae party. Mayb just a celebration with e close ones. Even so, that will prolly b on the weekend. On his day itself which is a weekday we might b taking leave to celebrate somewhere, mayb Sentosa agn like last yr? Shall see how.

Our motive is agn, simply for him to have fun. Anak manje wattttttttt. LOL!

Saturday, March 20, 2010 12:31 AM
Hubby surprised me with this gift for our wedding anniversary! Yes ppl, our anni'v is in Sept! Hahaha. And no, I didnt ask this from him. He got me this coz he knew I love takin pics.

Now, how can I not love this man of mine more & more! He pampers me just too much.

Thank you Love. =)

Thursday, March 18, 2010 3:40 PM
Year 2010 has been a great year for me so far. I know it's only March but that's e ting, just these 3 mths alone has given me lotsa fun memories to keep. Every weekend for sure we'll have tings to look forward to. In other werds, we've been goin out like nobody's business every week! Even hubby seldom werk durin e weekends now, just to spent time with me & our precious.

Not just that, another reason y I said 2010 has been great so far is becos Alhamdulilah, hubby has been gettin bonus almost every mth. No kiddin. N of coz, Im not bragging here. Just being thankful. Even he's puzzled as to y his co. is giving out bonus like, every mth! Haha. But well as e saying goes, "Rezeki jgn di tolak". =)

Im looking forward to more of 2010. Im sure tings r gettin better as days goes by. What more, we are planning for a 2nd baby (Insyallah) this yr. Yes ppl, this is confirm. Let's just hope by next yr, we'll b a family of 4.

Now, this is such a random post huh? *giggles*

Tuesday, March 16, 2010 4:02 PM



Last Saturday attended my primary sch reunion at Pasir Ris organized by 2 of my fellow classmate, Fiza & Fad. They decided to held this reunion upon contactin most of our mates in FB. They told us of this event like wat, 1 month before? Yeahh so logically speakin, if we do treasure our old mates, I guess everyone would make time to come down for this reunion, true? The reason y I said this is bcoz e num of ppl who showed up on that day was a dissapointment. Out of 30 who were invited, only 12 turned up. Pathetic huh.

For most of us, its been 10 years since we last met each other. I dun see y they cant make time to simply attend & re-unite? Wouldn't it be nice to have everyone to gather & simply talk abt e good ol' days, see how everyone changed & so on. Now from here we can see just how much ppl treasure frenship. No point sayin u miss so & so but when given e opportunity to re-unite, u simply go MIA.

Oh well, cant be bothered to say much. Nevertheless, despite e pathetic number that turned up, we had fun. Thnx agn to those 2 who planned this. =)




By the wae, last Sundae went to JB with e F&N clan as mentioned. Our motive? To watch V3 Samseng Jalanan! Haha. Very e semangat hor, we noe. Well since e show won't b aired in Spore we decided to go over instead. We all took a ride in Fandi's car. We left @ 1130am & managed to reached only at 130pm. Must be everyone's goin for a holiday durin this sch holidae. Anywae, e show was just O-K. We expected more actuali. I guess Remp-it was much more better. Don't ask me y. Go watch & see if u agree with me.

After movie we decided to have a game of bowling before dining at A&W. I was so excited as e last time I had A&W was back in my pri sch days ok! Haha. After dinner walked ard a while before makin a move back to Spore @ 9pm. Thank god goin home time e jam wazen that bad. Afterall, had fun with e clan. =)


Friday, March 12, 2010 1:37 PM
FINALLY ITS FRIDAYYYYYYYYY!!!!!!!!!!!

The weekend is here & Im super excited as plans have been made for both days. Tomorrow gona go for my BNPS reunion @ Pasir Ris. Cant wait to see e new faces of each & everydae of them! Been atlez 10years since I've last seen some of them thus e excitement. Understand understood hor. Hehe.

As for Sundae, gona go to JB with e F&N clan to catch V3 Samseng Jalanan! Last mth we were supposed to go to JB to catch e movie Adnan Sempit but missed it due to my passport not yet renewed then. This tym round Ive learnt my lesson & went to renew both mine & hubby's passport last week! Haha. Will be hopping on Fandi's ride. EXCITED BANGETTT!!!

Ok2, too much excitement in me liao. Better get goin now. Few more hrs to go before knock off tym. Enjoy ur weekend ppl!

Tuesday, March 9, 2010 11:30 AM
My colleague got transferred to another branch yesterday which made me really, really upset. Furthermore we didnt managed to have a proper goodbye since last week I was on MC & on leave for 3 days. The last I saw her was last monday, sad ryt. I know we are still in e same co. but stil its diff coz we wun b werkin together! Haizz.

Now Im all alone.. No one to crack jokes with me, no one that I can scold, no one to share a can of coke with, no one to help me take my usual Milo & Choc crakcers daily... Arrghhh! I miss her lor!!! =(

Saturday, March 6, 2010 11:20 PM



Its been more then a week since my last update. Dun worry, I didnt exactly vanished, just that Ive been busy with well, wat else but FB. Hehe. Im totally hooked on it now. I can even wake up in e wee hrs to go to e toilet & log in to FB awhile. Crazy I noe! Furthermore now Im using hubby's iPhone for a while. Mati laaa. Every half an hr log in to FB. Guess Im gona give back e phone to hubby soon else my bill's gona kill me, tk boleh tahan wor! LOL!

Basically, noting much for me to update. If any of u wana keep up with my life can add me up in FB. Sure u wun miss a ting abt me. Hehe. Oh, Ive got sumtin to share with u all. Ive finally gotten e permission from hubby to enrol for my bike license! Im super excited can?! Ive wanted this since I was 18. Since at that age I was oredi married to hubby he didnt allow me to do so. I noe he's worried but I reali want it so bad! Insyallah, my dream will be achieve soon. Thnx by for bein understandin. =)