The Lady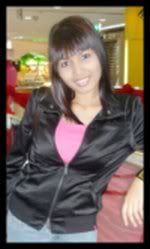 ♥Zura is the name♥
♥22-Dec-1987♥
♥A Wife & A Mummy♥


Her Love Ones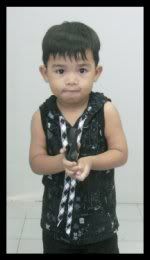 ♥Muhd Aniq Nufael♥
♥Born on 23/06/06♥
♥Son whom she loves dearly♥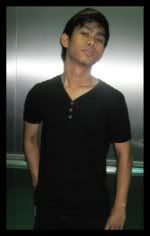 ♥Muhd Adam Firdaus♥
♥Blissfully married on 15/09/05♥
♥Hubby whom she is devoted to♥


Speak, don't bark.
Her Daily Reads
Saturday, August 30, 2008 3:38 PM



Hola! it's a sat afternoon & here i am at werk. yes, u read it ryt. i'm at werk nw. had to do OT from 2-6pm. early diz mrn went out at 10am together wif lil' boi as i need to send him to my mum since MIL werkin e afternoon shift. so we had breakfast at mac before tekin e mrt to CCK, changed to e lrt to B.P interchange before tekin e bus to my sis's houz. yeah troublesome i noe, sumore i didnt bring lil' boi's pram. but a gd ting he was well behaved & didnt even asked to b carried. so ok la kn. reached my sis's hous exactly at 12pm. lukin at afiq & aniq playin ard together cute seh. both calling each oder abg adeq. hehh. i left at 1pm & took a cab to werk. it cost me freakin $17. but lucky can claim so ok la.

Yest nyt followed hubby to play street soccer at hg. ajan & hilmi tagged along since doz 2 boys luv playin soccer as well. n later tonyt we gona go to east coast as usual for soccer again. but im nt so sure whether i wana tag along diz tym round since lil' boi is down wif flu. hmm wil c hw. had asked hubby to fetch me from werk later so dat we can strait awae fetch lil' boi home as well. i reali hope his flu wil go awae by todae as we had planned to bring him go swimmin tomoro. if nt den i guez we gotta cancel e plan again til i-dno-when since puase is juz next week.

I noe i had promised pixies for diz entry but since i didnt bring my cable along, it gotta wait til tonyt i gues. but 1 ting for sure, expect lotsa pixies update!!

Thursday, August 28, 2008 8:17 AM



Weehuuu...im nw at werk. early huh. i reached at 740am ok. well had to do OT ler. n prolly after werk as well. but itz ok, i kinda lyk doin OT. muai noh..haha. aniwae, laz tues gues wt tym e client ended deir mitin? close to 8pm. lucky nt dat late. n since itz after 730pm, i managed to claim cab back hm. which is a gd ting coz i was simply too tired dat dae. so yeah, reached hm ard 8pluz & lil' boi was waitin for me at e door. hw swit. hehh. hubby reached hm abt 15mins after me. after he washed up he came to me smilin cheekily. from der i knew he did sumtin which he haven told me. which is true. he eventually told me that he sold his sparks for KR. sot je telinge dgr. i super luv his sparks lor. but wt to do, itz his passion. n he's payin for it so wt can i sae ryt. hweva he promised me wif e new KR he wil b able to fetched me from werk since he purchased an IU unit as well. coz for his sparks, derz no IU unit thus datz y he cant fetched me. but wel, we'll c la eh. dektu tu kadang bunyi je lebeh. kwang3

Yest i had toothache agn. n it was freakin painful lor. coz it sumhw affected my left eye. so everytym i blink it'll hurt. it made my eye kinda heavy thus made me wana slip u noe. i reached hm ard 7pluz laz nyt & after havin my dinner i played ard wif lil' boi for a while before hittin e sack at 9pluz. i was juz soo0o slipy. even hubby fell aslip as wel together wif lil' boi. derfore lyn & nana, sowie i cuden join u gerls. next tym k, soon!

Weekend is juz ard e corner. i reali hope it wun rain coz i had promised lil' boi to bring him go swimmin since e laz 2 weeks. next week is oredi e fastin mth so for sure we wun be able to bring him go. so plz3, let it b sunny diz weekend. also, hopefully we cud mek tym to visit Is dotter. we stil haven got e chance to go since his wife gave birth. hmm cum fastin mth i guez i wana juz stay at hm every week. dun wana waste money goin out every week. we gotta start savin up for our holidae cum oct. also nid to get lil' boi passport done. bliv it or not, itz stil nt done yet til nw. hehh.

Ok i'll end here for nw. til my next update ya. wif pics hopefully. diz blog of mine is gettin dull wifout pixies dun u tink so? so next entry, pixies tym. dhaa!

Tuesday, August 26, 2008 7:19 PM



It's 7.01pm nw & im still here in ofiz. an external client extended deir meeting thus i had to stay back do OT. nt sure til wt tym. yest sunny did e OT & wen i asked him diz mrn wt tym dey ended yest, he said 10pm. wahh, todae if e same mati liao. hubby is stil werkin as well thus lil' boi is at hm wif BIL & FIL. juz hope hubby gets to knock off earlier since dat lil' boi of mine, if by 7pluz either me or hubby nt back, he'll start to get cranky.

Todae was helllll at werk. damn freakin bz i tel u. e deadline for the closing was at 11am. but i managed to get it done only at 1215pm. wel wt do u expect, it was a 1 man show for me at the recep! sunny was bz attendin to e auditors thus i was left alone at e recep handlin e calls, walk ins & struggling to get e closin done. but well, atlez i managed to get it done, doh abit late. phew!

Pae dae for me & hubby was yest yet todae, more den half our pae gone liao. lotsa tings to settle & also lil' boi's milk is sure gettin more & more X lor! 1 big tin is costin us $50.50 sia. n we owaes buy 2 big tins each month which can chun2 last for e whole mth. but nvm, it's for his own benefits.

I wana go to Indothai at batam for a massage. shima told me deir massage werks giler. so i reali wana go. ting is, wen? next week puasa liao. takan puasa2 gi batam eh. sounds so wrong. hehh. or mayb, i'll juz go for any indo massage here itself. hmm wil c la eh. i have been sayin diz since ages ago but stil haven managed to go. 1 fine dae i hope.

Hmm 7.18pm nw. stil nt done yet. can i halau dem plz? haha. truz besok takya dtg keje agi. hehehehe. ok la, wil try to finish up my pendin werk. dhaa!

Ps: i decided to delete off yest entry coz cum to tink abt it, i find it a waste of tym to be bloggin abt her. wtz e point, i doubt she wil dare to approach me even wif me posting dat entry. duh!

Sunday, August 24, 2008 11:52 PM



Itz so freakin cold todae. mr sun was out only for a while afterwhich it's rainin e whole dae. early mrn went for breakfast wif lil' boi at mac. while we were downstairs saw nana & tara. n so i asked nana along. as least got company better mah. hehh. itz been a while since i last saw tara thus she was kinda blur wen she saw me. she's gettin so clever each tym i c her. ade je bende2 baru die blaja. cute nak mampoz!

Hubby was supposed to werk todae but since he did nyt standby laz nyt til 3am, he was given e dae off for todae. so as usual, he slept thru e mrn all e wae til 12pluz. tot of goin J8 in the aftanoon but since it was rainin thruout we canceled e plan. besides, hubby wazen reali filin well. so juz stayed hm e whole dae. earlier ard 10pm we went to central for a while since lil' boi pampers & milk r runnin out. back hm lil' boi strait awae went to his lala land derfore here i am bloggin. hubby nw kpo2 beside me lookin at wt im typin. haha.

Tomoro for sure we wil b damn bz at werk. need to do closing. it wil b my 1st tym doin it since back in NAC, my OM used to do everytin. so yeah, learnin new tings agn. ok nw, i better get to slip. hope all of u njoyed ur weekends ya. dhaa!

Ps: 1 more week to fasting mth. cpat nye!!!


Saturday, August 23, 2008 11:27 PM


HEPPY 2 YRS 2 MTHS TO U BABYBOI!!

There u go, anoder mth older. mama & papa r reali proud of ur development as daes passed. very observant & a fast learner. nw u r able to speak sentences to us. n ur werds are gettin clearer which means, easier for us to undastan as well. just dat, u r so0o0 hyper. but nvm, as long as u stay healthy k syg. =)

------------------------------------------------------------------------------------

Im reali sad. wana noe y? coz sat has cum to an end. 1 more dae before weekdae is here agn. sumhw i reali wish i cud hv a long rest from werk. m juz soo tired. mayb i shud get preg so wen i giv birth i can stay hm for 4mths strait. amcm ok? hahaha! k crap. =P

Earlier diz mrn went to ctrl wif lil' boi to buy sum stuffs. hubby was at hm slipin since he came back from werk late last nyt. n since he's werkin e afternoon shift todae, i didnt wana disturb him thus let him slip in longer. we came back ard 1pm & hubby juz woke up den. at 2pm i put lil' boi to slip & later followed hubby to settle sum stuff. back hm at 4pm & soon hubby received his 1st call of complain. since it was rainin he took e car to werk instead. he sent me, lil' boi, mama & adeq to geylang 1st before goin to werk.

There was a singing contest goin on at TKC. adeq's fren was in e contest thus we watched him perform. later we headed to city plaza & had dinner at i-forgot-the-place before cabbing back hm. reached hm close to 7pm. lil' boi was kinda cranky back at hm. gues he's juz too slipy. thus by 8pluz he was oredi in his lala land.

Hubby gotta do nyt standby til 3am todae. booorrriin. dono if i shud wait up for him. im nt slipy at all sia. dono y eh. hmm m reali bored nw. dono wt to do. before i start typin crap i better end here la ok. dhaa!




Ps: he reali hv alot of slipin style. LOL!

Wednesday, August 20, 2008 10:02 PM



I realized dat eversince i started werkin at CT, i haven been updatin much. previously i wud owaes update on a daily basis. but nwadaes, itz juz 3-4 tyms a week, at tyms only weekend. i dono y but i juz cant seem to find tym to update animore.

K lets c, at werk definitely i cant update as ive got endless tings to do. wen i reached hm, which is usually ard 7pm, wil be my tym wif lil' boi, which is soccer tym. (yes i play soccer wif him everydae! haha). later at 8pm all of us wil gather to watch cinta fitri. we are a great fan of dat show, even lil' boi la ok! he wil start singin to e song & wil sit down quietly watchin it. tk padan kecik kan, i noe. hehh. wen e show finish at 9pm, i wil start doin abit of housewerk while lil' boi wil play ard wif his atok who usualy cums back ard dat tym. by 930 - 10pm i'll then wash lil' boi up, mek his milk & we'll both snuggle up in bed for our "talkin session" before finally puttin him to bed. n datz wen e magic happen, i'll fall aslip as wel! haha.

So nw u noe y i rarely update. onli wen i dun fall aslip, lyk nw, wil i den hv e chance to update. i seriously do not undastan y i owaes fall aslip so early nwadaes. while hubby, he slips only at 2-3am EVERYDAE. he claim he wun get slipy only til dat tymin. so thruout e nyt he'll sit ard playin comp games.

guys&bikes&games&soccer=sungguh tk paham! ahakz

Ok random updates: werk has been fine so far, luvin every min of it. lil' boi as usual, hyper-active & mischievious! n hubby, wel either he's werkin or at hm playin comp games. gettin lazy to go out nwadaes. haha. while for me, wel its either im spendin my tym werkin or wif my beloved family. =)

So yeah, datz abt it. wil c wen i'll update agn ok. hehh

Sunday, August 17, 2008 10:59 PM



As mentioned in my previous post, todae had wanted to go KK to visit my sis. hwever, wen i msged her earlier she was oredi back at hm. n so we decided to stay hm instead. besides, it was rainin. at ard 6pluz mama called askin us to get ready to go beach rd. n so we did. aya wanted to buy a new pair of werkin shoes. we den had dinner before headin back hm.

I gotta report werk early tomoro as der's a new client movin in. laz fri i was rushin to do e move in & im nt sure if ive missed out anitin. so to play safe, i'll juz cum in earlier tomoro to c if der's anitin i nid to finish up. juz hope everytin wil go smoothly. it's my 1st tym afterall doin a move in so yeah, kinda nervous. hehh

My sore throat is not gettin any better. ok2 i noe itz my fault coz im nt doin anitin to cure it. instead, im mekin it worst by drinkin soft drinks. but cant help it. plain water juz sucks. lucky my lil' boi nt lyk me. he's nt fussy wen given plain water. in fact, he can even finish up a bottle of it. good2. dun b lyk mama & papa k baby? LOL!

U noe wt, i reali shud get to bed nw since i nid to wake up 630am tomoro. so til my next update aitt ppl. have a great week ahead!


Saturday, August 16, 2008 11:59 PM



Juz lyk every oder sat, e 1st half of e dae was spent at hm since hubby was werkin e mrn shift. he came back ard 4pm & afta i was done wif e cookin ard 530pm, we got ready to go to my grandma's houz at pasir ris. i had wanted to visit my cousin 2nd child since laz week. i asked my mum along since she haven got e chance to c e baby as well. so fetched her at sk ard 7pm & off to pasir ris.

Baby hamzah is so0o small. well he was born 5 weeks earlier datz y. but alhaldulilah he's healthy & all. datz all dat matter. he slept thruout our stay der. didnt even opened his eyes. he even slept wen e maid was washin him up after he 'poo-poo'. hehh. cute la. we stayed til 10pm before mekin a move. sent my mum back hm & home swit home for ourselves.

Both me & hubby is havin sore throat nw. so nw both bcum rocker oredi. haha. i reali hate it la ok. everytin i eat seems tasteless. but well, despite havin sore throat im stil drinkin coke. suke skali noh. =P

Tomoro hubby's werkin e mrn shift agn & later in e aft we r gona go KK to visit Is's daughter as well as my sis. she got admitted laz fri coz of high blood pressure. she's oredi in her 8mths datz y had to be admitted. hopefully both mummy & daughter in tummy is ok. cant wait for her to giv birth. finally a baby gerl in our family. weeeeeeee~




Ps: juz luk at e wae he sit watchin tv. cekik darah!

Friday, August 15, 2008 11:58 PM



Earlier afta werk der was a get together for all regus staffs at 1 fullerton branch. e main purpose of it was for all staffs from OUB plaza, centennial tower & fullerton to get to noe each oder betta. it's actuali compulsory so no choice had to go. me, candace & sunny took a ride in kel's car while e rest took cab. we reached abt 630pm & e rest reached at ard 645pm. i was so heppy to get to c ReiJean agn. reali miz her so.

Soon afta all e staffs arrived we gather at e business lounge & dig in to e foods which e fullerton staff had catered. we also had a mini celebration for caroline's bdae. me, candace & grace left at 8pm. it was reali nice gettin to mit e oders from e diff branch. mayb shud do diz once a while ey.

I reached hm at 830pm & later hubby told me to tagged along to bedok to mit his frens. since i was hungry, i agreed. got myself & lil' boi changed & off we go. reached der ard 930pm & laze ard til 11pluz before decidin to head back home since hubby's werkin tomoro mrn. besides, dat lil' boi of mine was oredi slipy.

Tomoro gona go visit kak hana's 2nd child. n mayb gona go visit Is's daughter as well. wil c hw la eh. for nw im gona go join hubby & lil' boi in bed. have a great weekend all!




Ps: gues wt? grace stepped on my slipper earlier & it broke! i was reali sad coz i luv dat slipper la ok. niwae, since no1 had any xtra shoes/slippers, sunny helped to stappled it for me. burok or wt?! hahahahha

Wednesday, August 13, 2008 11:24 PM


Was lukin thru all e photos n i cant help but posting these cute pics of lil' boi!!

K random giler....... :p

Tuesday, August 12, 2008 4:48 PM



Hubby is down wif fever while lil' boi is havin a bad cough. bapak saket anak pon saket. Dat man of mine when havin fever reali bad i tel u. esp since he's e type dat rarely fall sick. he can just stay in bed 24hrs wen he's sick. haizz. juz hope he wil get well soon since we had planned to go visit Is's wife who juz given birth earlier today. cant wait to c deir baby. i juz luv newborns. hehh

Werk has been great so far. startin to get e hang of everytin. even e ppl r great bunch of ppl. gerek punya kaki la senang ckp. hehe. all we eva do is laff all dae. n oh, over here nomore Mac & KFC for me daily. hahahah. eat healthy babe. :p

Yana, nana, yaya, wen's e next outin?

Lyn, nanafetana, wen's e next chillin session??

I miz u gerls laaaaa!!

Monday, August 11, 2008 10:46 PM


U noe, everytym i put lil' boi to slip, i'll end up fallin aslip before he does. i reali dono y im juz too tired nwadaes. my body system seems to have change i gues. previously, i wun b able to get to slip before 12am but now, by 9pluz 10pm i wun had hit e sack. sumtyms as early as 830am! itz kinda frustating at tyms coz i wud wana do sumtin else afta puttin my boi to slip lyk, watchin tv or play comp but i'll usualy end up fallin aslip wifout me noticin it. n wen i woke up & look at e tym, itz oredi 12pluz 1am. bleargh!

Ok dat aside, updates on e weekend. well im sure moz of u went to watched e fireworks laz sat. a pity i had to missed it. i had wanted to watched it from my branch at fullerton coz over der, im able to c e fireworks clearly. but hubby la, sae he's not interested & all so end up nt goin. actuali im not a big fan of fireworks myself but juz dat durin e preview 2 weeks back, i happened to b at fullerton office & managed to watch e fireworks damn clearly thus i tot i had wanted to bring my boi to watched it laz sat. oh wel, itz over aniwae so no point tokin bout it yeah. -_-

We slept over sk laz sat since my sis & family went for a holidae. my 2nd sis & family were ard as well but dey went back ard 7pm. hubby went to mit his frens at 7pluz thus me, lil' boi & my mum went to rivervale mall since we were bored. datz wen i met syasyabella for a while. n yana, i agree wif u. she fuckin lost alot of weight lor! ish. so thin nw. but stil gorgeous of coz. miz her so0o freakin much, we almost kissed on e mouth! hahahaha. managed to chat awhile wif her before partin waes.

Hubby came back ard 11pm & after puttin lil' boi to slip, i followed him to mit his frens at punggol for fishing. was supposed to mit lyn & rafiq for supper but hubby la, insisted i followed him mit his frens instead. chet. 1 fine dae k lyn. *wink*

So aniwae, we stayed til 2am before decidin to make a move. was tinkin of places to go for supper & since we cuden tink of any, we ended up goin hm instead. borin i noe. besides im too tired to stay out any longer. back home, washed up & off to bed.

On sundae we went to hubby's fren weddin at tamp. e bride reali beautiful sia. lucky nizam. we left afta tekin few pictures. went back to sk & was abt to slip wen hubby received e news abt his grandpa so we quickly packed & leave.

I alomost cuden wake up diz mrn since i slept at 2am laz nyt! ikot kn ati, tanak je gi keje. but canot la. gotta tek care of my attendance. i went back hm wif nanafetana todae. miz dat babe a lot. 1 week she left us for holidae at indon. haha. n oh2, she got me a Guess top & e bez part is, itz in HOT PINK! wooohooo i loike! thnx agn eh bacin for knowin my taste dat wel. ahakz!

Ok2 i noe im blabberin too much. so as usual, im gona leave u all wif sum pixies. toodles!


11:12 AM



Hubby's grandpa passed away yesterday. it's reali sad coz it's e 1st tym i saw him & it had to be e last tym as well.

Family issue. too complicated. cant sae much.

Even hubby & family demself hasn't seen deir dad/grandpa for e last 7 years. n suddenly dey received news sayin he's gone. forever.

I followed hubby & BILs to NUH yest to pick up e body. it's e 1st tym i saw hubby crying dat wae. reali hearbreaking.

Sumtyms i wonder, y r ppl so selfish???

Thursday, August 7, 2008 8:03 PM



I was on mc todae. vomitted twice laz nyt & had diarrhoea (spellin?) thruout e whole nyt. in e mrn wen i woke up i was oredi so weak to even get up thus i msg my OM tellin her i wana tek haf dae mc. wel initially datz wt i tot. coz as u all noe, todae is onli my 4th dae at e new place thus i didnt wana tek a full dae mc. so i tot i'll go to e doc, eat e medicine, have a quick rest before reportin for werk after lunch.

However, i was juz so weak thruout e mrn. tried to eat sumtin but my throat juz didnt wana swallow anitin. went to e doc & she told me im down wif food poisioning. shucks. she gave me a full dae mc even doh i asked for haf dae. was told to have a gd rest at hm. i was confused whether i shud go to werk stil. after much tot i decided to stay hm for e dae instead as instructed by e doc since i was reali filin weak. called my OM to let her noe i'll b tekin ful dae mc instead. she wazen so heppy abt it. i can undastan dat it wil reflect badly on my attendance. but, no choice. wel i juz hope she wil undastan.

Back hm ate my medicine & after lil' boi went to slip wif her grandma i had my slip as well. managed to slip for an hr pluz. woke up, i felt better & finally got e apetite to eat. later in e evenin went to pasar mlm wif mama & ajan. was supposed to mit lyn at 7pm but it was rainin so decided to stay in instead. kau tk tgu aku kn lyn?? sowie eh. kau dala tkde hp. aku pon tk tau camne nk blg kau. hmmm

Ok wun update much. gona go watch cinta fitri. bye everyone!!


Wednesday, August 6, 2008 11:30 PM



Ive been wantin to update since mondae but everytym i lay on my bed for a quick rest, i'll end up fallin to slip instead. datz juz how tired ive been diz past few daes.

Aniwae, im sure u guys wana noe how it was at my new werk place ryt. wel honezly speakin, i was filin all negative on mon. not sure y but e thought of havin new colleagues, new environment & worst of all, new system, juz scare e hell out of me. as mentioned, i went out early on mon so as not to b late. i left home as early as 7am & gues wt tym i reached? 750am. n ya, i did got lost a bit but stil managed to get der dat early. was told dat i'll b stationed at level 21 wif sunny, my new partner. was taught abt e new system & all. i seriously felt lyk cryin most of e tym. coz itz juz so0o0 diff from wt i used to do back in ngee ann. itz lyk, im startin my dae in a new com. learnin everytin from basic. i cant apply wt i had learnt back in ngee ann coz over here, itz totaly diff.

However, yest wen i went to werk, i felt better. i gues datz bcoz i told myself to tink positive. nw datz 1 ting bout me. wenever im filin down etc, i owaes tel myself to tink positive. n Alhamdulilah, tingz owaes goes smoothly for me wen i do so. in oder werds, im juz bein paranoid moz of e tym. hehh

Cum to tink abt it, itz not so bad afterall. e diff is dat, over at diz branch e werk is juz non-stop hits. mayb im juz used to too many free tyms back in ngee ann. itz totaly e opposite now in centennial. in a wae, itz a gd ting doh. coz e time reali pass by quickly. Well wun talk much abt werk. impt ting is, i'll juz put in more effort so dat i'll adapt myself faster. n yeah, i noe i can do it.

I reali wana update more, but my eyes cant tek it animore. i NEED to get to slip now. so i'll update anoder dae wen i hv e tym aitt. til den, tek care everyone!


12:30 PM



I MIZ LYN!

I MIZ NANA!!

I MIZ REENA!!!

I MIZ REI JEAN!!!!

I MIZ NAC!!!!!

=(((


(ps: update real soon. by tonyt hopefully.)

Sunday, August 3, 2008 11:31 PM



Finally ive got e tym to update. been reali bz diz whole week. n i gotta sae, diz weekend is e 1st tym i had it wezted. since sum of u myt noe, laz fri was my last dae at NAC. therefore since laz mon we were bz clearin up e office. i OT-ed almoz every dae. laz fri we went to werk but spent e whole dae packin e stuffs. n i actuali did most of e packin since my OM was bz wif paper werk & my partner had to helped out at e new office. even yest i had to werk. yes, my sat was burnt coz of werk. but itz ok, itz juz once in a while. juz dat, i was so freakin tired. started as early as 830am & ended as late as 830pm. yep, i werked for a whole 12hrs. so tel me hw can i not b shagged?!

Laz thurs hubby came to fetched me from werk wif lil' boi & we went to e toy fair goin on at taka basement. we actuali let lil' boi walked ard e whole place to let him choose watever he wanted. but guez wt, he juz didnt want anitin at all. but datz juz him, he dun lyk toys dat much. which is a gd ting coz he's not e type to cry over a toy if we didnt get him any. so back to e story. since we were oredi der, it wud b wezted if we didnt buy anitin ryt. so ended up buyin him a drum set since diz boi of mine likes music. n we also got a Dora doll for tara & yuyun.

On fri, my lovely nana treated me to pizza hut for lunch. yummay-yum! god noes since how long ive been craving for pizza. we reali filled out tummys til damn full. nana even packed e pizza to werk since she cuden finished dem all. i finised werk at 7pluz dat dae & hubby came to fetched me for e laz time. haha

Todae we went to kallang together wif nana & son. der's a bike fest goin out thus hubby was so kusyuk looking & tekin pics of e bikes der. we den had dinner afterwhich we let our kids played at Bambini Playground for an hour. left ard 7pm & sent nana to e main road so dat it's easier for her to get a cab. we den proceed back home & hubby went out agn to mit his frens at hg. derfore i decided to go over lyn's place to slack ard. at 930pm hubby called sayin he had reached home thus i made a move wif lil' boi & cabbed back home.

Tomoro i'll b startin werk at my new branch. n honezly speakin, i have no idea how to get der! i mean, i noe i have to drop at city hall, but thing is, i dono how to walk from der. hmm i guez i wil have to leave early tomoro so dat even if i get lost, i wun b late. im kinda nervous la can. it fils lyk im startin e 1st dae of werk. how not to fil dat wae wen i'll b havin new colleagues, new OM & new GM. even e system wil b new to me coz back in NAC, e system were pretty much strait forward. but i heard over at centennial, e system are very diff & yeah, complicated. oh wel, as rei jean told me yest;

"u r a fast learner, im sure u wil b juz fine..."

i hope so. juz wish me luck yeah ppl. *cross fingers*