The Lady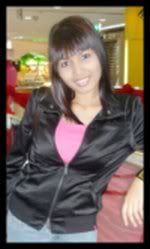 ♥Zura is the name♥
♥22-Dec-1987♥
♥A Wife & A Mummy♥


Her Love Ones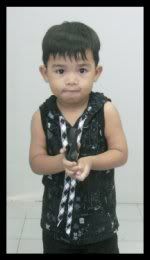 ♥Muhd Aniq Nufael♥
♥Born on 23/06/06♥
♥Son whom she loves dearly♥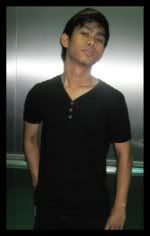 ♥Muhd Adam Firdaus♥
♥Blissfully married on 15/09/05♥
♥Hubby whom she is devoted to♥


Speak, don't bark.
Her Daily Reads
Tuesday, June 30, 2009 9:00 AM
Did u guys noe that e H1N1 cases in S'pore has reached almost 600?! on sundae itself 145 ppl were affected.

OMFG!!

And e youngest victim is only like what, 4mths old?? gosh very kesian lor! i never reali used to care much abt it but looking at how fast e num is increasing, it's sure scary la ok. i still remembered abt 2 weeks ago when i read e news e num was still 2 digits but now?? ok i shall not say more. just have to keep on praying i guess. *fingers cross*



Sunday, June 28, 2009 8:38 PM



Todae was lazy sundae, spent almost all day at home. except that in e evening earlier me & hubby last min decided to watched Pelham 123 after i put lil' boi to slip. besides, ive been wanting to watched it since it first came out. how's e movie? not bad i must sae. i give it 8/10. good storyline. well2, 2 movies down, 1 to go. which is Fighting of coz. cant wait for that as well.

I guess todae was e 1st time both me & hubby didnt dress up goin for movie. haha. besides, we watched it at tpy so we dun see e need to dress up. and also, we cabbed to central instead coz hubby's moto key were left in e car which aya drived to werk todae. goin home time more classic, we walked home. haha. it was hubby's idea la..but a good ting we walked. coz we managed to talked abt lotsa tings. n i simply love talkin to him, making plans. =)

Oh btw to that 'eh' on my tagboard, don't be such a coward k. i simply detest bitches like u who go around talkin abt innocent babies. seriously, ppl like u should go rot in hell. just 1 advise, do remember there's such a ting call karma. n if u don't want it to come biting ur ass later on, den i suggest u start mindin ur own business aitt. *mid finger up*

Saturday, June 27, 2009 11:52 PM


Yest nyt me & lil' boi went swimmin with my sis & family while hubby went for his company event. he came to fetched us from my sis hous ard 12pluz & by e time we reached home it was oredi 1am. since lil' boi slept late, diz mrn he woke up only at 11am. by then i knew it was too late if i wana take e train to his skul coz i wud have to leave e houz latest by 1130am. therefore took my time to get ready & cabbed to PP instead.

After class met up wif lynn since we were gona visit fyda & baby qistina. i swear i fil lyk wana kidnap her. sunguh geram nk mampoz!! haha. we make a move by 6pm afterwhich lynn dropped us off at CP while she went off to mit her bf. walked ard CP wif lil' boi while waiting for hubby & ended up buyin for him & myself a Levi's wallet.

Hubby arrived ard 7pm & as planned, we proceed to sengkang park to let lil' boi play with his bicycle there which hubby brought along. we spent abt an hr there before goin back to CP for our late dinner at Sakura. by e time we finished eatin e clock striked 10pm & since hubby was tired from werk earlier in e mrn, we headed home next.

Lil' boi fell aslip shortly after his shower. hubby is busy with his tamiya, what's new. im kinda slipy but i dun fil lyk slipin. how ah? hmm well guez im gona watch tv now. dhaa!


Friday, June 26, 2009 11:08 AM


Hubby came together with lil' boi to fetched me from werk yest since we were gona go buy lil' boi bdae prezen. had dinner 1st at pizza hut afterwhich we proceed to carrefour to survey his prezen. oh btw, lil' boi himself requested for a bicycle, an orange one to be precise so that was what we were gona get him. however too bad, the only orange bicycle available has flowers all ard & besides, it's abit to high for him. maklom la, anak saye nie kan bantot. LOL!

He finally settled for a yellow bicycle instead, which was just nice for him. initially i tot he wuden noe how to ride it however he sure proved me wrong. right after we got out of e shop, he started cycling all e way to e carpark. =)

Im sure right now he's busy with his bicycle at home. aniwae last nyt before he went to slip he actuali told me not to werk today & accompany him to play instead. awww so swit ryt. make me promise sumore, ish. nvm, will accompany him downstairs later tonyt. faster 6pm pls!!!


Thursday, June 25, 2009 10:37 AM


I watched this with hubby, BIL & gf yest and im giving it 10 stars!!! ok melampao kan aku. hahaha. but seriously, u guys have to watch it! worth every cent im telling u. i even cried twice during e show. hehe. i heard there will b a part 3. not bad huh. that aside, im still not over part 2 la ok. might be wathcing it again, will c how. oh btw, megan fox is damn hot lor!!! =p

Wednesday, June 24, 2009 10:55 PM



So as all of u have known by now, it was lil' boi 3rd bdae yest. instead of throwing him a bdae party, we had decided to go somewhere to spend quality tym just e 3 of us. n our destination? sentosa. =)

We had made a reservation at Siloso Beach Resort. we set off at 10am yest, trained to vivo for brunch before gettin e bdae boi a small cartoon cake at Bakerzin. we then proceed to take e cable car into sentosa. it was lil' boi virgin ride but it was e daddy who got more xcited. haha! well actuali lil' boi was kinda afraid of e height so he sat reali still thruout. hehh

Upon reaching which was at 1pm, we strait awae headed to e resort to check in. put our tings, changed & went out again. we went to underwater world followed by swimming at e resort itself. too bad i was stil havin my red lyt so while they swam, i camwhored. haha. it was then back to our room for lil' boi afternoon nap. once he woke up which was ard 5pm, we went out again for other activities. oh before that, we sang him a bdae song agn, with his small cake. he reali luv blowing e candle. =)

We went on e skyride & luge ride. lil' boi shared e luge ride wif hubby. he sure enjoyed it. since we were all hungry after e rides, we went to have pizza for dinner. next was to CineBlast. that was fun as well, 1st time for us 3. hehh. we decided to take e luge once agn afterwhich we headed back to e resort to watched Anugerah. sempat kan. haha

After e show since it was stil kinda early we went to take a stroll down e beach. it was very quiet then with barely anyone around. we then went up to e resort roof top to enjoy e view & breeze. by 1030pm it was back to our room. showered, snuggled up in bed watching tv and....lights off. =)

E next mrn which was todae, we woke up at 9am, had our shower & went for breakfast. it was sure super filling, yum2. went back to our room to rest a while more before packing up & checking out at 11am. basically, that was how we spent lil' boi bdae. sounds simple? bottom line is our precious had fun. well, pixies time now. n dun sae i didnt warn u, lotsa pics up ahead ok. enjoy!!!

ps: sowie for e broken eng. im reali slipy fyi!!!


Tuesday, June 23, 2009 9:23 AM
HEPPY 3RD BIRTHDAY TO MUHAMMAD ANIQ NUFAEL!!!

Believe it when I say, I feel like crying looking at how big he's has grown up now, though he's only 3 years old. hehe. As a mummy, I'm proud to have a son like him. Nope, im not boasting. i dun tink i shoud even boast abt my own son. it's just a natural feeling a parent will have towards their child i believe. =)

As notorious as he can be, at e end of the day he's the one who brightens up our day. he brings so much joy to e family, so much happiness. i don't even wana imagine how life would b like if he didnt came along. he's been e reason y im stayin strong all these years.

To babyboi, mama wana apologize if i havent been a good mummy to u all this while. mama have a very bad temper & sometimes, u would b e victim for me to vent my anger. i reali wana apologize for that. nevertheless, i want you to know, i luv u so0o0o0 much. so much that im willing to do aniting for u, anitin my son. as u grow older, mama only have 1 hope. and that is for u to be a sensible & reponsible boy.

Once again, heppy birthday sweetheart.

With much love,
Mama Zura & Papa Adam.


Monday, June 22, 2009 10:33 PM



We had an advanced mini celebration for lil' boi with e family earlier this evening. it was mama's idea actuali since she said we celebrated yuyun's bdae last week so we should do it for lil' boi as well. i reali do appreciate it of coz, furthermore she helped to cook e foods & bought e cake. thnx again mama. =)

Yuyun came over to joined us but too bad nani had to werk. lil' boi as usual very xcited to cut e cake. he was very cranky earlier, n i mean verrryyyy. cry at e slightest ting. i guess it's true wat e elders sae..klau hari nye nk dekat mesti perangai. ish

Yuyun is spending e nyt here. but too bad we are gona go out early tomoro mrn thus she'll b alone at home. speakin of which, im gona go get our tings ready since lil' boi is sound aslip now. meanwhile, njoy e few pixies aitt!


10:19 AM


Can I just say i luv diz man up there so0o0 much? I reali wonder how he can changed from that hot-tempered man he was to such a patient man now. he's been such a switheart & most of the times, it would be me who will spoil everytin. idk how to kick my habit, seriously. i wil owaes2 say e wrong tings at e wrong time. now i noe y he says i never changed. but reali, i did try ok. oh well, i just hope he can see my effort in trying. though i owaes fail. =P

Ok2 shall not be too mushy else ppl will start puking. LOL! well, noting much to update on the weekend. just that, sat was spent wif my beloved parents. we went to visit nek dah & honestly, it reali saddens me to c e condition she's in now. she used to be e most kecoh-rable nenek, very lively. but now...she's has become so quiet & so thin. however, glad to noe she's actually improving coz my aunty said she used to be in so much pain before. i'll keep praying for her to get well again. Insyallah.

Aniwae, after e visit we went to banquet at bedok for dinner. it was nice spending time with my parents outside though it was just a short one. as for sundae, in e mrn accompanied hubby to central to watch e tamiya competition. dat man of mine has been preparing himself to join e com since e last 2 weeks however yest, he backed out. he said he wazen ready yet. oh well, can understand la. nvm, there's owaes another time. =)

E weather looks kinda gloomy today. i hope mr sun will be out e whole day tomoro. we have plan all activities for tomoro therefore i hope there won't be any hiccups. i cant wait!!!