The Lady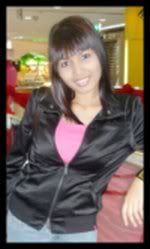 ♥Zura is the name♥
♥22-Dec-1987♥
♥A Wife & A Mummy♥


Her Love Ones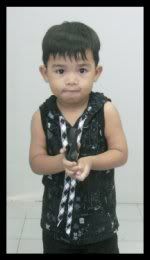 ♥Muhd Aniq Nufael♥
♥Born on 23/06/06♥
♥Son whom she loves dearly♥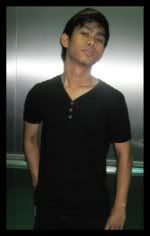 ♥Muhd Adam Firdaus♥
♥Blissfully married on 15/09/05♥
♥Hubby whom she is devoted to♥


Speak, don't bark.
Her Daily Reads
Thursday, February 28, 2008 10:26 PM

It's funny hw someone u were never close to eventually turns out to be sumone u get so close wif
Juz lyk me & her..wen we 1st got to noe each oder back in nov07 (if im nt wrg), we never reali talk to each oder..nt til she started havin lunch wif us..onli den we started talkin but stil, never reali talk much..if i rmb correctly, it was in dec07 wen we made dat trip to vivo was wen our frenship started bloomin...we talk more & yeah, laughter everydae..she's a reali heppy-go-lucky gerl i muz sae..

She is sumone who never once showed her emotions..all she do all dae is smile..even wen she's hurt or sad, dat smile wil stil stay wif her..i muz sae, her 1st apperance wil b a gerl whom is reai arrogant..hehe..but hey, looks can b deceivin rmb..

Todae was her laz dae at PA..juz wen im startin to get reali close to her, she had to leave..i dono y but it reali saddens me alot..itz a wez dat i gotta separate wif her..i guez e reason y we cud click so much is bcoz of our personality...crazy & talkative..ahakz..

Juz e oder dae we were chattin & she open up to me bout her personal life..i juz fil so much for her...

Wel siti, doh we gona b apart but as u said, diz frenship is sure to stay..1 ting for sure i wun neva wana lose a fren lyk u..we wil sure mit up wif e rest as well soon..

Im wishin u all e bez in ur future career & life..rmb, dun b to soft hearted..sure it's gd to b kind to oders but u gotta mek sure u noe dat person well n mek sure dat person is worth ur kindness..rmb u told me bout u bein to kind to oders resultin in oders back stabbin u? wel i dowan dat to happen to u agn..so, u gotta b firm aitt..n yeah, dun tink to much bout life..juz folow wif e flow..juz mek sure u get e bez in life for urself..

N 1 more ting, shud u nid sumone to talk ur probs out, juz msg me aitt..im juz a fon call awae... *smile*

Gona miz u so...

(pixies tym!)


5:36 PM



Hello lovelies...

Wel juz a quick update before i knock off in half an hr time..n since someone has been buggin me to update la kn..hehe...but actuali der's notin much for me to update lei...hmm let's c..

Yest hubby fetched me after werk & he sent me back hm before he proceeded to c his bike..stil nt ready..moz prob by tomoro i guez..he came back ard 730pm & initially tot of goin central..but since both of us tired we den decided to go up to nana's houz..but too bad, tara bom nt at hm..ish..well, helped nana wif her blog thingy...did a sample for her la kn den later she did it on her own...i reali luv ur pics ok deq..hmmph! chey mara ehh..haha..k so we chilled til 10pluz before mekin a move..back hm all 3 of us went to slip! too tired i guez..hehh

It's siti laz dae at PA todae..i dono y but im reali sad dat she's leavin..hmm nvm, der's owaes tym for mit ups..we went to commonwealth for lunch todae..had long john..mentang2 la ct laz dae, yg laen amek kesempatan alek lbt..haha..as usual lunch tym was filled wif notin but laughters..im so0 gona miz ct's laughther..haha..camwhore a lot...but im gona upload e pics later on tonyt k..my lappie at werk sucks..can onli upload 1 pic..dono y..

Aitt den, im gonna finish up my laz bit of werk before rushin back hm..weather's nt gd..ok den dhaa!!

Tuesday, February 26, 2008 11:12 PM



As u all noe, kids ard my lil' boi age is very observant & dey tend to imitate wt ppl ard dem do or sae..in diz case, of coz my lil' boi is no exception..nw i noe wt e oldies mean wen dey warn us on wt we sae or do in front of diz kids..esp all e bad tingz..e gd ones r to be made an example of coz..

No doubt, my lil' boi do pick up sum bad tingz done by us which he owaes c..but he also do pick up e gd tingz as well...for example..............




Wel if u r tinkin wt he's doin, he's actuali konon2 nye ngah bace doa la sambil sembahyang..haha..he actuali saw FIL prayin & he wud owaes juz sit & watch, wifout disturbin, surprisinly..hehe..n later, he himself wud imitate e actions he saw...lyk, bace doa, sujud..




Nie konon nye ngah pkai songkok la..tapi songkok tkde kn, snowcap pon jadi lor...wakaka..n oh, dat kaen MIL put it on for him..luks small ryt..actuali itz e normal adult size..dono la hw she belet2 dat ting..hehh

It's reali adorable seein e actions lil' boi do every nw & den..n wen he does sumtin, we'll noe who he's imitatin..i guez we reali gotta b xtra careful of our actions while infront of him!




N oh, sape ckp pkai kaen tkle joget..ngok nie anak aku shuffle ngan 2 kaen...wakakakaka!

4:21 PM



Yest bowlin session wif e family was fun..hubby fetched me after werk & we zoom back hm to get ready..nani came over as well after werk..n since she's from werk, lil' yuyun wazen der..nvm, hopefull she wil join us next week..aniwaes, we went out at 730pm & proceed to Orchird Country Club..all of us played except for nani & mama..we had 2 rounds..n at e end of it all, aya emerged champion...haha..guez wil mek diz a mthly event.. *smile*

After e game which is abt 930pm we den headed down to jalan kayu to had our late dinner..e food was nice la kn..lil' boi was cranky by den coz he was oredi slipy..tapi kasi ice cream truz active jap..haha..dinner was on mama while bowlin earlier was on me..so ok la kn..hehh...

By 1030pm we make a move to sent nani back hm & later home swit home for us..hubby went out agn after dat & came back at 130am..i actuali wait up for him..thus diz mrn hard to wake up..bleargh!

Btw, mama kol me earlier sayin lil' boi was cryin e whole dae...luks lyk he's havin fever agn..aiyo..n later mama kol agn sayin lil' boi played wif e chest of drawers & one of e drawers drop on his feet mekin it blue black! aiyo..reali wanted to rush back hm sehh juz nw but canot la..juz hope he's gonna b fine.. *sigh*


Monday, February 25, 2008 2:24 PM



Im reali sowie for wt i did..

I reali didnt mean to go against u...

It was totally my fault..i shud hv known better...

I promise diz wil b e 1st & e laz tym..

I reali didnt mean to hurt u...

Plz forgive me diz tym will u..?

=(

11:17 AM



Some time back, sumone used to tel me i was arrogant..but e ting is i dun reali noe diz person..i mean, we do noe each oder but we never reali talk before..get me? ok so, at 1st i was kinda pissed by dat comment..n i den asked a fren of mine abt diz..

Me: u tink im arrogant?
Her: who? u? wt onli! y?
Me: nah, sumone said dat to me..but i dun reali noe her doh
Her: c, datz e ting..she dono u..so she's juz assumin...u r 1 hell of a funny & crazy gerl la ok! n u noe dat ryt..
Me: hmmm.. *smile*

Well i den tot to myself n hey, i guez my fren were ryt..ppl who dono me wil simply judge me on e apperance..i mean, diz is onli natural of us humans ryt...we tend to judge ppl easily..n in diz case, itz juz normal dat ppl whom onli noe me but never were a fren of mine will anyhow assume tingz..

So yeah, i told myself nt to care abt dat comment..n any oder comment ppl out der wana sae abt me...e impt ting is, i noe e type of person i m...n my frens noe dat..so datz all dat matters..afterall, y shud i care ryt?

Oh and 1 more ting..anoder fren of mine said dat ive changed..i dono wt she meant by dat but deep down, i noe im stil e same ol' zura..

Nw anyone gt a prob wif dat?

Sunday, February 24, 2008 11:31 PM



After hubby came back from his mrn shift at 330pm we gt ready & proceed to fetched wak ijah & wak malik to ira's houz..reached der ard 5pluz..since inside was kinda packed we sat outsyd..jannah was so adorable..can walk nw..but i didnt manage to c baby qamahl..ish..nvm, wil go over ira's houz agn sum tym soon..we stayed til 7pm before mekin a move..sent wak ijah hm & later went to J8..tot of goin PS but kinda lazy ler..

I wanted to buy lil' boi new sandal coz his crocs are gettin smaller & he's startin to hv blisters..but der weren't much choice at J8 so didnt bought any..nvm, wil buy tomoro at central i guez..Charles & Keith were havin sales so i bought myself a beg..later walked ard BHG & i saw diz Nike sling beg which i swear i fall in luv wif at 1st sight..n before i knew it, hubby bought it for me..xcited la seh!

Spent on lil' boi's needs at NTUC before goin back..lil' boi was so tired from e runnin ard earlier at ira's houz i gues so in e car he strait awae slip..

Lookin forward for tomoro coz we'll b goin bowling..reali2 cant wait..aitt gotta go iron e clothes for tomoro..dhaaa!


Saturday, February 23, 2008 11:28 PM



Early mrn accompanied hubby to settle sum errands..had breakfast at mac..went to his bike shop to c his bike..was told e bike will b ready by wed or thurs..lyk finally seh..been more den a mth u noe...i noe hubby is missin his sparks, so m i.. =)

Reached hm at 2pm & later hubby went out agn to do his RXZ...he reached hm ard 5pm & we went out agn, diz tym wif mama & ajan to geylang as mama wanted to eat der..walked ard a while & later sent mama & ajan hm n we proceeded to sim lim..

Hubby bought me a mp3..initially i wanted ipod nano..but e 1 is pink is onli available in 8GB..frankly speakin i find it a bit to big..besides cum to tink abt it, i wun watch video or wt..i simply wana listen to songs onli..so yeah, ended up buyin Creative mp3 in pink..thnx by!

After dat tot of goin to queenswae but den decided to Anchorpoint instead..1st tym goin der..ok la, nt so many shops doh..walked ard & saw Giordano was on sale..hubby bought himself a 3/4 pants while i bought a tee..n also buy a pullover for lil' boi..hubby den went to cut his hair & it was home swit home after dat..

Todae wil b goin to ira's houz but late doh since hubby werkin mrn shift..so0o cant wait!


Thursday, February 21, 2008 9:27 PM



Was on leave todae...i had diarrhoea in e mrn...suckz or wt..wonder wt i ate yest..niwaes, hubby was on leave as well coz he need to go settle e RXZ isurance thingy..so i accompanied him to NTUC Income @ kovan to renew e insurance..after which we proceeded to LTA for e transfer of ownership as well as e renewal for road tax..everyin settled so nw e bike is legally hubby's..cant wait to get a ryd on it as well...hehh

Oh btw guez wt..while we were at LTA MIL called hubby & said, lil' boi threw his pillow (bantal busyuk) down e rubbish chute!! can u bliv dat!! ok i noe dat boi of mine has diz habit of throwin tingz out e window..but i had no idea nw he's startin to throw tingz down e rubbish chute!! n i tot e pillow was e laz ting he wud eva throw la ok!! i was so pissed...n wen i talk to him over e fon & scolded him for doin so, guez wt he said..he simply said, "oh2"..gosh! cant stand dat boi! so no choice we den went to kiddy palace to get him a new pillow..lucky dat boi is nt addicted to e previos pillow..so he's stil ok wif e new one...wel he juz nid a pillow to hug & cover his face u c..

Back hm bring lil' boi downstairs to play while hubby did his bike..n ya, we saw e monkeys agn..i reali wonder wen it wil get caught...reali scary sia..

Weekends finally here..but no plans yet..bleargh! aitt den, gonna go watch tv nw..dhaaa!


Wednesday, February 20, 2008 9:36 PM



Notin much to update...juz dat, werk was ok...wait, i shud sae BORIN..haha..almoz fell aslip moz of e tym..as owaes, e onli ting datz kipin me alive is durin lunch tym ware i'll mit doz gerls...laffin machine..LOL!

Hubby doin OT nw...suddenly miz him la plak..hehe..n oh i heard mrs itik gt a babyboi ey..congrats ya babe...juz kip on eatin as much as u can so e baby will b reali chubby ok? hehe...conferm face folow e daddy abes..hehh

Im nt filin well nw...flu agn..hate it so much..nose oredi lyk clown nw! back hm juz nw played ard wif lil' boi...e tym i luv e moz..jokin ard juz e 2 of us..i luv u alot tau baby...

Ok2 i better leave nw before i'll cont typin crap! nytz all!




Ps: i tried uploadin video canot sehh...bacin tolz!

Tuesday, February 19, 2008 9:11 PM


HEPPY 21st BIRTHDAE LARLING ANNA!!

Wishin u all e best in life..hope u'll find ur Mr Right soon aitt...meanwhile, enjoy life to e fullest!! && i hope u lyk e present from me..juz a lil' sumtin from me.. *smile*

Well aniwae, we (as in me, lynna, inaaa, siti, shuting, shasha & noorul) came up wif a plan yest to surprise our fren here...juz a simple surprise of presentin her wif a cake durin lunch...

It was reali kerochrable i tel u! coz sumhw we onli planned hw to do it lyk, durin lunch tym itself! haha..we were oredi at e mitin rm waitin for her..got MON to came up as well so dat he'll b e 1 presentin e cake..he hide behind my cupboard & surprisinly wen anna came in e door she didnt saw him..haha..so after she went into e room, me lynna & MON stood outsyd littin up e candles..n wif MON holdin on e cake, we open e door & began singin e bdae song for her!

U shud hv seen e look on her face..she was reali blushin la ok! ahakz!n oh, she almoz cried as well..saw dat..hehh...

Well babe, i noe u'll b readin diz..we hope u njoyed e surprise ya..i noe u do, esp wen MON is der as well kn..kn..kn..hehe..ok2 kiddin...wteva it is, im sure u had fun..juz e wae we had fun celebratin ur special dae wif u..aitt nw pics tym!!


1:48 PM



Cant wait for diz weekend as we'll b goin for baby qamahl cukor rambot cum baby jannah 1st bdae bash..conferm kecohrable! hehh..im stil nt sure doh whether hubby will b werkin..i mean, he is suppoz to werk but i've told him to chnge to sat..nt sure whether datz possible..if nt den i guez i'll go 1st..hmm

Aniwaes, yest as usual family dinner..we went to newton diz tym round..i finally got to eat kangkong! haha..was suddenly cravin for it yest..n e food der reali cheap..we ordered quite a lot & it onli costs us $40..for 6 pax..wteva it is, i cant wait for next mondae..coz we gonna go bowlin! been so0o0o long ok! woohooo~

It's anna bdae todae..but i wil post an entry abt diz later tonyt k...complete wif pictures..for nw, i gotta get back to werk..reali lotsa werk pendin! ok dhaaa!


Monday, February 18, 2008 5:10 PM



I am seriously tired todae....

Very, very tired..

N e sad ting is, hubby cant fetch me..

Booo!!!

Sunday, February 17, 2008 9:44 PM



Weekend was pretty ok..yest ard 5pm followed hubby to hougang for his werk soccer match..lucky lil' boi wazen cranky under e hot sun..in fact, he was enjoyin himself at e field kickin balls..hehh..n oh, i met diz gerl, miza..she was wif 1 of e guys der..she was reali frenly..e moment i came she bagan talkin to me...n sumhw we juz click..we even went to e nearby coffeeshop to eat together while e guyz were playin soccer..reali nice gerl..atlez i wazen bored yest..

E game finished ard 7pm n juz den, both teams had a fyt..i reali dono y durin or after a soccer match derz sure to hv fyts..tkde keje laen tau laki2 nie smue..da maen bola nk gado la plak.. *roll-eyes*

Lil' boi was so cheeky yest..he was eatin toasted bread wif nutella on his own & ended up lookin lyk a cat! haha..dun bliv me? look at diz...




Dun he look lyk a cat? haha..n also, at 1 point of tym he sat watchin tv wif a cheeky face........




C? cheeky or wt! wakakaka..dono watz wrg wif him yest...so mentel...hehe..

Hubby was werkin mrn shift todae so i decided to go over my 2nd sis houz at bukit panjang..reached der ard 330pm..afiq so big nw..can talk sentences which is easier for us to understand..n his hair super long sia..haha...lyk mat malaysia..oops! hehe...n guez wt? my sis is expectin her 2nd child! all of us reali hope it wil b a gerl diz tym round..if it is, den my parents wil hv deir 1st grandotter & me, 1st niece! hw excitin...n wen dat happen, truz me..i'll surely go over my sis houz every week! hahaha

I went back wif my parents ard 6pm...i cabbed back hm so dey followed me & later took a bus from tpy interchange..i den went to kiddy palace to get lil' boi new water bottle since i left his at my sis houz...i didnt bring his pram earlier so half of e tym gotta carry him coz dat boi so0 lazy la can..wen asked to walk on his own he dun wan me to hold his hand..eksyen! so no choice had to carry him coz he wil owaes u-turn else ware wen walkin alone!

Tomoro gotta werk..wish i dun hv to go..sumhw im startin to lose interest in diz job...esp since my manager has resigned..haizz...

1 more week to pae dae...n datz e onli ting to cheer me up!


Saturday, February 16, 2008 2:04 PM



So yest went to syasya's son, danish 3rd b'dae bash at pasir ris downtown east...we were suppose to go earlier but hubby gotta OT laz min..so we ended up goin onli at 830pm..by den nana had oredi came over my houz since she's at tpy..we later proceed to fetched yana at elias mall...gegerl tag along as well...

Reached der ard 930pm..1st ting we did was to eat! haha..all damn hungry sia..soon after it was cuttin e cake session..e cake was damn nice la can! forgot to asked syasya ware she got it done..hehh...it was a choc cake wif candies all ard & danish photo in e middle..it was so0 nice dey didnt wana cut it..haha..

We later camwhore & talk craps..thnx to hubby for his nonsense..haha...but well, kept us entertained..n e gerls iritated...wakaka..chilled til 12am before decidin to mek a move..lil' boi & aqimie slept otw back hm..sent yana & gegerl 1st before sendin nana back to tpy...reached hm at 1230am & immediately flat!

Hubby's werkin mrn shift nw...waitin for him to come back & later in e afternoon will b followin him to his soccer match at hougang..juz hope lil' boi wun b cranky under e hot sun!

Aitt den, im off to hv my lunch nw..before dat, gonna leave u guys wif yest pics! dhaa!


Friday, February 15, 2008 5:03 PM



Went for my company lunch earlier at Ngee Ann City...cabbed der wif vane, took him along e wae..reached der before e rest..saw a lot of unfamiliar faces..ask leo who 1 by 1 is..haha..e food was ok..nt so bad..ate til damn full...stayed til 2pm before headin back to office..hw i wished i cud juz proceed hm strait..haha..well overall e whole event was ok la..nt reali dat great or wt..but yeah, had fun for sure..

Lil' boi nwadaes lyk to cling on to me..dono wazup wif him...n at tyms he'll nt let me go werk..datz y sumtymz i wud quickly get ready & sneak out before he wakes up..

Tonyt will b goin to syasya's son bdae bash at downtown east..myt b goin wif nana since she's at tpy..over der wil den mit yana..tym for sum fun tonyt!

Hubby had to do laz min OT todae..baru nk die amek...mlz sungguh nk jln tau..haiz..nvm la..wil juz c him at hm..haha

Ok2 i actuali got a lot of werk pendin..BUT, e internet connection is lyk &$%& todae..kip gettin errors..n kip gettin kick out from yahoo & msn...iritatin ok! oh well wil update on a much better mood later ok...heppy weekends all!