The Lady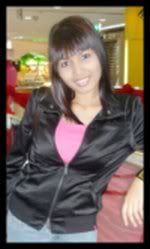 ♥Zura is the name♥
♥22-Dec-1987♥
♥A Wife & A Mummy♥


Her Love Ones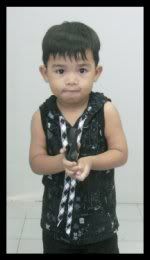 ♥Muhd Aniq Nufael♥
♥Born on 23/06/06♥
♥Son whom she loves dearly♥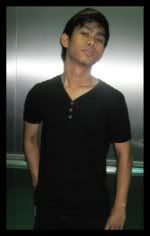 ♥Muhd Adam Firdaus♥
♥Blissfully married on 15/09/05♥
♥Hubby whom she is devoted to♥


Speak, don't bark.
Her Daily Reads
Monday, August 31, 2009 12:04 PM


Im missing my precious oredi, wonder what he's doin now at home. for sure disturbin ppl & bz looking for food in e kitchen. hehe. e picture above was taken yest, he was bz tryin out his father's sweater. cute plak tu die pkai. hehh. he's still havin cough & flu but lucky no fever. ahh faster 6pm plssssss!!!!!!

Oh well, how's ur weekend? mine was ok-ok la, noting interesting. on sat since hubby was werking i decided to break fast over at SK since my parents were there. before that went to geylang with my mum & lil' boi to jalan2 cari makan. hehe. i was looking around for hubby's raya clothes to match with lil' boi but it's so hard to get e same colour. besides, it was so freakin hot on that day thus i was lazy to walked ard much. we bought quite a lot of foods & by 5pm decided to cabbed back home.

Hubby came by to break fast together. my sister & family were out to JB thus it was just us. after eatin laze ard watched MJ show on channel 5, didnt noe my mum was a big fan of him as well. hehe. aniway, hubby left for werk at 9pm while me & lil' boi finally made a move at 1030pm. back at home washed up lil' boi, gave him his medication & he went off to slip. as for me while waiting for hubby to reached home i wathced Transformers. me like!

E next day me & lil' boi woke up at 1pm while hubby woke up at 4pm, syiok or wat?! haha. at 5pm e whole family went to woodland to buy foods for breaking fast. trafic was so bad, we even had to park e car at a nearby hdb carpark instead. by e time we reached home it was just nice time to break fast. =)

My 2nd week of werk, so far so good. still learning new tings every day, tryin to keep myself bz. e time here seems to pass by very fast. good2. hmm aitt now, shall update agn on another brighter day. have a happy fasting ppl!

Wednesday, August 26, 2009 11:49 AM



Morning earthlings!

How's everyone? Unfortunately for me im down with fever, cough & flu which i bliv i got it from hubby. Speakin of him last mon his fever hit 39.6 which reali scared me. drag him to e clinic accompanied by BIL as i was afraid anytin wil happen along e wae, never noe mah. he was given 4 days MC & was told to go to e hosp should e fever didnt subside.

Who would have thought e next mrn, which was yest, i got e fever & cough. on top of that i had a very bad backache which was reali very painful, idk how to explain. e longer i sit e worst it get, thus i had to stand & walked ard abit which didnt helped much actuali. pfft. after werk i met hubby as city hall as he was there buyin some stuff. since he didnt ride we took e cab home & that's when i started cryin. haha. i was actuali fastin up till that moment but becoz sittin in e cab made my backache worst, i ened up cryin. batal kn puase?? haizz. hubby was massaging my back all e wae til we reached home. i tink he was kinda frightened as well looking at me. hehe

Back at home i quickly lay down to get some rest. when it was time to break fast i simply didnt had any apetite, i just had 2 spoonful of mee hoon & that's it. took my medication & immediately went to slip. i reali wana thank hubby for takin care of me last nyt & also for entertainin lil' boi. i felt kinda bad actuali for neglecting him since i was out werkin since mrn but i just couldnt helped it.

This mrn woke up i was stil havin fever & flu but i decided to just come in to werk. afterall it's only my 3rd dae of werk thus i didnt wana take MC u c. talkin bout werk, i reali love my job. even my colleagues are great bunch of ppl, very understandin. my colleagues told me to go home upon lookin at my condition todae. furthermore 1 of my colleague is preg so i gues she's rather precautive as well. hehh. called up my manager to informed her thus i'll b leavin at 1pm later, with hubby fetching me. gona go to e doc & hopefully i'll be well tomoro coz i reali dun wana take further MC. haizz

I aint fasting todae coz of my condition. what a waste, i was hoping to fast as much as i could, excludin e time my period comes of coz. oh well, gona have plenty of rest todae & hopefully, i'll be all well tomoro. do pray for my speedy recovery ya. dhaa!

Sunday, August 23, 2009 11:06 PM
HEPPY 3 YEARS 2 MTHS TO BABYBOI!

Getting brighter each day, sometimes he reali surprises us with e tings he do or says..acting like a big kid! gettin quite fussy in eatin, just like me. errgh certainly not a good point! haha. but hey, i cant force him ryt. most importantly, he stil eat atlez 2 meal per day.

Well babyboi, i may sae e same ting all over agn but basically i just pray for u to stay healthy always & mudah-mudahan akan menjadi anak yg soleh. Amin.

----------------------------------------------------

Hubby is down wif fever now, all thnx for gettin caught in e heavy rain last nyt. he took an hr to reached home from hougang thus u can imagined how slow he was riding. well he said he can barely see e road, scary huh. he finally safely reached home at 3am, all drenched & shivering. i was already waitin at e door with a towel for him. and todae, as expected, e fever striked. just hope he wil get well real soon.

My 1 week of rest is finally up, tomoro i'll b startin on my new job. surprisinly im not dat nervous, just that im hoping i'll b able to adapt to e new environment quickly. gotta start all from scratch..but itz ok, this is part & parcel of werkin life. most importantly, i shall use my past werkin experience as a step for me to move forward & achieve better. im sure i can do it! =)

I noe itz only e 2nd dae of fasting but im oredi lookin forward to raya, though i noe i wun b celebratin much. afterall for sure i wun b able to take any leave as i'll stil b on probation. im fine with it, atlez i can stil make use of e 1st & 2nd dae to do as much visitin as possible..and not forgettin weekends as well. but before all that, lets complete this mth of fastin 1st eh zura. hehehe

I better try to get to slip now, i dun wana b late on my 1st dae. furthermore im not so sure exactly ware's e place so just in case i get lost, i stil have ample time. but just 1 ting worryin me, im so used to slipin at 2, 3am thus im not sure if i'll b able to slip this early. errrghh. oh well good nyt ppl, remember to wish me luck aitt!

Saturday, August 22, 2009 11:59 PM



Earlier todae had a photoshoot session with my all time fav GFs; Yaya, Yana & Nana. We had both formal & informal shots and can I just say I super love all e pics! Many thanks to the make-up artist (i forgot her name) who made us look like angels & to e fabulous photographer who made our pics turn out to b oh-so-gorgeous.

And girlfriends..our wish for this finally came true ya. *winks*

Im gona leave u wif e pixies for now...have fun lookin at them!!



Thursday, August 20, 2009 11:29 PM



I have been neglecting this personal space of mine. if u realized even if i did update its more of pics & less werds. not that ive lost interest in bloggin, itz just pure laziness. period. there's alo0o0t of tings i wana update therefore this entry will b pretty long. in other werds, it'll b very werdy. so i guess u get e idea ya, dun bother readin if u dun want to. =)

Well well well, ware do i start..ok first ting first..this may come as a shock to some but im no longer werkin at e moment. i tendered my resignation last july thus after serving 1 mth notice, last friae was my last dae of werk. why & what happened, i shall not elaborate here. let it b just between me & my closed ones. i'll b lying if i said i wazen sad. afterall, ppl knew how much i loved that job. but well as e saying goes, all good tings will eventually come to an end. =)

Ive been lazing ard at home since mon, waking up only at 10am, 11am. damn syiok can! haha. BUT it wont b for long. i found myself a new job & i'll b startin on Monday at Raffles. initially i tot of resting longer at home however tinkin back, there's alot of events coming up. raya, anniversary, birthdayssss which equals to MONEY! i dun wana rely on hubby alone. i cant possibly ask him for money if i wana buy presents for him ryt? hehe. so yeah, i just hope i'll b able to adapt to a new environment, new colleagues. pray for me ya lovelies!!

Nuff' bout werk issues, let me move on to update bout my one & only son. wat do i sae? he's gettin on my nerves!!! hahaha. jokin laaa. he's just so0o0 talkative nw, buey tahan lei. he even talk to strangers like he knows them for long! take for example earlier todae when we were in e bus otw to mit hubby at hougang, he was takin happily to this makcik who's seatin behind him thruout e whole journey, laffin here & there sumore! i know its good that he's frenly but itz kinda worrying also u noe. i guess u noe wat i mean ryt. of coz, i will owaes tell him not to talk to strangers often. but i cant simply scold him all e time ryt? haizz

Other then dat, me & hubby as usual, gettin along well. itz been so long since we last had a fyt..mcm rindu la pulak. haha! kiddin la, i like it this wae of coz, very preaceful. as for frens, as usual, they will come & go. but what matters is i stil have a bunch of frens i can reali rely on. u gerls noe who u r. *winks*

Believe it or not, i started this entry at 1015pm which is more then an hr ago! my mind is blank now which means, i shall end it here. i promise to update regularly from now on aitt. not forgettin, pixies in e next entry. dhaa!!

ps: Selamat menjalani bulan ramadhan kepada semua umat Islam. =)

Sunday, August 16, 2009 8:20 PM


Here are e video of our performance last nyt. try to spot me. =)

Aniwae, we had a family picnic earlier todae. mama even ordered mee, epok2, ayam goreng & agar2 from her fren. short cut la kate kan. hehe. we went out close to 12pm, headed to changi for our picnic. upon reachin it actuali started drizzlin but not for long though. set up our tent, settled down before startin to eat first.

No one brought along any extra clothes as our plan was just to chill ard. however 1 by 1 wanted to dip into e sea thus we went to changi village to buy towels & shorts. everyone swam except for me as i was havin my menses. sucha waste. but itz ok, there's owaes another tym.

We finally decided to make a move by 5pm. everyone were tired thus it was home swit home for us. hubby's goin to ecp later to skate wif his frens. as for me, im gona hit e sack wif lil' boi real soon. am reali tired!

Tomoro's my appt to open up my stitches. im kinda afraid. will it hurt???


2:57 AM


For 1 mth we had been training real hard for e NDP performance last nyt. we performed together wif e indian dancers for e show, sumtin we never done before. it was a chaotic day for us..being overcome by 2 challenges. but with our teamwork we pull it thru. thnx to hubby too for being our life saver for e nyt. wifout him we cud never imagined wat wud had happen.

It was my 1st tym performin after 6 yrs. god noes how nervous i was! furthermore wif my swollen cheek. haha. i even tot i'll cock-up on stage. but hey, we did a good job instead. e applause we get after e show was reali a satisfaction to us. i loved every min of it. =)

Ive got so much more to sae but i just cant seem to put it into werds. afterall, i haven had a gd nyt slip this few days. look at e tym nw, itz almost 3am yet im nt slipy despite waking up early yest mrn. i reali shud tucked in now. i'll leave u guys wif pixies aitt.

HIDUP WIDYASARI! HUNGGA-HUNGGA! "as quoted by our leader, syfa". LOL!!!