The Lady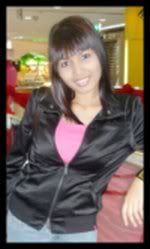 ♥Zura is the name♥
♥22-Dec-1987♥
♥A Wife & A Mummy♥


Her Love Ones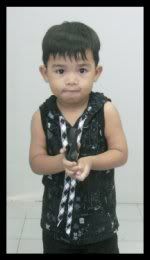 ♥Muhd Aniq Nufael♥
♥Born on 23/06/06♥
♥Son whom she loves dearly♥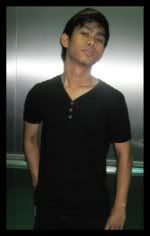 ♥Muhd Adam Firdaus♥
♥Blissfully married on 15/09/05♥
♥Hubby whom she is devoted to♥


Speak, don't bark.
Her Daily Reads
Saturday, November 29, 2008 11:48 PM



Todae was a stay home dae for me. initial plan was to mit e GFs but since moz cuden mek it, had to cancelled. in e mrn went to e market wif lil' boi & mama. had prata at e usual shop before buyin sum stuffs. walked back hm which made me sweat lyk a pig. haha. oh btw guez wt dat lil' boi did earlier? he actuali put in diz small bead into his nose & it got stucked. do u noe how freaked out i was?? luckily he didnt sniffed it in or else i guez we wud b at e hosp now. managed to take it out. aiyo kids ah. so curious yet so dangerous. tsk3

Niwae, e husband came home wif a new bike todae. he gave his KR to his dad & got himself a 125z. i prefer him ridin kapchai since u noe, he's small in size thus it suits him better. hehh. n by, mek sure diz wil b ur laz tym hor changin bike. tahon nie je brape byk kali nk tuka pon tk tau. chet.

Tomoro wil b goin to b.p visit my parents. n e dae after, itz back to werk for me. sunguh mlz ok selepas 4 ari tk keje. haha. well ok den, gona go have my shower now. i juz fil so R.I.M.A.S!

Friday, November 28, 2008 11:49 PM



Went over to lyn's earlier. fira was der as well. we had a discussion & nw everytin is finalized. m juz waitin for e big dae. i swear i cant wait. but nvm, wun reveal anitin for now. juz wait, n c. =)

Aniwaes, both hubby & me were on leave todae so we brought our precious to e zoo as planned. went out as early as 930am & reached at 1015am. we were reali lucky coz while at e ticketing counter, diz malay uncle approached us & asked if we wud lyk to enter wif his family coz he got 2 membership cards which allow free entrance for 4 pax for each card. n since his family onli consists of 6 pax, he offered us to enter wif dem to total up to 8 pax. reali kind hearted ryt, save us $36 for e tixs. hehh

We spent 4 hrs in der. alot of changes. lil' boi even swam at e newly renovated pool. so heppy dat fat boi. haha. we finally left ard 2pm & headed back hm since we were all tired. lil' boi strait awae went to slip after havin his shower. he slept for 3 whole hours. while he was slipin i accompanied hubby to amk for a while. shud had slept at hm wif lil' boi instead. haha

Im seriously lazy to update further. wil let e pixies do e talkin now aitt. dhaa!


ps: i swear i luk lyk a preg lady. ish!
Thursday, November 27, 2008 5:00 PM


PROPER UPDATE REAL SOON!!

Monday, November 24, 2008 11:18 PM


HEPPY 14th B'DAE TO 2nd BIL, AJAN!

For ppl who dono him im sure dey wuden tink he's 14 huh. luks lyk 16-17 to me. haha. niwae lil' bro, as iritatin as u can b, do noe dat i do care for u aitt. basically i juz dowan to c u mix wif e wrg company, which so far, we can c dat u r not. juz play hard & study smart as well aitt. all e bez!

----------------------------------------------------------------------------------

N so we went for dinner earlier at woodlands. i swear i fil lyk a pig after eatin. haha. we ordered alot lor. sure puas ati menjilat jari. LOL! went hm strait after dat. hubby is out to werk now. how bored. i juz hate slipin alone la can? lucky derz lil' boi wif me. hopefully hubby gets to knock off early.

Pae dae is here. lotsa bills to settle for diz mth. also gotta start preparation for ehem2. will let u guys noe wen itz nearin ok? hehh. wil b on leave diz thurs & fri. mayb gona do wonders to my hair on thurs. n as for fri, myt b goin to e zoo. c how lor.

Ok now, im gona go iron e clothes & get to slip. very2 tired u noe. dhaa!

Sunday, November 23, 2008 11:59 PM



Im super xcited todae! wana noe y? coz i finally got e w960i fon!! wooohoooo!! onli god noes how long ive wanted dat fon. since my bro wana sell off his to me at a very gd price, i grab it of coz. earlier i went to central wif lil' boi to sell off my HTC Touch. met lyn der as well. managed to sell it off for 200bucks. n earlier at ard 10pm my bro came over to my blok to pass me e fon. suke noh!!

Yest i had OT from 9-1130am. yeah i noe it sucks to be werkin on a weekend. hehh. but itz ok, i choose to take up e OT. e rest of e dae was spent lazin ard at hm since hubby was werkin e afternoon shift. later at nyt conferenced wif lyn & fira from 9pluz til 11pluz. crazy us huh. bleh jadi giler layan tu dua anak dare! haha

Had wanted to go swimmin todae, but too bad it was rainin. well i wana get to slip now. oh btw, 29 more daes babey!!




Before i end diz entry, juz wana wish lil' boi heppy 2 yrs 5 mths! datz wt he kol himself now, aniq bantot. LOL! luv u babyboi!!

Saturday, November 22, 2008 11:17 PM



I miz dem.. i miz e gd ol' daes...

Shima.Anna.Lynna - u gerlz r bein missed badly!!!




n oh, i stil tink i luk better wif bangs. agree anyone?

=)))

Friday, November 21, 2008 3:40 PM



The rules and regulations:

1. Each player of this game starts off with 10 weird things/habits/little known facts about yourself.

2. People who get tagged need to write a blog of their own 10 weird things/habits/little known facts as well as state this rule clearly.

3. At the end, you need to choose 10 people to be tagged and list their names.

4. No tags back !

**10 Weird things/habits/little known facts about ME!**

1) Im addicted to coke. I noe itz not gd but no point tellin me dat, itz jus super addictive. period.

2) I love durians BUT i hate durian cakes, durian ice-cream, etc

3) I cant slip everytym hubby goes out at nyt. if he's werkin itz diff but if he went out wif frens & all, den i wun be able to slip. dun ask me y. even if i do get to slip, every hr automatic i'll wake up to c if he's back. -_-

4) I love to kip long nails only at my last fingers. since pri skul mind u. datz y shima used to call me phua chu kang. LOL!

5) Im very fickle minded, n i mean VERY. i'll owaes write a long list of tings to buy but later end up buyin juz 1 ting which is not even in e list. =P

6) Wen im very2 hungry, i'll start to shiver. sumtyms can even cry. so dun make me stay hungry for long ok!

7) I can eat Mac for breakfast, lunch & dinner for 1 week strait. nope, im nt kiddin. datz how all my fats cum abt ok. hahaha

8) I get jelez lukin at gerlz wif e full package.. u noe, gd looks, hot body, nice hair. ok im soundin lyk a lesbo!

9) Im a very sensitive person. i juz have to tink of sumtin sad & my tears will start wellin up. hmm crybaby also la u can sae. hehe

10) I am very2 afraid of beetle. ive cried twice bcoz of it ok. eeewww!

--------------------------------------------------------------------------------

It seems everyone is doin diz tag thingy passing ard huh. was tag-ed by yana & since im bored decided to do it. n nope, im not gonna tag anyone since moz of my frens done it liao.

TGIF PPL!!!

12:41 AM



Itz oredi 12pluz n im nt yet aslip. wt to do, cant get to slip lei. hubby is werkin nyt shift now. so borin. juz hope he cums back early.

Hubby was bz doin his bike earlier wif rizal & ady derfore i decided to go over lyn's houz since i was freakin bored at hm. hubby was swit enuf to send me der. save my trouble tekin e buz wif lil' boi. haha. n so fira & daya were der as well. lil' boi was quite for a while coz of e unfamiliar faces. but after a while of coz he warmed up & started his nonsense. haha. e gerlz were bz gettin ready to go dancing2 la kan tonyt. suke eh satu2!

Left at ard 10pluz & dey were swit enuf to send me to e bus-stop. which is a gd ting coz i den realized i didnt bring my wallet. hw careless. thnx eh daya for dat $1. halal kn k? =P

Im gona go iron e clothes now & force myself to slip. i have less den 6hrs of slip ok. arrrghhhhh!


Thursday, November 20, 2008 3:46 PM


Was browsing thru my multiply photo albums wen i saw diz pic. was taken on my weddin nyt by iLi iLiyana. miss dat gerl. aniwaes, lukin at diz pic i cant help but reminisce on my weddin 3 yrs ago.

It wazen anitin fancy wtsoever. juz a simple akad nikah at ROM followed by dinner at hubby's place. even doz invited were juz relatives & close frens.

I noe ppl were kinda surprised wen dey found out i was gettin married. afterall, i was onli 18 den. no doubt, it was sort of lyk a laz min preparation for us. everytin was finalized in juz 2 mths. now, im sure moz of u wana noe wt made us got married early ryt? stop wonderin, let me tel u e story. coz sumhw, i guez itz better ppl noe e truth rather den kip cumin up wif deir own tales. true?

Well, as u all myt noe, previously before marriage i was stayin wif my 1st sis, wif my parents & siblings of coz. n ya, as u noe, i was bein controlled in dat houz by u noe who. seriously, i wazen a bad gerl durin my teenage yrs. but dono y, im owaes seen as e black sheep among my siblings. mayb, itz bocz of my stay-out-all-nyt daes which even my brother never done before u c. yeah, dat was considered bad to dat guy. hw ah?

Rmb i eva mentioned in 1 of my post abt dat guy halau-ing me from his houz wen i didnt wana cont skulin? yeah, durin dat point of tym my parents was actuali in e midst of movin to my 2nd sis houz. n so i was supposed to follow but den my 2nd BIL didnt wana take me in coz he said i was rebellious (??) & said i wil create trouble while im der. well fyi, my 2nd BIL is a religious man thus he dun lyk it if i stay out at nyt & all. oh well, cant blame him for dat i guez.

N so my dad was in a dilemma durin dat point of tym. yela mane tak, menantu pertama halau anak bongsu die, menantu kedua plak tanak amek tgl. i knew he love me of coz, which father dozen? i stil remembered clearly dat 1 fine dae. he waited for me at e void deck after werk. we sat & talked. he told me he's sad of wat's happenin. n moz touchin part was, he said he dun blamed me for my behaviour. i was sad of coz hearin dat. knowin my dad back me up even doh i was kinda rude back den. dat was wen he asked if i wanted to get married. he knew den dat i was dating hubby for few yrs oredi. so yeah, out came dat qn. i was surprised of coz. who wuden? slalu anak tnye bapak nk kawen bleh tk, nie bapak tnye anak nk kawen tk. hehh

At first i told him, y not i juz get engaged 1st & stay in hubby's houz. but he refused. well he's very conservative type u c. he said better if i juz get married so dat he wun worry much for me coz he knew hubby cud take care of me. lukin at my dad face, i cud c how strez he was den. datz wen i talked to hubby & his family. discussed for quite a while n finally we both agreed. afterall, we knew we wanted to b wif each oder. we dun mind e fact dat we cant have a grand weddin coz of tym constraint however, at e very least we'll go thru e marriage cara islam, cara halal.

N so e preparation started. durin dat 2 mths me & hubby tried to save as much as we cud. of coz, i gotta thank his parents for helpin out. wifout dem, our marriage myt not have taken place. n oh, if u r wonderin, durin dat 2mhts i stayed at my 2nd sis houz. my dad talked to my 2nd BIL to let me stay der til i get married. of coz, he agreed wif a condition dat i cant stay out at nyt. i agreed for e sake of my dad of coz.

15th Sept came, n so we got married. as mentioned, it was a simple affair. but yeah, i cud c e happiness in my parents face. no more strez in dem.walau mcm mane pon, klau da anak bongsu ttp risau la kn. my dad wud called me almoz daily even after i got married. hehh. n as for my mum, my dad actuali once told me dat e dae after i got married, my mum was standin at e window. my dad asked what's she lukin at, n my mum said she was waitin for me to reached home juz lyk she owaes did. awww very swit kn. i cried ok wen i heard dat. hehh.

So der u go, my story. now dat u noe e reason y i got married early, i hope ppl wil stop creating tales bout me gettin married coz of u-noe-i-noe la kan. as ppl sae, tk tau tnye, tanak tnye diam, jgn mandai2 ok!

Wednesday, November 19, 2008 2:38 PM



I decided to delete off e post earlier. itz juz too....crappy. haha. gues it was e mrn hungriness dat made me came up wif all dat nonsense. whoever managed to read it, juz pretend u didnt ok? hehh

I actuali would like to blog abt sumtin todae, which is;

Hypocrite

Tell me, wat is ur defination of hypocrite? Im sure each & every one of us have our own defination of it.

Someone who pretend to b nice to u but bad-mouth u behind ur back? Someone who tell u they don't like a certain ppl but still talk to dem? Or maybe, someone who is afraid of losing a grp of frens & betray her gd fren?

If you ask me, i'll sae all of e above. n would you agree wif me dat everyone of us is a hypocrite ourselves?

Let me put it diz wae. sumtyms, we are so gd at observing & judging ppl till e extent dat we dun realize our own flaws. u'll b lying if u sae u have never bad-mouth ur fren. come on, we are afterall a human. i bliv diz is a norm for us. ok letz not sae frens, how bout family? ur own loved ones? im sure some of u ever bad-mouth bout dem before ryt? b it purposely or not. derfore wt does it makes u? a hypocrite?

Correct me if im wrg.

If hypocrite is wt's define earlier den yes, I dare to sae im a hypocrite myself. yes, i do sumtyms bad-mouth my frens. n sumtyms yes, i do talk to certain ppl whom i claimed i hate. now diz is 1 ting abt me. i cant hate ppl. i reali cant. i'll sae i hate so & so but at e end of e dae, i'll stil end up talkin to dem. y? coz i simply dun hold grudges. or letz juz sae, im too soft-hearted.

Ok now everybody sae "bull-shit!"

Haha. oh well, bliv it or not, i am soft-hearted. ask my hubby if u dun bliv me. he is e only one who noes me inside out. usually if i quarrel & fall out wif a fren, he'll tell me to take it as a lesson learnt & dun trust ppl too much. but heck, later on i'll tell him i cant do dat. meanin, i cant juz throw a fren. i treasure frens alot, n i mean it wen i sae alot. i owaes make it a point to sumhw b der for a fren. of coz, derz a limit. i mean, im married wif a kid. if a fren calls me up late at nyt sayin she wana mit at 3am of coz i cant do dat. but if she simply want to vent her frustation over e fon at 3am, i dun mind wakin up juz for her. =)

Some of u will get my point, some of u wun. either wae, ive said my piece. before i end diz entry, let me make it clear dat im not pointing at anybody. i swear diz entry is juz a random tot dat i have in mind. so pls, dun fil e pinch wtsoeva. one ting for sure, i dun xpect to have ppl hate tagging me ok. hehe

Have a gd dae ahead ppl. =))

Monday, November 17, 2008 1:54 AM



Fridae:

For e first tym ever, i tied my hair to werk & everyone commented i looked diff. some of e clients even said i luk better dat wae. ting is, i dun lyk it. sumhw, it made me look abit too matured. haha. i tied my hair bcoz i was havin a bad hair dae dat mrn, n i didnt wana waste tym doin my hair so i juz tied it up. reali, i dun lyk it. nevertheless, i appreciate all e comments. =)

Hubby came to have lunch wif me on dat dae. reali swit of him since he was werkin actuali, but stil he came juz to have lunch wif me. datz y i luv him ok. no matter how egoistic (sorry by!) & bad tempered he is, i noe he luv me alot, ryt by? hehehe




Saturdae:

Hubby was werkin e mrn shift thus we went out onli at 6pluz. n ware did we go? swimmin! a gd ting it had stop rainin den. we asked ajan & hilmi along. went to e one at sengkang. i didnt swim coz i juz didnt fil lyk it. we left at ard 830pm. went to hougang next to have dinner. after eatin we headed back hm & reached at 930pm. later me, hubby & lil' boi went up to nana's crib to chill. ateng came soon after. n later adeq joined us as well. finally made a move at 12pluz.




Sundae:

Since hubby was werkin e afternoon shift, i brought lil' boi to my sis houz in e evenin. reached ard 7pm & stayed til 11pm before hubby came to fetched us home. went to Mac @ farrer rd for supper before headin back hm.

Im on leave todae & tomoro. dat explain y i stil aint aslip at diz tym. hehh. wana have a gd rest for these 2 daes. aitt nw, gona go join hubby watch tv. dhaa!

Thursday, November 13, 2008 11:45 AM



Some ppl have been askin me if i have lose weight. I suspect these ppl are blind. hehe. coz truth is, ive gained weight. i actuali gained 2kg over e past 3 weeks. sucks or wt. told ya my weight is lyk a roller-coaster. juz laz mth i was 52kg, n nw im 54kg. oh wel, juz as long as i dun go over 55kg, im contented. =)

Lil' boi vomitted while he was slipin laz tues nyt. he was coughing & coughing and before i knew it, he vomitted. i blived itz bcoz he ate juz before goin to slip & didnt burp u c thus e reason y. hubby helped to shower him while i cleaned up. yeah, bathing at 1am in e mrn. he was shivering non stop, but didnt cry doh. in fact, he was njoyin it. hehh. applied medication on him, gave him his milk & he was off to slip til 10am in e mrn. lenyak noh tdo lepas muntah. hehe

1 more dae to e weekend. not sure wtz e plan for diz weekend. rainy season, dun even fil lyk goin out. but mayb i'll be goin over my sis houz on sundae. i miz baby alisha oredi. wel til here den, no mood to update further. dhaa!

---------------------------------------------------------------------------------

Y izit dat every gd deed dat we do, we never get appreciated? n wen we make a careless mistake, we get shoot at? i am afterall a human. i make mistake everydae. all im askin for is ppl to b a bit more understandin. nobody is perfect, neither m i. i dun mind ppl tellin me wt my mistake is, i wil acept & try to change for e better. but wt i dun lyk is, wen ppl dun even wana undastan my situation & shoot at me lyk nobody business. tel me, how wud u fil if u were me? =(

Tuesday, November 11, 2008 5:00 PM



1 more hour to knock off time. Im missin lil' boi so much i dono y. diz mrn while i was at werk i received 3 missed call from MIL. return e call & MIL told me lil' boi woke up cryin lookin for me. seems that he had a bad dream. talked to him & he kip sayin "momok itam". so cute la dat fat boi.

Looks like e rainin season is here once agn. a gd ting is, it wil only start rainin wen i reached werk, not wen im goin to werk. if datz e case for sure every mrn i'll b 1 grumpy lady. hahaha ok crap. =P

I juz cant wait for dec lei. so many plan in mind. extreme makeover for me can? hahahaha. 3 more daes to e weekend. faster come, i wana go swimmin. ok im lazy to update further. dhaa!

Sunday, November 9, 2008 11:54 PM


Todae was family dae out together wif adeq, nani & yuyun. as planned, we went to Fidgets ard 4pluz. it wazen crowded at all, which was a gd ting of coz. we e adults were lyk kids, playin ard wif e slides and all. hehh. it was reali fun. e kids were njoyin so much. we finally made a move at 6pm.

Had dinner nearby afterwhich we headed back hm since aya & mama wana c yuyun before dey go to werk. e rest of e nyt was spent watching dvd. nani & yuyun left at ard 1030pm n so lil' boi went to slip. tomoro gotta werk, hw shagged. i hv to start tinkin wen to clear my leave. itz only a few daes doh. mayb will take it end of diz mth. c hw lor.

Aitt now, im gona go hit e sack nw. super2 tired. have a great week ahead ppl!


Saturday, November 8, 2008 11:51 PM



Had e trainin at 1F earlier todae. it was a full dae trainin from 9-6pm. doh my sat was burnt coz of it but im glad we had diz trainin coz we learnt soo0 much. at e end of it was given a cert as well. to be honest, im lukin forward to anoder trainin lyk diz but hopefully not on a sat can? hehh.

We ended wif dinner at TCC after which trained back hm. lil' boi & hubby was waitin for me at e void deck den. oh btw, as per hubby, lil' boi was cryin moz of e tym todae lukin for me. u noe, sumtyms i tink kids are reali special in a sense dat, dey noe wen itz weekdaes ware u'll b out werkin & wen itz weekend ware u r supposed to b hm. y i said so is bcoz, take lil' boi for instant. usualy wen itz weekdaes n im werkin, he noes it so even wen i leave for werk he wun cry. but wen itz a weekend, he'll noe dat im not werkin & is supposed to b at hm thus even if i said im goin to werk, he'll start cryin & wun let me leave. oh well, i guez mummies out der wil undastan wt im sayin yeah? =)

Me & hubby spent e rest of e dae at hm juz watchin tv & playin ard wif our precious. btw guez wt happened earlier. lil' boi throw his toy ard which sumhw hit hubby ryt at e mouth & automatically, hubby's hand swing across lil' boi face. now i muz sae it was a reali hard slap. but of coz, hubby didnt do it on purpose. juz dat, i guez itz a normal reaction ya wen u get hit by sumtin & sumhw automatically, u'll hit e person in front of u. so yeah, of coz dat made lil' boi wailed lyk nobody business. n of coz, hubby pacified him since he didnt mean it.

Later while i was in e room wif lil' boi i actuali talked to him explanin wt he did was wrong etc & later after i was done talkin guez wat lil' boi said? he actuali told me, "mama, nk ampun papa." which basically meant, he wanted to sae sowie to hubby. n so i called hubby into e room tellin him lil' boi wana sae sumtin. n immediately lil' boi looked at hubby & said, "ampun papa" together wif his action. waaaah i tel u, my ati so pilu can wen lil' boi said dat.

As notty & hyper my lil' boi is, im glad dat he do have manners. yes, at tyms he can b a bit rude in a sense dat he'll go ard beatin ppl etc but stil, wen we scold him for tings which he does wrong, he'll actuali apologize eventually. now u noe y itz hard for us to stay mad at him? hmmm

Well, tomoro mrn had promised him swimmin. afterwhich later in e afternoon wil b goin out wif adeq & fam to fidgets mayb. n btw, itz sundae tomoro. juz 1 dae to njoy my weekend afterwhich itz back to werk. oh shucks!


2:48 AM



Diz whole week, every nyt wen i wana update i'll actuali end up slipin. do u noe hw frustatin is it? i wud oredi planned wt to blog abt but den i'll fall aslip instead. guez datz it, im juz too tired.

Well aniwaes, juz sum random updates since itz now 2pluz in e mrn. fyi, i actuali wanted to update laz nyt but agn, fell aslip at 10pluz. i happened to wake up now so i tot i'll juz update for a while.

Hubby is stil on MC diz week. so whole week been stayin hm lukin afta lil' boi. he came to fetched me after werk yest n so i got him to giv a ride home to my colleagues as well since dey live nearby. later dat nyt he wanted to go hg mit his frens so i decided to go over lyn's to slack ard. she was actuali gettin ready to mit rafiq & so wen he arrived, we went downstairs to sit for awhile. lyn, ur rafiq is totful to actuali buy for aniq dat yakult & biscuits ok. hehh.

Yest hubby was reali bein a switheart to cum over my werkplace to have lunch wif me. n bez of all, he brought lil' boi along which of coz, made my dae. later afta werk i stayed back to accompany nana who came over for an intv. we stayed quite late actuali, close to 9pm. hubby came to fetched us, wif lil' boi agn of coz. we went to nana's place to chilled ard afta dat. we left ard 1030pm wen nana went out for joggin wif ger sis & BIL. smngt kan dorg jog mlm2. hehehe.

Gues wt ppl? i've got a trainin later on from 9-6pm. so now i tink i nid to go cont my slip else im not gona wake up on tym!


Wednesday, November 5, 2008 10:07 PM


Harlo Aunties,

Mummy entered me into a contest. So do give me ur support & vote for me ok? Just for e fun of it. =)

Lup u all many2!

CLICK HERE

Sunday, November 2, 2008 11:49 PM


As mentioned in my previous post, todae i had OT from 7pm - 10pm. i got hubby & lil' boi to accompany me. we went public todae since aya was usin e car. been so long since we laz took train together. reached ard 630pm & both of dem juz sat at e lounge area while waitin for me. client came ard 7pluz to set up e room & by 9pluz he was done. we left ard 945pm.

Trained back hm agn & stop by Mac @ brad for a quick meal. finally reached hm ard 10pluz. tomoro i'll b reportin werk at 1030am. atlez can slip in longer a bit. i reali3 cant wait for dec. 1 more mth to go. weeeeee~