The Lady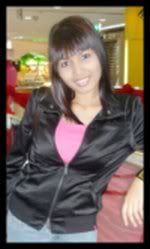 ♥Zura is the name♥
♥22-Dec-1987♥
♥A Wife & A Mummy♥


Her Love Ones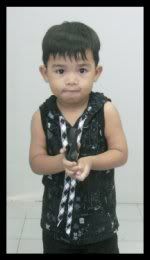 ♥Muhd Aniq Nufael♥
♥Born on 23/06/06♥
♥Son whom she loves dearly♥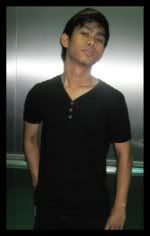 ♥Muhd Adam Firdaus♥
♥Blissfully married on 15/09/05♥
♥Hubby whom she is devoted to♥


Speak, don't bark.
Her Daily Reads
Thursday, November 26, 2009 3:48 PM



Last tues nyt followed hubby to his futsal game @ Balastier from 11pm-1am. Initially I didnt wana go but after knowing Elisa will b coming down with her fiance as well I decided to tag along. Besides, been a while since I last met her. sungguh.rindu.com!

As usual when we mit will owaes share stories & apart from that, we shared recipes as well. Da mcm makcik2 plak bobal pasal masak2. Haha. Lil' boi was busy playin ball with e uncles2 there. The game was extended til 2am & surprisingly I didnt felt sleepy at all even though I had to go werk that mrn. Kwang3

On wed I took 2hrs time off in e mrn to settle lil' boi sch fees. Hubby was supposed to tag along but he had to report werk early thus I went alone. Bought him his uniform as well but it was a bit too bit for him. Well no choice, their S size is super small so had to make do with M.

When I got home that evenin & showed lil' boi his uniform he was so heppy! haha. Quickly put it on & parade ard e whole house, showing off to his grandparents & uncle. Looks like he cant wait to start sch, neither am I! Well, for him I meant. haha.

E long weekend is finally here. Supposedly we had plans for all 3 days but e plan for tomoro's cancelled. Mayb Im gona do so magic to my hair tomoro & come sat and sun, it's party time! haha. Enjoy ur weekend ppl!


Monday, November 23, 2009 5:11 PM
HEPPY 3YRS 5MTHS STRONG BOY!

Datz wat we call him now, eversince e incident last mth. That incident itself had proven how strong will he is, able to smile almost immediately despite wat happened. It has been a real nightmare for us, infact up til now I stil have visions of it. But everytym I see his never endin smiling face, it just made me feel better instantly. N if he himself dozen talk abt it animore, y shud I ryt? =)

So babyboi, though u r indeed a strong boy but pls dun show off & make us worry agn hor. Seeing u hurt wud b e last ting both mama & papa wana see, again. We love u sweetheart!

Friday, November 20, 2009 5:25 PM


This whole week passed by so fast I almost didnt realized it was Friday todae! Didnt had proper sleep these few days. Well not that I purposely wanted to slip late. I wud usually get to bed by 12am latest but sumhw my eyes just refused to shut when e fact is, Im reali sleepy! It can get reali frustratin but wat can I do also? =(

Aniwae, yest both me & hubby were on half day leave to bring lil' boi for his appt @ KK. Both of them came fetched me at my werkplace at 1pm before train-ing down to Little India. Upon reachin it was rainin thus we actuali took a cab to KK. Wasted huh. Oh well. Aniwae, it was a quick one, just to check his wound. E doc said we need to massage his wound often coz its kinda hard it seems. Apart from that, everyting's good. =)

After e appt we had late lunch afterwhich we headed home to slip. Later in e evening yaya called askin to go MC thus got ready & met her together wif fiqah there ard 8pm. Had dinner at Sakunthala before accompanying her to shop for her tings at MC. We were done ard 10pluz & since they wanted to chill sumware we decided on Mac at Sengkang. Sat & crapped til 1230am before making a move. Send the 2 ladies back before home swit home for us at 130am. Super2 shagged, I managed to sleep only close to 3am. -___-

E weekend is here. I sense boredom. Oh well, we'll see how. Enjoy sum pixies here, e rest in FB. Dhaaa!


Monday, November 16, 2009 11:32 AM
[Sis, BIL, Cik Wan, Me, Hubby, Abg Rizal & Kak Mas]

That's my fav uncle up there, Cik Wan. He just came back last Fridae for a short visit before goin back to Dubai soon. Last sat I went over my sis house but upon reachin no one were home. Well usually I wun call wenever I wana go over tinkin they wil always be home. Nie la akibat nye, nk buat surprise diri sendiri kene surprise. haha.

So yeah, called up my mum & she said they were all over at my grandma's house visitin my uncle. Upon hearin he's back I quickly made my wae there. Was so excited to mit him, he's reali 1 of my BEST uncle ok. Since he's living in Dubai now he'll only come back once a while. Last tym I saw him was 2 yrs ago I guess. Aniwae, looking at him reali reminds me of my late grandpa. They look so alike! Now I miss my late grandpa. =(

Aniwae, we spent e evening looking at all e ol' photo albums & reali had a good laff, esp over my bro's pic. I tell u, he's so0o0o0 adorable when he was small! LOL! Wished he was der dat dae, im sure he wud b blushin then. hehehehe. *peace bro*

Hubby came to fetched us home at 10pluz, sent my parents & e kdis home and followed him to finised up his werk before home swit home @ 12am. Next mrn hubby had to werk while me & lil' boi woke up only at 12pm. Syiok ah. hehe. We got ready & head down to e library at tpy central. Spent an hr there lettin him choose books while I read it out to him. I must sae his pronounciation is very good, able to say out e werds clearly. Shall bring him to e library every week. =)

Later in e evenin after hubby came back from werk we got ready to go for our movie date! Had promised lil' boi to bring him watched Astroboy & e whole dae he keep telling us not to forget (He said that coz we cancelled e plan twice oredi, hehe). We decided to went public & trained to AMK hub. Booked e tixs for 630pm show & while waitin had dinner @ Mac.

Overall e show was great, though it was a cartoon show still I teared durin e show. hehe. Lil' boi sat stil thruout watchin but of coz, he cant stop askin lotsa qns. hehehe. Show ended at 810pm & it was then home swit home for us.

Glad my weekend was well-spent. =)


Wednesday, November 11, 2009 9:50 AM


And so yesterdae was Anna & Reymie's weddin. Im reali heppy for this babe of mine. As mentioned, was so excited to go over her house yesterday after werk. I reached home at 645pm & quickly got ready while waitin for yaya & nadea since we'll be goin with them. Finally left e house at 730pm & fetched them at e mrt before making our wae to CCK.

We arrived ard 815pm & by then e rest of e widya babies were all gathered at e void deck. Made our wae up & 1st ting we all did was to take 1 pic of e bride 1st before eatin. haha. All became monsters for e nyt, mcm tk mkn 10 hari! LOL!

After eatin it was photoshoot tym. hehe. we went into e room to take pictures with e bride & groom. I guess we were e longest to stay in der, ppl were waitin outside for their turns to take pictures. hehe. We finally left at abt 930pm. Sent yaya home & nadea followed us back to tpy since her fiance was fetchin her from der.

Now2, I cant wait for december. Someone's gettin engage yaw! Im so excited!! =)


Tuesday, November 10, 2009 11:46 AM



Last weekend was quite a bore. Assuming it would rain I actuali made no plans at all, what a waste. Therefore my sat was stuck indoors, only goin for lunch & dinner outside. E rest of e dae was spent lazing ard at home. However at nyt went to e library wif lil' boi for a short while before headin hm. How mundane my saturdae was. Pfftt

Sundae was slightly better. Went for family picnic over at changi. MIL made e plan e week before since both herself & PIL wazen werkin. Its hard for them to get their off dae on sundae thus I guess they just wana do sumtin fruitful, like family bonding. =)

We left quite late I wud sae, ard 1pluz. Head down to changi village 1st for our lunch before buyin some snacks & over to find a spot at e beach. A good ting it wazen so crowded. We got ourself a nice spot under e big tree afterwhich hubby & BIL started setting up e tent. E weather was bein such a switheart on dat dae, sunny yet windy. Realllli windy I must sae. Only hubby & lil' boi had a dip in e sea while e rest of us simply chill ard, enjoyin e breeze.

Oh btw guess wat, e toilet der were under renovation thus they set up a temp toilet which seriously, disgust me! It was so dirty & smelly la ok. OMG, I swear I wun ever go der agn till e new toilet is ready which is in late Dec. Errrghhh

Well aniwae, we finally left e place at 6pluz. Upon reaching home my tummy started rumbling in hunger. Cuden take it thus I called for pizza immediately. It was damn nice can, even lil' boi finished 2 whole pizza. Dat nyt both me & lil' boi turn in bed early, ard 10pm I guess? Were realllli tired.

Cant wait for tonyt, will be goin to Anna & Remy weddin dinner. Yes2, dat babe of mine is gettin married, or shud I sae, had gotten married earlier todae! hehe. Well babe, welcome to e club & we'll c u later prettyhead! ;)


Wednesday, November 4, 2009 4:02 PM
I LOVE MY LIFE!

Ok that's so random. haha. But then again, I do love my life currently! Everytin is goin on well. Have I said how much I love my job? Yes I do! Everydae I get to learn something new to add on to my experience. I simply love it. As for family wise, Im glad that my family bond is getting closer. Im still hoping my 2nd sis will soon share e bond between us but sumhw it seems impossible? Idk. Not up to me to decide. We'll have to see what e future brings us, am just prayin for e best. =)

Oh btw, as all would have known lil' boi has open up his stitches so now it's left with just a scar. A scar to remember for life. Each time he looks himself in e mirror he'll sae, "aniq jato skrg tk cantek." Hmm well babyboi, dun worry bout that. As ppl owaes sae, what's a hero wifout atlez 1 scar true? *wink*

I cant wait for end nov onwards. So many events to look forward to. BIL b'dae party, hari raya haji trip to batu pahat, hubby' bdae, my b'dae & also e family vacation to KL!! Gerek or wat?! cant wait, cant wait.

Can somebody wake me up when november ends?!