The Lady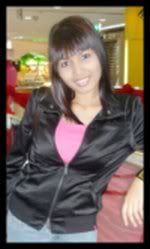 ♥Zura is the name♥
♥22-Dec-1987♥
♥A Wife & A Mummy♥


Her Love Ones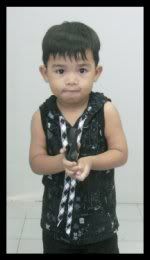 ♥Muhd Aniq Nufael♥
♥Born on 23/06/06♥
♥Son whom she loves dearly♥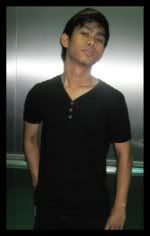 ♥Muhd Adam Firdaus♥
♥Blissfully married on 15/09/05♥
♥Hubby whom she is devoted to♥


Speak, don't bark.
Her Daily Reads
Thursday, October 30, 2008 4:29 PM



My back has been aching like hell these past few daes. mayb ive been siting too long in a dae. furthermore i have diz habit of slouching when i sit. itz very bad i tel u, but a habit is a habit true? no matter how many ppl esp hubby, scold me i'll stil end up slouching EVERYTYM. shucks.

I've been sliping early as well nowadaes. everytym lil' boi slips i'll end up slipin as well, at tyms as early as 9pm. Itz good la as Im gettin enuf rest for e next werkin dae. but i fil lyk ive been neglecting hubby recently. itz lyk, i cum back from werk i'll spend tym wif lil' boi til he slips & den im off to slip as well. didnt even have tym to talk to hubby or watch tv together lyk how we used to. i fil guilty lei but wt to do. i reali canot control my slipiness u noe. sowie k baby...

On a totaly diff note, im tinkin of sellin my HTC Touch. anyone interested? stil in a very good condition. bought 1st hand, used for 2 mths onli. comes wif full package. price, negotiable. interested email me at volblockco@hotmail.com ok? thank u very nice.

I have notin else to talk abt. m juz patiently waitin for 6pm. body cant take it nimore. oh btw, derz OT diz sundae, 7pm-10pm. wth?!

Tuesday, October 28, 2008 10:24 PM



Ps: Long entry & lotsa pixies up ahead!

E melaka trip wif e family over e weekend was great. juz what i needed since itz been a lo0o0ng time since i laz went for a holidae. n it was of coz, e 1st eva holidae for lil' boi. even for e rest, i tink itz been 2 yrs since dey laz went on a holidae thus on fridae nyt, all of us actuali cant slip. haha. guez we were juz too xcited la kan. =P

On sat, we woke up as early as 7pluz to get ready. n later by 9am, we were all set to go. a gd ting we went by 2nd link (Tuas) instead of causeway coz even via 2nd link, it was jammed thus i cant imagaine if we were to go via causeway, confirm more jammed! so aniwaes, we finally reached melaka at 230pm. freakin long huh. ter-tido2 smue dlm kreta. hehehe

We stayed at A'Famosa Condo D'Savoy on e 1st dae. we were lucky der were stil rooms available since it was e peak period & we didnt had any reservation made. infact, moz of e rooms were almoz fully booked but we managed to get a 2-bedroom apartment at e condotel. n so we checked in, settled down & later ard 330pm we went to A'Famosa water world. e place was ok, juz dat e water was a bit dirty i muz sae. but3, i super luv e high speed slide! my heart almoz came out i tel u! hahaha. super seram nk mampoz lor!

We finally got off e pool ard 6pm & after changin, we proceed to buy foods to bring back to e condotel to eat. we reali bought alot of foods i tel u. haha. back at e hotel, everyone had deir shower & chilled ard while eatin. dat nyt mama, aya, ajan & adeq slept reali early, lyk 8pluz? hehh. while me, hubby & lil' boi hit e sack at 9pluz. well, we didnt reali slept e nyt before rmb? datz y all of us turned in early on e 1st nyt. hehehe

Next mrn, woke up ard 8am & went for breakfast. hubby & adeq didnt followed since dey were stil slipin. back at e hotel, laze ard til 10pluz & decided to checked out since we had planned to stay at anoder hotel near the town area of melaka on e 2nd dae. since as mentioned, we didnt made any reservation aniware, we decided to roam ard looking for available hotels since we expected moz to b fully booked.

We went to 3 hotels, Mahkota, Holdiay Inn & Equatorial hotel but all 3 were fully booked. n lucky us again, der were rooms available at Hotel Seri Costa. even so, all e family rooms was fully booked thus we booked 2 superior rooms instead. itz our fault for not making any reservations durin e peak period thus we make do wif wateva rooms available. dari tdo kt road kan... =P

Since we arrived at Seri Costa ard 11pluz & check in time was only after 2pm, we den made a booking 1st & went to mahkota parade for lunch & some shopping while waiting til 2pm. finally checked-in at 230pm & lil' boi fell aslip immediately since he was reali slipy. he woke up ard 4pluz & so we went out agn to mit e rest who were already at plaza mahkota. went shopping agn til 7pluz before havin dinner at a nearby coffeeshop near out hotel. reached back hotel ard 8pluz & later hubby & mama planned to go naek becak. hehe.

N so we went up to our rooms to put our tings inside & went out agn for becak riding. hehe. to b reali honest, it was my 1st time riding a becak la ok. so outdated kan i noe. dey sent us back right in front of the hotel entrance. short but njoyable ride, i loike.

By den it was oredi nearin to 10pm so we decided to call it a night. we've been walkin almoz e whole dae thus our legs seriously cant take it oredi. back at e hotel, showered & off to slip.

E next dae we woke up at 9am & got ready to packed & checked out. had our breakfast before dat & soon we were off. initially tot of goin back hm strait but end up stoppin at Jusco melaka as well as Giant & Holiday Plaza at JB. of coz, shopping agn. we finally left JB at ard 5pm & went by 2nd link agn since we knew causeway wud b damn jammed since everybody will be cumin back from deir holidae. n so, home swit home for us finally at 630pm. =)

Next holidae, Jan'09 my dear family? *smile*

On e wae:


At A'Famosa Condo D'Savoy:
At A'Famosa Water World:
Back to condotel:
2nd dae:
3rd dae:
Friday, October 24, 2008 11:59 PM


HEPPY 59TH B'DAE TO MY PRECIOUS MUM, RAHANA aka ROHANA

Mum, i wan u to noe i reali2 luv u so. eversince i bcame a mum myself, i totaly understan a mum's filin towards her child. notin is greater den a mother's love. noting.

I hope u njoyed e dinner earlier. doh itz juz a simple outin for dinner, i cud c u njoyed urself. my heart fil at ease seeing you smilin & laffin. as said, plz do not b sad animore. tingz happen for a reason. segale kejadian ade hikmah nya.

Naz doa semoga mak panjang umur dan murah rezeki. mudah-mudahan sentiase di dlm keadaan yg sihat. semoga sentiasa dilindungi ALLAH S.W.T. Amin...

Thursday, October 23, 2008 10:00 AM


HEPPY 2 YEARS 4 MTHS TO ANIQ NUPAEN (NUFAEL)

If you wana noe, datz how lil' boi sae his own name. nufael jadi nupaen. hehehe. everytym we ask for his name he will sae, 'aniq nupaen bin adam'. smart lil' b boi!

He is reali gettin smarter & smarter each dae. im not tryin to b proud but at tyms, i do fil dat he's juz a lil' too smart for his age. he juz learn tingz too fast. u do sumtin in e mrn, in e afternoon he'll b e 1 doin it. even e wae he talks, waduhh, mcm abg2! tkle akt kadang2. hehh

As for now, he reali fancy motorbikes, soccer & music. try openin any song in front of him & he'll start dancin awae. everytym we r goin out, he'll 1st run to either his papa or uncle bike & will climb up himself. afterwhich he'll try to kick-start e bike, which of coz he cant reach. hehe. n soccer, everydae he'll force anyone he can to play soccer wif him. b it hubby, me, BILs or even FIL. dun ask how many balls he have. from tiny to soccer balls. LOL!

Itz true wen ppl sae, "anak laki tym baby nk jage susa, makin besa makin senang." i can stil rmb wen lil' boi was stil a baby. such a crybaby, every now & den will cry. now as he's growin bigger & bigger, itz gettin much more easier to look after him. of coz, 1 ting we cant avoid is deir super notty attitude. but oder den dat, i dun c much prob raisin him. =)

Ryt now, let me tell u all 1 secret...............................................

I CANT WAIT TO B PREGNANT AGN!

hahahahahhahahahahahhahahahahahahahahhahahahahahahahah!

Wednesday, October 22, 2008 4:02 PM



I canot take diz any longer. i have to vent it out. bia la org nk ckp aku busok kn keluarga sendiri ke ape. to start it off, he's only my in-law aniwae, not my fcukin own flesh & blood. in case u wana noe, itz my BIL (1st sis husband) which im so mad wif. SO FREAKIN MAD!

Sowie to sae diz but eversince e dae he got married to my sis, i've never liked him. no respect for him at all. u tel me, wud u respect someone who is juz ur in-law but tries to control ur life? esp wen ur own father dozen do dat? dat man controlled my life since i was freakin 10 yrs old. dat man was also, e one who actuali lay his hand on me, sumtin which my dad never done before. wen i wanted to quit skul durin sec 5, i had to get approval from him even wen my dad agreed. wen i wanted to get into ITE, i had to enrol into a course which HE wanted. dat was e onli choice i had. n later wen i quit e course halfwae coz i juz didnt lyk it, he threw me out of his houz. yes, juz bcoz i quit a course which HE lyk & i dun. now u tell me, wud u respect a man like diz??!

Wen i finally got married, i tried to forgive dat man. i told myself, MAYB wteva he did durin e past was all for my own good. i hold nomore grudges towards him since den. besides, i tot, he was afterall my sister's husband. so out of respect to my sis whom i love, i tried to forget everytin. even wen i found out he was tellin tales abt me, i kept quiet. wana noe wt dat man said? he said my precious son, was an illegitimate child. yes, my own family member said dat. do u noe hw hurt i was? worst ting is, he said dat to my grandma. y he did so, i have no idea. mayb, he was stil havin grudges towards me? i dono. stil as said, i kept quiet. i juz didnt wana argue wif him on dat, esp since itz not true. ALLAH is my witness, he knows best. so to oders who kips accusin me of havin a child out of wedlock, i kept quiet not bcoz itz true, but bcoz i cant be bothered to entertain nonsense.

Now as to y im reali mad at diz man now, is bcoz he has gone too far, too much. diz tym round, i can never forgive him at all. all bcoz my 2nd sis & husband decided to take my parents in to stay wif dem now, dat man got mad for wtever reason i dono & started to sms my 2nd sis nasty tings. n wt made me so mad was wen he actuali said, after my parents move in wif my 2nd sis, he dun wana noe anitin abt my parents animore. he even told my parents dat once dey move out from his house, dey dun have to come back. n supposedly my parents will move mid-nov but dat man actuali told my parents to move out next week. now as a child, wud u b mad if someone who is not ur flesh & blood said dat to ur parents?? juz bcoz my parents is stayin at his houz nw & wana move, he had to said all dat??

Wen i spoke to my mum on e fon earlier, she was tellin me how she had been cryin e past few daes coz of diz. do u noe hw hurt i was knowin my mum, who is oredi in her 50+ is cryin daily?? u tel me, izit wrong of my parents to decide if dey wana move in wif anoder child of deirs? itz ridiculous ryt?!

So nw u noe y im so mad ryt. basically itz bcoz dat MAN had made my mum cried. n.i.super.hate.him.for.dat!!!!!

Tuesday, October 21, 2008 9:45 AM



Hubby got into an accident yesterday....again. n it happened at amk....again. but lucky diz tym round, it wazen dat bad. juz a few abrasions here & der. he initially tot his leg was broken, coz his leg was stuck under e bike for quite sum tym..

I got shocked wen he called me wen i was otw back from werk. i seriously tot he was jokin wen he asked me to go to e hosp strait awae. called mama to informed dem before rushin over to ttsh. upon reachin register myself at e A&E before goin in to c him. still got e cheek to smile2 wif me. chet. diz is e 2nd tym mind u, how can i not b scared ryt? fil lyk tellin him to juz stop rydin. haiz

A gd ting he didnt have to be warded. after e nurse clean up his wounds they allowed him to go hm. was given a week MC. n ya i told him laz nyt;

"dulu nye accident claim lom dpt2, nie nnt claim lagi. lame2 kite kaye dpt duet insurance eh.."

kwang3. oh well, im juz glad he's fine. n to u by, pls, can u b more careful on e road next tym? doh i noe, diz kinda ting sumtyms cant b avoided. derz juz too many reckless & unconsiderate drivers out der. but u noe, juz b careful ok. pls hor. we stil nid u ok. meanwhile, have a gd rest for diz 1 week ok. =)

------------------------------edited @ 4:02 PM---------------------------------

I dono y tings r turnin out diz wae...we were once a heppy family..it reali saddens me dat dey r fallin out wif each oder..y muz der b conflicts? im sure tingz can be solved peacefully ryt...wt do i do..wt can i do? notin. i dun wana b e middle person..but at e same tym, i reali do not wan to c my own siblins becum enemies.. it hurts, it reali do.. i reali fil lyk bloggin abt diz, but nah...too personal...im juz prayin....hard =(

Saturday, October 18, 2008 11:51 PM



Our plan to go raya-ing todae gotta be cancelled since hubby had to go for his reservist thingy, mob-manning (izit wt it's called?) or whateva shit dat is. super iritatin, all of daes gotta be on a sat. im sure moz gerls out der who's bf/fiance/hubby had to be called for e same ting fil as frustated as i am. spoiling bena!

N so i was home e whole dae todae. slip, cooked, eat, watched tv, laze ard. basically datz wt i did. lucky hubby didnt came back too late, by 6pluz he was oredi hm. tot of askin him to bring me & lil' boi out but lukin at hw tired he was, i changed my mind & decided to stay in instead. itz ok la, stil got tomoro left to go out before weekdae cums agn. booorinnnn.

I cant wait for next weekend. gonna go for our short holidae. i reali nid it badly since werk has been tiring me out lately. a gd ting itz gonna b a long weekend next week. btw to my babes, sowie la on 27th i reali cant mek it since i'll b back from my trip onli on mondae evenin. we'll do a catch up instead soon k lovelies?

Tym to slip nw. gotta wake up early tomoro. dhaa!




Lil' boi posin wif hubby's trophy for winnin 2nd in a soccer match recently. n oh, sumpah aku tk aja die posin gitu ok! hahahaha

Thursday, October 16, 2008 11:59 PM



As mentioned in my previous entry, todae der was an event after werk at 1F. we left e office ard 630pm & quickly rushed der since it started at 6pm actuali. great to c reena & reijean agn. reali2 miz dem. n oh, i saw sum ol' clients who used to b at NAC. said hie to dem, glad dey stil rmb me. =)

Soon it was e cuttin ribbon session. it was, of coz e CEO who cut it together wif e landlord of 1F. did i mentioned dat my CEO luks so much lyk professor X? haha. im not kiddin ok! shud have took his photo earlier. hehehehe

Mingled ard wif e clients & e oder stuffs from e oder centre. n of coz, flickin here & der. hehh. finally left at ard 915pm wif reena. shared cab wif her. reached hm close to 945pm. so freakin tired. k nw, pixies tym!


Wednesday, October 15, 2008 11:32 AM



It's mid week oredi, how fast. Once todae is over, e weekend will be in juz a breath awae. I cant wait for this week to be over coz derz juz alot of tension for diz week since e big2 boss is here for a visit. Last monday we OT-ed til 8pm to make sure e place is clean & really dust-free. N yesterday i came as early as 730am juz to make one last final check ard e office. Just 2 more daes, n off dey go. =)

I have an event to attend to tomorrow after werk. Really dun fil lyk goin but do i have a choice? haiz. itz actuali e grand launch of our new centre at One Fullerton. so yeah, have to be der. itz from 6pm - 9pm. i wonder wt im gona do for dat freakin 3 hrs. n oh, on e 8th of nov i actuali have to attend a training. itz on a saturday mind u, 9am - 6pm sumore! aiyo. but nvm, dey will b givin us 1 day off in lieu for dat. letz c wen i wana take dat off dae.

On a diff note, hubby is havin quite a hard tym at werk. here's e deal, his team consist of 6 ppl including him. n 5 of dem r malaysian. as u all noe, usualy for all diz malaysians werkin here, dey will usually go back to jb afta werk. thus e same for hubby's colleagues. dey wil nid to go back ryt after werk thus any OT have to be passed to hubby. on top of dat, dey have now implement night shift twice a week. so hubby will have to take up e nyt shift every mon & thurs since his oder colleagues wun be able to take it. i bliv diz is tiring hubby out. not dat he cant take e pressure, juz dat he find it abit unfair dat he has to do almoz everytin on his own. juz lyk yesterday for example. he went to werk in e mrn, had to do OT after werk til 1030pm & later continue doin nyt shift til 9am diz mrn. tel me, werkin 24hrs, crazy ryt?! he wanted to look for a new job, even asked me prepare for him a resignation letter. ting is, i dowan him to act harshly. lyk u noe, wen u r mad u wana quit der & den. besides, his pae is gd, it'll b a waste to quit juz lyk dat, agree? but den agn, final decision up to him of coz. no point i ask him to stay coz at e end of e dae, he's e 1 werkin, nt me. letz juz wait & c.

Weekend cumin soon, diz sat wil b goin for laz raya outin wif hubby's peepz. while on sun? rot at hm. haha. well ok la, notin much to update now. juz dat, i miz my babes!!!

Sunday, October 12, 2008 11:18 PM



Hubby was supposed to b werkin e afternoon shift todae but he gave his cb to his fren thus he got e dae off for today. defore we decided to go out in e late afternoon to ina's open houz at b.p & nana's son bdae cum open houz at yana's houz at pasir ris. we left at ard 4pm & off to ina's houz 1st. i miz dat babe, 6mths since we laz met. u stil e same eh, small & skinny. hehh.

We left at ard 5pm & went to TM 1st to buy sum stuffs afterwhich we proceed to yana's houz. too bad, dat babe of mine wazen back from her bangkok trip yet wen we came. met her grandma who owaes mistook me for fizah. haha. miz all her family members. =)

Soon syasya came wif her son. nw dat babe super cool, came wearin a dress. haha. n oh, her hairstyle same lyk mine, kekek pe! LOL. as usual, e houz very e kecohrable. at ard 7pm it was e cut cake session for dani bdae. i luk e cake, damn nice. prima deli cake no 1 eh nana? hehe

We finally left at 8pm & proceed to fetched aya back from werk. lata at 930pm fiza came wif her fiance. chitchat2 & later by 10pm dey made a move. lil' boi was so tired dat he slept ryt afta his shower. ape ke tak, 1 ari tdo stgh jam je. ish! well k la, im gona go eat & off to slip. dhaa!