The Lady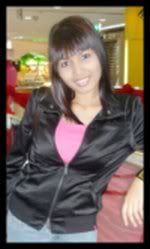 ♥Zura is the name♥
♥22-Dec-1987♥
♥A Wife & A Mummy♥


Her Love Ones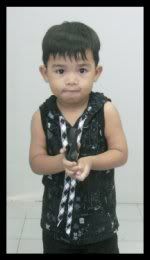 ♥Muhd Aniq Nufael♥
♥Born on 23/06/06♥
♥Son whom she loves dearly♥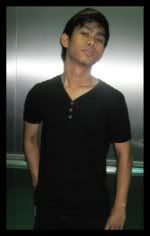 ♥Muhd Adam Firdaus♥
♥Blissfully married on 15/09/05♥
♥Hubby whom she is devoted to♥


Speak, don't bark.
Her Daily Reads
Sunday, May 31, 2009 11:54 AM



Yest as planned met up wif faz & hubby at 1030pm for late dinner at Mr Teh Tarik tamp before heading down to TM for our movie date. we watched Terminator Salvation & i rate it 4/5. during e start of e show i tot it's gona b borin but towards e middle of e show, it started to get xciting. n ya, e ending almost made me cry can. a good show indeed. next movies in line would be Fighting, Pelham 123 & Transformer 2. cant wait!

Aniwaes, movie ended at 230am & we chatted a while (infact it was e guys who cant stop talkin!) before making a move at 3am. hubby had to werk e mrn shift todae, pity him not enuf slip. will b goin home at nyt i guess. tomoro back to werk, arrgghhh!


-------------------- [edited @ 646pm] --------------------

Earlier diz afternoon went to shima's crib which is just 2 blocks awae from my sis place. damn i miz her so much lor! e last tym we met was last year june mind u. everytym we planned to mit for sure tk jadi want. so yeah, glad we finally get to mit & lepas kn rindu. hehe.

Didnt stay long as there's a kenduri at her place in e late afternoon. therefore left an hr later & met hubby downstairs who just came back from werk. tot of bringin lil' boi to e playground but it was freakin hot thus we ended up goin home to slip instead. managed to slip for a whole 3 hours, damn syiok sia.

Woke up, had our late lunch cum dinner before bringin lil' boi to e playground. he was havin so much playin til didnt wana go home. grrr. he just had his shower & is playin ard alone. yala, all his brothers not home mah. not sure wat tym we gona go home. can i just stay here? *sigh


Saturday, May 30, 2009 6:37 PM



Earlier diz mrn had e company training at 1F. hubby sent me together wif lil' boi since he was awake by then & insisted on following. but then wen i reached & got off e car he started crying. ape da. aniwaes, e training was fun as xpected. everyone co-operated well & we were realeased at 130pm. they went to had lunch which i passed since i need to rushed to lil' boi skul. hubby had sent him to skul earlier but because he had to standby for his reservist, i had to fetched lil' boi home.

I went home 1st to changed & get our stuffs since we will b spending e nyt at SK todae. cabbed down to Pungol Plaza afterwhich hubby told me he might not need to go to his reservist afterall. grrrr. made me rushed la ok. we then proceed to CP for lunch & off to my sis place ware by bro just got home.

Bro is out for soccer now while im waiting for hubby to come. he went to sent e car back home 1st since FIL will b using it. gona mit faz & hubby for movie later tonyt. so wil update again later or tomoro aitt!


Friday, May 29, 2009 9:39 AM
T.G.I.F

Finally..been waiting for today since forever! haha ok bedek. basically im just glad the weekend is here. though i still have to attend a training tomoro, it's ok. somehow im sure we're gona have fun. a good ting hubby aint werkin tomoro so he'll accompany lil' boi to skul. n hopefully my training ends early so they both can come fetch me. it's a waste not to go out tomoro since hubby gotta werk on sundae thus tomoro wil b e only dae he's free to bring us out.

Nuff' bout that, i wana thank hubby big time for his hardwork yest. well he was on leave yest mah & guess wat he did? a tranformation to our room! haha. i did mentioned before ryt, wen his semangat mood comes, he will start cleaning tings up & do a good job out of it. yest he turn e position of both lil' boi & our bed which somehow, made our room look more spacious. i came home from werk to a very nice & clean room. that's very rare ok. hahaha. so once again by, thanks hor. nnt i blanje u ice-cream k? LOL!

Ok now, gona get myself bz til 6pm. haha. have a great weekend ok ppl!

Thursday, May 28, 2009 1:21 PM
Hey lovelies, Im selling off my pink Canon digicam. Used for 8 months, still in good condition. Comes with full set in a box.




Digital IXUS 80 IS – 8.0 Megapixels, 3x zoom with optical Image Stabilizer and 2.5" high resolution PureColor LCD II

CLICK HERE

You can click on e link above to know more about e features & functions.

Bought it at: $459

Selling it at: $300 (nego)

Anyone interested can just tag me ur email & i'll get in contact with u ok?

Thank you!

9:10 AM


Morning earthlings! guess what? its oredi thursday yaw! a day more to e weekend. however, im not really looking forward to this cuming weekend coz i've got a full day training this sat. bleargh. but nvm, let's just hope it's gona b fun and of coz, end early. hehh.

Aniwae, yest as mentioned hubby came wif lil' boi to fetched me home. since we were gona go AMK hub, gave a ride home to grace since she lives at AMK as well. lil' boi was very cheeky in e car, keep disturbin grace. die yg gatal die ckp org tu gatal. haha. we walked ard e hub for nearly an hour before havin dinner at LJS. by 930pm we decided to head home since lil' boi was oredi cranky. in fact, me as well coz i was super shagged & tired from werk earlier.

I noe my blog is gettin borin wifout any pixies ryt. so lemme just upload a few which is not in sequence though. njoyz!


Wednesday, May 27, 2009 4:22 PM



Singapore confirms first case of H1N1
Posted: 27 May 2009 1033 hrs

SINGAPORE: Singapore has confirmed its first case of Influenza A (H1N1).

The patient is currently being treated at the Communicable Disease Centre at Tan Tock Seng Hospital (TTSH) and is in stable condition.

The patient is a 22-year-old Singaporean woman who was in New York from May 14-24.

She arrived back in Singapore from New York on SQ25 on 26 May at 6.30am.

She began to develop a cough while onboard.

She passed the thermal scanner uneventfully as she did not have fever then.

Later in the morning, she consulted a GP who decided to send her to TTSH via a 993 ambulance, given her travel history.

She was immediately admitted for testing. Laboratory confirmation of her infection was made by midnight of 26 May.

The patient has been vigilant in monitoring her own condition and had sought immediate medical attention once she realized that she was unwell.

Her attending GP, through his quick response in activating the 993 ambulance for the patient, had also helped to minimize the spread of infection from this case.

The Health Ministry says it has initiated contact tracing of her close contacts. They will be quarantined and provided with antiviral prophylaxis.

Passengers who had travelled in the same flight and were seated in rows 52 to 58 are urged to call the hotline at 1800-333 9999 to enable the MOH to check on their health condition.

The MOH adds that all medical practitioners and healthcare institutions should continue to be vigilant to suspect cases.

Singapore will continue with temperature screening for passengers entering Singapore at all checkpoints (land, sea and air).

All passengers passing through or entering Singapore are given Health Alert Notices on board their flights, advising them to monitor their own health if they have been to affected areas and to seek medical attention immediately if they are not well.

- CNA/ir




----------------------------------------------------------------------

Now that's, really scary la ok! furthermore considering how small Singapore is, it can just spread to anyone, anytime! well..let's just hope the victim will recover soon & hopefully, no one else is gona become a victim!

1:50 PM



Earlier had lunch with hubby & lil' boi. since hubby is on 3 days leave from yest til tomoro, he actuali brought lil' boi over to have lunch with me today. really swit of him huh. lil' boi was so xcited upon seeing me, mcm da lame tk nmpk gitu. padahal ari2 eh jumpe. haha

We had lunch at Mac before they both followed me up to my werkplace since all wana c lil' boi. he pretend to be shy2 only. padahal tk tau malu! haha. when it was time for me to get back to werk, lil' boi dun wana leave, started cryin. aiyo. had to accompany him all e way to e carpark & even had to get into e car wif him. hubby stop me outside & as i leave, lil' boi started wailing so loud. berat ok ati nk tgl kn. haizz

Hubby just told me lil' boi was cryin all e wae back home. terok la that boi. but it's ok, im sure he will forget all abt it once he's home. tot of bringin him watch Monster vs Alien later after werk but then there's no slot for it today. bummer. it's ok, hubby will still b on leave tomoro so we gona go tomoro instead.

Aitt now, 4 more hrs till knock off time. both e hubby & son wil come fetch me later. weeeeeeee!

Tuesday, May 26, 2009 3:29 PM



Every child will share the features of the parents, true? like lil' boi, so far everyone has been saying he looks exactly like hubby. of coz, i disagree though i noe it's a fact. haha. but 1 ting for sure, he has my skin colour. and my eyes also. atlez that's what i tink la. hehh.

Apart from that, a child will somehow inherit their parents attitude as well, i bliv. so far, as per what i realized from lil' boi, he has e same ego level as hubby & is emotional like me.

Y ego? coz just like hubby, both of them won't apologize easily when in e wrong. stubborn also la can sae. n y emotional? coz just like me, he can't have ppl comfortin him when he's sad. confirm melalak! haha.

Somehow i cant wait for lil' boi to grow up. im curious to see how he's gona b like when he grows older. at e same time, i want him to remain as he is now. forever 3 can? hehe. but watever it is, he will owaes be our lil' boi. =)

Monday, May 25, 2009 10:03 AM
GERAM! SUMPAH AKU GERAM!

KLAU TK SUKE CKP JE LA DEPAN2. ASL KENE BEAT ARD E BUSH??

BINGET!!!!!!!!!!!!!!!!!!
Sunday, May 24, 2009 11:57 PM


Usually sundae would be a stay at home dae for us but not for todae. since it was rare for hubby not to b werkin on a sundae he decided to bring me & lil' boi out. and our destination? paris ris park for cycling! it's actuali e 1st time we went cycling together as a family. we reached there at 6pm & cycled for 1 whole hour from one end to another. lil' boi was so xcited sitted at e back. keep wow-ing every now & then. hehe. oh btw, as u can c from e pic above, i cut my fringe agn. i know i very gatal but as i said before, i tink it reali suits me. no? bleargh.

Aniwae, since we were all hungry afta the one hour ride, we headed down to bedok next for dinner at pizzahut. after filin our tummy wif e yummylicious foods, we went to Giant at tamp next to shop for lil' boi daily needs. we bought a hugeee tent for e family pit coming up in 2 weeks time. gona spent e nyt there thus e tent is a must. =)

We finally get e chance to visit wak malik earlier. he looks good, Alhamdulilah. hopefully he will get well soon enuf so that he can join us for e family pit. im sure he wud love to go as well. but wak ijah is kinda worried, siang2 da cakap tkle gi. hehe. we'll c how.

Home swit home by 1130pm & e lil' one as usual fell aslip otw home. im gona tuck in as well since gotta come in early for werk tomoro. njoy e few pixies!


Saturday, May 23, 2009 10:37 PM



Finally ive got for hubby a new HP. since he lost his phone 3 mths ago, he's been using his bro sweet pink fon. hehe. initially i had planned to get him N73 however knowing how fussy he is abt phones, i decided to ask him randomly yest what phone he likes best. he ans the Nokia Xpress Music phone, just like e one he lost. since hubby was werkin todae, it was a good time for me to get him e surprise.

Early mrn before bringin lil' boi to his class, we headed down to central first to survey the phones. after looking ard, i decided to grab for him Nokia 5130 XpressMusic in black & red. had our brunch at Mac before cabbing down to Pungol Plaza. since my parents were at SK, me & lil' boi went over after his class. hubby came to fetched us at ard 6pm. he was super heppy upon gettin e new fon. the first time he said thank you to me thrice. hehehe.

We decided to visit nizam's son who was born last thurs. he was super cute la seh. geram!!! i hold him from e moment we reached til it was time to leave. hehh. we left at 9pm & had wanted to visit hubby's uncle again who got discharged today since last nyt we didnt managed to went in to c him. but since lil' boi fell aslip in e car otw there, we decided to head home instead. get well soon wak malik.

Might be heading down to pasir ris park tomoro for cycling. hopefully mr sun wil b out e whole dae tomoro. ok now, shall go accompany hubby watch tv. dhaa!


Btw, heppy 2 yrs 11 mths adam junior!!!
ps: his new little monster! hahaha!
Friday, May 22, 2009 4:28 PM
Losing your bestfriend hurts more than losing your lover. Acceptance is hard, but it'll come.

I got this phrase from my cousin's blog. sowie eh farr, dun mind i curik. hehh. well, i just find this phrase very meaningful noh! i noe i noe, i've touched on e topic 'Friends' for 145128942 times now. i guess if i were to write a novel on this topic confirm no ending. hahaha. but well, writing abt real life experience can be very interesting, dun u tink so?

Before anybody get e wrong idea, i aint falling out wif any of my frens. nope. just that, i suddenly remembered abt e past. i was very close wif yana back then. there was once, we argued abt sumting. i shall not say it out here la kan. igt tk yana? yg kite gado psl _____ tu. i dun rmb e name actuali! hahaha. we didnt talked for a few weeks if im not wrong. it was my fault then, wun deny. sumore i very gundu want, it was supposed to b a secret but i gatal konon wana share everytin wif her so i told her. hehehe. she was so mad she really didnt wana talked to me. i almost lose her bcoz of dat ok! haha. but luckily la, we were both not so stoopid to fall out over sumtin like that. LOL!

I dont know why im posting all this but well, those were all sweet memories i had wif her. it's nice to reminisce on the past yeah? im just glad, even after 9 yrs, we are stil frens. though we are no longer close as before, atlez i know i can always count her to lend me a listenin ear as & when i need to vent out anitin, just like e other dae. =)

I luv u ok bacen!


9:31 AM



I noe my past few entries sound so depressing but im fine actuali. those were just some inner tots in me which i had to let out. in case u didnt noe, i aint good at handling stress. so rather then keeping it all in me, might as well i just rant it out here ryt? atlez it made me feel better. =)

Ok enuff bout e all that, let's move on to other topics shall we? well, it's finally weekend yaw! but sad to sae, we have noting plan up for this week. bleargh. hubby gotta werk both days so that means me & lil' boi wil just rot at home. if my mum is at BP then i shall go over to visit baby alisha. im missin her so damn much oredi can?!

Oh2 gues wt? me & hubby had been playin badminton for e past 2 days! konon nk stay fit la kan. haha. til my hands are all cramp ryt now. kwang3. but its reali damn fun lor. while we were both bz playing badminton, lil' boi was bz playin soccer & making new frens. hehh. whoever he saw at e playground he will just ask them to play soccer with him. that thick skinned boi of mine. LOL!

Gotta end here for now. hopefully my weekend wun b as borin as im tinkin it will b. have a great weekend all!

Thursday, May 21, 2009 1:33 PM
Why are u so emotional?

How would u ans to that ans? is there even an ans to that? idk. no doubt, im sucha emotional freak. but trust me, it's not something i can control. i don't even want it to be that way. u think i like to cry over small little things? trust me, i don't. at times i wished i was stronger, able to hold back my emotion at the right time. but really, i can't.

Now again, how do u ans that qn??

Tuesday, May 19, 2009 11:09 AM
A note to MYSELF:

Stop being nice to others as all I will get in return is nothing but

BETRAYAL

Gosh when will I ever learn my lesson?!!


Monday, May 18, 2009 5:45 PM
Once again i asked myself this qn;

WAS IT ALL WORTH IT???

Damn u make me feel so stoopid..........

8:04 AM



I haven been updating much i noe, pardon me for that. somehow i've lost e interest to blog, idk why. maybe coz i realized there's been some kpo readers who goes around spreading stories in this blog to others. this blog will b private again very soon. i seriously don't need iritatin faggots here, just like that YANNIE who have no life. *roll eyes*

Oh well, it's a monday & i shuden add on to e monday blues ya. lemme just update a bit on e weekend which of coz, was great spent wif my loved ones. on friday nyt followed hubby to his futsal game at kallang. finally get to c baby marsha & alisha. those 2 sisters are super adorable i tel u! marsha is so pretty & alisha is so cuteeeeeeee! i forgot to take their pics, doink me. nvm, will do so during e next game coming up soon.

Sat was spent outside almost e whole dae. our dae started at 12pm where we had our brunch at pungol plaza itself while waiting for lil' boi class to start. he was so cheeky during class, disturbin all e gerls. haha. after his class we headed down to e new T1 for a walk. it's reali big huh, but too corwded. bleargh. next were to pasir ris park where we actuali wanted to enjoy e breeze there. but sadly, there wazen any wind at all. it was reali humid! we sat there for less than half an hour before making a move.

We ended up at geylang after dat for durian session, just me & hubby. hehe. of coz, since it's just us we had only 2 durians, which hubby finished up almost all! hahaha. i realized, ppl who eat durian will end up filing hot but i'll end up having headache instead! how weird. aniwaes, we headed home after that to rest for a while before goin out again at 9pluz to nana's chalet at pasir ris. we stayed till 1pluz before makin a move.

On sun was basically a stay home dae. yuyun came over & so those 2 kids were busy playing all day long. hehh. i was all shagged by 8pluz coz of e lack of slip. since lil' boi was slipy as well, e both of us were off to our lala land by 10pm. diz mrn i was up at 530am. y so early? coz i had OT which starts at 7am. infact, it will b for this whole week. oh well, gtg now. til my next update which i dono wen. have a great week ahead!


ps: lawa tk gamba kite nie? LOL!!!
Wednesday, May 13, 2009 9:27 AM


I've been havin on & off fever since sunday nyt. it's reali frustatin u noe, 1 min i'll be sweating & e next min, i'll be covered in blanket shivering. i totally hate this feeling, it's a weird feeling i cant describe! arrrggh. i just hope this will go away soon. i don't wana end up spreading this to my lil' boi, hell no!

That aside, me & hubby have been planning alot lately. about getting our own flat that is. remember me mentioning abt us applying for the hdb resale flat last mth? yeah e result should be out today, or perhaps sometime this week i believe. somehow we know we don't stand a chance. what do u expect, e total application received were 10000+ la ok! but well, we'll just c how's our luck. if this doesn't werk out, we're gona engage an housing agent. our target is to get a flat by this year. Insyallah.

Moving on, updates on our precious gem. what do i say, we're going nuts with him!! haha. he thinks he's 13 instead of 3 i guess. the way he talks, terok la ok! can't stand him, but at times it's realli hilarious la. his bdae cumin up next month. this year i doubt we'll be throwing a party for him. hubby said he wana do it alternate year instead, im fine with it. so for this year we might be going somewhere to celebrate, just e 3 of us. venue not confirm yet, but it will be somewhere where he can let loose & have fun. =)


Monday, May 11, 2009 5:48 PM
I am currently freakin pissed off with somebody so can I just throw my anger at someone??

To MAK ANON:

aku bace2 alek tag kau mcm kelaka gitu kan. da cacat otak ke kau nie sampai tk tau beza kan antare manusia atau binatang? mesti la suami aku tu manusia. kau nk tau rupe berok camne?

GI TGK CERMIN NNT KAU NMPK DOH!

Sunday, May 10, 2009 7:52 PM
Harlo earthlings!

I'm back for updates. Just a few days not blogging & im missin it oredi! aniwae, diz whole week had been a hectic & stressful week at werk thus e lack of updates. I had a very bad monday & e rest of e days just had to b sucky as well. worst, i had a migraine attack on wed nyt which got worst on thurs. I still went to werk despite that but i just cuden concentrate. ended up goin to e clinic durin lunch to get e medicine which i always eat. later e doc told me diz;

"No doubt this medicine will make u fil better but 1 ting u have to noe. at e end of e dae, it dozen cure ur headache. u have to noe what causes it. if itz stress, then all i can sae is gd luck to u."

haha. what a doctor. but i gues she makes sense. ppl don't juz fall sick wifout a reason true? oh well nuff' bout werk. let's move on to oder topic shall we?

Hmm let me c, i have notin much to update actuali. haha. except, i finally watched Bohsia! been wantin to catch it since last week but just cuden find e tym. yest tried to find a slot at GV but surprisingly, they no longer show it. i wonder y. tried searching thru all e cinemas & finally, got to noe it's showing at Jade Cinema. Yes, e oldest cinema in spore! haha. went on a double date wif Yana & Jimi since they wanted to catch e show as well.

Met up ard 11pm & waited til e show started at 1145pm. e place was reali pathetic, wif no popcorn left & all. aiyo. but wt to do, itz e onli cinema showin so gotta make do wif it. e 1st & e last time i swear! LOL! i gotta agree with yaya;

crite gerek gler dohhhh!

HAHAHAHAHAHAHAHAHA. but e ending sucks la, too sudden like that. niwae, after e show we headed down to Adam's Corner for late supper. eat & chatted til 2pluz & since e weather dozen look good then, we decided to make a move. me & hubby reached home exactly at 3am & just as we step into e house, it started pourin. how lucky!

Am currently at my sis hous, goin home shortly. niwae, im startin to have fever. oh gosh, pls3 dun make me fall slip. i reali cant afford to take MC!!


Tuesday, May 5, 2009 8:34 AM
Yesterdae was e worst, fucked-up monday i ever had. i don't even wana rmb it.

Today, im just praying a miracle will happen. which i noe, it won't ryt?

*sigh*

-------------------------(edited @ 1:36 PM)----------------------

At the end of it all i asked myself;

Was it even worth e tears??


Saturday, May 2, 2009 11:51 PM



As usual, todae sent lil' boi to skul afterwhich we headed back home strait after that as PIL wana use e car. back home me & lil' boi fell aslip til 5pluz while hubby went out. later at nyt we went to rahmat's b'dae party at his house. was slackin in his room when suddenly Wan suggested to go geylang eat durian. all agreed therefore at 10pm made our wae there for durian session.

We bought 14 durians in total, syiok or wat?! haha. a few of e guys didnt eat durian so they juz sat & watched. hehh. hubby was tryin to get lil' boi to eat as well but he simply refused. ape la aniq, mama papa makan durian aniq tk mkn. ish.

By e tym we were done it was almost 1130pm & since it was rainin, we decided to call it a dae. sent e guys home & home swit home for us as well. now, both me & hubby r filin damn hot! helpppppppppppppppppppppppppp!