The Lady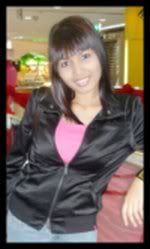 ♥Zura is the name♥
♥22-Dec-1987♥
♥A Wife & A Mummy♥


Her Love Ones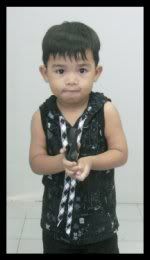 ♥Muhd Aniq Nufael♥
♥Born on 23/06/06♥
♥Son whom she loves dearly♥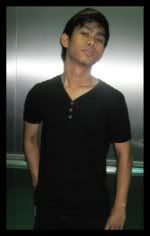 ♥Muhd Adam Firdaus♥
♥Blissfully married on 15/09/05♥
♥Hubby whom she is devoted to♥


Speak, don't bark.
Her Daily Reads
Friday, July 31, 2009 11:55 PM
I noe i noe... i have been abandoning my blog these few days. idk y i dont even feel like updating. but well, let me just do a quick recap on this week ya...that is, if i can stil rmb. hehe

Monday:

- Had fever but stil went to werk
- By noon cuden take it no more thus asked to leave at 2pm
- Went to c a doc, got 1.5days mc.
- Met hubby for lunch before goin home to slip

Tuesday:

- Woke up at 10pluz. 1st tym after so long i get more than 12hrs of slip!
- Spent e dae wif lil' boi
- Went to training, as usual ended at 10pm. Trained home, hubby fetched from mrt

Wednesday:

- Back to werk
- After werk went back home, fetched lil' boi & off to trainin
- Again, hubby fetched from mrt

Thursday:

- Was on half day leave
- Left office at 1pm, off to saloon did colour + treatment + cut to my hair
- Finally, my hair is back to black! n i kinda like it...look refreshing. hehe
- Met hubby for movie date : Fighting, rate it 7/10

Friday:

- On half day leave again, but mrn this tym round
- Followed hubby to TTSh for his medical review
- Had breakfast at e foodcourt before walking ard Noveva Sq / Velocity
- Accompanied him to pay his bike instalment before he sent me to werk
- Werk was hectic!! backache gettin worst. =(
- After werk headed strait to chinese garden to mit e gerls for our trainin
- Hubby & lil' boi came to fetched me home, supper at Mac
- Overall, TIRED!!!!!!!!!!!!!!!!!!!

So there u go, my update for this week alone. Sorry im just lazy to reali blog but yeah, hope this will do ya. hehe. for now, enjoy some random pixies!


Sunday, July 26, 2009 11:52 PM



Since hubby wazen werkin todae, me & elisa made plan yest to mit up. i suggested goin to sentosa for luge & skyride but elisa wanted to go for a picnic at changi instead. i agreed since it's sundae, for sure sentosa gona b packed. we brought home cooked food, snakcs & bought more foods from changi village before mekin our wae to changi park. managed to find a spot under e tree, niceee.

As soon as we lay down e mat we started eatin. lil' boi played by himself wif his bike & e sand instead. e weather was bein a switheart, not too hot, juz nice i wud sae. soon me, elisa & lil' boi went for a ride ard e park while e guys gossip among themselves. we returned e bicycles at 7pm, washed up lil' boi & started plannin on our next destination. finally decided on Giant & Ikea at Tamp. packed up & off we go.

While at Ikea lil' boi actuali fell aslip in e trolley, stil listenin to e mp3. haha. he woke up half an hr later, just when we were payin up. i tink he knew we were gona buy him ice cream as promised. LOL!

By then e clock striked 1030pm. since all of us (except elisa) is werkin tomoro, we decided to call it a nyt. sent e couple home 1st & we finally reached ard 1115pm. gona hit e sack nw, freakin tired. njoy e pixies!!


Saturday, July 25, 2009 11:58 PM



From nw on, every fri will e someting for me to look forward to coz ive joined yaya's malay dance team! ive always had passion for malay dance, in fact, when i was in pri & sec skul i was in malay dance grp. only after i got out from skul den i stopped. still, everytime i see gerls performin i'll envy them. e oder dae when i knew yaya's team is recruting new ppl i immediately asked hubby if i cud join. he was kinda reluctant at first only bcoz it's far, at yuhua cc mind u! haha. but stil, after much persuasion he agreed. furthermore, they allow me to bring lil' boi to practice coz i cuden find anyone to look after him. so yeah, yest went for e 1st practice & i loved it! though i must sae, i kinda sucks. haha. well, itz been 6yrs since i last danced u c. so of coz, abit kaku. hehh. am sure looking forward for more!

Ok nuff' bout dat. earlier diz afternoon went to mit anna & nephew at Lot 1. i just have to sae diz; SYAIRI IS SO0O0OO DAMN CUTE!!! he has become so fat now! haha. can stil remember e 1st time i saw him, so shy. but now, he's so frenly la. i likeee! aniwae, anna accompanied me & lil' boi for late lunch since she has eaten before we arrived afterwhich we went up to e garden to let e boys play ard. it was so freakin hot so after a while we walked off from der. bought sum stuffs, went to cut lil' boi hair before parted ways wif her.

Me & lil' boi then proceed to my 2nd sis houz. was so heppy to get to c baby alisha agn. hehh. stayed till 9pluz before sendin my parents to my 1st sis houz at sk afterwhich me & lil' boi went to CP to mit up wif hubby for late dinner since i was freakin hungry. hubby had to go back to werk after dat thus me & lil' boi took e bus home. dat fatty fell aslip in e bus & i almost died carryin him from e bus stop all e way back home!

Im reali shagged nw, gona wait for hubby to reach hm before turnin in. will be havin a long dae tomoro, cant wait. pixies tym!


Thursday, July 23, 2009 12:12 PM
HEPPY 37 MONTHS TO LIL' BOI!

Another 1 month older, just slow down the growing up process can? I reali dowan him to grow up so fast, before i realise it, he will turn into a teenager next! ok exaggerating i noe. haha!

This boi here have 1 serious problem la ok, he will need to go for anger management course oredi! wahh when he's angry ah, perangai abez mcm bapak die!! he will start throwing tings ard, just like e father. terok lei like dat. with others he wil get awae with it but not with me & hubby. come on la, he's only 3yrs old with such attitude?

*shake head*

No doubt, he's abit pampered. but still, i must sae he's not spoilt la. just that, sometimes he likes to do or sae wat e adults at home does. kids ey, wat do u expect. as e saying goes, "monkey see monkey do"

Despite all this, he will still be our precious. well only child wattttttttttttt.

Wednesday, July 22, 2009 9:17 AM
I was one happy goober yest because........................................

I GOT MYSELF A NEW HP!

It was an impromptu decision actuali. coz to b honest, i wazen even tinkin of changin my fon! haha. but well, yest i was looking thru Nokia website just for fun when my eyes got fixed on E63. what attracted me to e fon is e colour, black & red, sexy or wat?!

I was contemplating on changing my fon initially coz those close to me will noe how i badly wanted W960i before. i just love that fon. but i guess its only natural ya that our taste starts to differ. well, blame Nokia for coming out with such a nice hp. LOL! so yeah, after much tinkin i decided to grab it. called up hubby & he says y not. tersenyum lebar la aku. HAHA!

So now let me just say goodbye to my beloved fon.......




And helloooooooooooooooooo new fon!! =)


Tuesday, July 21, 2009 2:53 PM
I cant wait for tonyt!!!

weeeeeeeeeeeeeeeeeeeeeeeeeee~

11:09 AM



As mentioned in my previous post, yest after werk went for my mthly jab. n once again, i did it! losing weight i mean. hahaha. come on, give me credit la. its not easy losing weight ok. i managed to lose 2.5kg in 1 mth. last mth i weigh 55.5kg (ya i noe fat ryt!) while as of yest, im 53kg! hehe. my doc was surprised actuali, maybe she knew ive been putting on weight for e past 3 mths & now, it just dropped. now im motivated to lose more. my aim? 50kg. =))

Hubby is always nagging abt me wantin to lose weight. seems he prefer me with fats all ard! ish. and then he will start sayin im oredi a mummy with 1 kid so y shud i worry. well its not like i wana be like those skinny models out there wattttt. but u tel me, which women wana b fat true? basically i just wana lose e fats on my tummy! i have no issues with the rest of my body parts. i noe i can do it... just need to push myself a bit more!

To be honest, i reali adore those mummies out there who have 2-3 kids but still maintain a hot body! but tinkin back, mayb its just in e blood la kan. what they call it, family genes? wateva it is la. n its so obvious i follow my cute mum. hehe. y didnt i follow my dad eh? eat eat eat but still so skinny. LOL!

But there's something which is worrying me. next mth its oredi e fasting mth. being able to eat only at nyt, im sure gona put on weight like nobody business!!!arrrrgggghhhhhh helpppppp!!!!!!!!!

Monday, July 20, 2009 1:36 PM



2 months ago I was looking forward to 20 July, which is todae. Y? coz supposedly todae's the day for our flat selection at HDB. however too bad for us, all units have been sold thus we are left with nothing to select. how sad. how so so sad. somehow i tink they are biased. they must have given priority to their race, u noe i noe la kan. but nvm, not our rezeki also.

*shrugs*

So well, how's ur weekend? mine was ok. yest me, hubby & lil' boi went out at 6pm for dinner at Bedok Reservoir, Rasa Rasa Restaurant. i simply love e foods there, damn nice & not forgetting, cheap also! we had 5 dishes altogether which cost us only $35. u guys should try, they have an outlet at woodlands also. forgot ware's e other location. hehh.

Aniwae, after dinner we had no plan in mind thus decided to head down to CP. called up lela askin if she wana mit up & she said she'll be slackin at starbucks ard 8pluz. niceee. so while waitin for her we spent time at e arcade, lil' boi sure enjoyed himself there. by 8pluz we made our way to starbucks. lela came ard 9pm with her fren. soon fahez came along, followed by elisa & ajis. e next 2.5hrs were spent crapping there, furthermore with lela around, u can imagine e kecoh-ness. haha.

By 1130pm we made a move first. just as we got into e car, lil' boi leaned on me & within mins, he joined his frens in lala land. hehh. reached home at 12am, washed up & off to bed. diz mrn i almost cuden wake up, my eyes were damn heavy. however e moment i reached werk im all geared up. how weird.

4.5hrs more to knock off time. gona go for my mthly jab after werk & hopefully tonyt, i get to slip early. no pixies diz tym round. have a great week ahead!

ps: pay dae this sat!! weeeeeeeeeeeee~

Saturday, July 18, 2009 11:30 PM


Yest nyt hubby went fishing wif his frens & came hm close to 4am. since i cuden slip while he's out, i wasted time playin comp before falling aslip ryt after he reached home. i was hoping lil' boi would wake up late diz mrn but i was wrong. by 9am he woke me up saying "gd mrn mama" to me. as swit as it is havin my son wishin me early mrn wif a smile but becoz i was reali slipy, i simply smiled & went back to slip. what a bad mummy i am! hehh. but i must sae, lil' boi was bein such a switheart coz upon seeing me closing my eyes, he actuali lay down in between me & hubby and played by himself til 11am before i finally forced myself up since i pity him playin alone. =P

Spent abt 2 hrs cleaning up our room & later by 330pm, all of us minus ajan went to a relative wedding at yishun. upon reaching, there was a kuda kepang performance goin on which scare lil' boi & made him cry for abt 10mins. idk y he's so afraid coz diz is nt his 1st tym watching it. e other time we went to a weddin at woodland lil' boi was watchin it close up sumore. but ya, he got reali scared todae & made me carried him and stand far2 away from them. haha.

We stayed for abt at hr before mekin a move. hubby left earlier then us since he gotta werk. back home as usual, laze ard watched tv when suddenly lil' boi demanded me to slip with him at 830pm. damn early ryt. well he didnt had his usual afternoon nap u c, datz y. im actuali slipy as well but i shall wait for hubby to reached home from werk. pity him werkin in such weather. oh well, juz pray for his safety. off to watch tv nw!


Chubby Rina Natasha



I super luv diz pic!!!

Friday, July 17, 2009 10:46 AM



And so yest nyt decided to tag along to hubby's futsal game at east coast. as usual, ajan & hilmi came along as well. we went for dinner first at sakunthala since i was craving for the roti nan. been so long since we last dine there aniwae. after eating it was strait to ec and surprisingly, we were the 1st to arrived at 840pm.

Game finally started at 915pm & as usual, lasted for 2 hrs. pity lil' boi coz he had no frens yest since e 2 adorable sisters didnt tagged along. however, he sure had fun dancing to e musics, esp poker face. haha. so aniwae, we finally reached home at 1140pm. washed up & off to slip.

This mrn woke up my nose was blocked again, super iritatin. n now my throat is givin me prob. suare aku da mcm bapok ok! on a brighter note, its friday!! so yeah, shall not complain much & patiently wait for 6pm. have a great weekend ppl!


dun mind my sick face ey...



dancing to poker face. haha



all sweaty...

Thursday, July 16, 2009 8:54 AM


I permed my hair..nice?? haha. nola, actuali diz is e result i get when i bun up my hair for 1 whole dae. u noe, i have owaes wanted to see how i look like with short permed hair. so yeah, now dat i noe i wud never do it! coz i look damn matured sia. eeewww. i guez strait short hair suits me better ey. shall wait till my hair is long enuf then i'll do e big curly curls. o0o0o nice. =)

Aniwae, my flu is not gettin any better & it's reali frustratin coz my nose are all red & painful now! even my fever is playin hide & seek with me. 1 moment it'll come & the next, it'll be gone. yest nyt i went joggin hoping i'll sweat it all out & get better. but nehhh...still e same. how ah??

Tonyt hubby got a futsal game at east coast from 9pm-11pm. still deciding whether i wana tag along. klau tk ikot borin plak kat uma tapi klau ikot, mcm penat gitu kan! haiya...will c how la later. i just wana go home now. head fils damn heavy!

Before i end this entry, just wana share this joke which i got from Lynn's blog. idk abt u guys but i find it hilarious! have a good day ahead ppl.


An Indian was having breakfast one morning- coffee, croissants, bread & jam when a Pakistani man, chewing gum, sits down next to him.

The Indian ignores the Pakistani who, nevertheless, starts a conversation:

Pakistani: 'You Indian folks eat the whole bread??'

Indian (in a bad mood): 'Of course.'

Pakistani: (after blowing a huge bubble) 'We don't. In Pakistan, we only
eat what's inside. The crusts we collect in a container, recycle it,
transform them into croissants and sell them to India.'

The Pakistani has a smirk on his face.

The Indian listens in silence.

The Pakistani persists: 'Do you eat jam with the bread??'

Indian : 'Of Course.'

Pakistani : (cracking his gum between his teeth and
chuckling), 'We don't. In Pakistan we eat fresh fruit for breakfast, then we put all the peels, seeds, and leftovers in containers, recycle them, transform them into jam and sell the jam to India .'

The Indian then asks: 'Do you have sex in Pakistan ?'

Pakistani : 'Why of course we do', the Pakistani says with a big smirk.

Indian : 'And what do you do with the condoms once you've used them?'

Pakistani : 'We throw them away, of course.'

Indian : 'We don't. In India , we put them in a container,recycle them,
melt them down into chewing gum and sell them to Pakistan.

Tuesday, July 14, 2009 11:29 AM



Yesterday was havin migraine & todae am down with flu. how great! what's for tomoro ey? to add on to my frustation, e office is freakin cold sia!! gosh can my dae get any worse than this??!! *roll eyes*

Btw, hubby went to werk by train todae. how cute. hehe. reason is bcoz he sent his bike for inspection thus can only collect it later in e evening. hopefully he will be able to fetch me later. i am reali lazy to take e train home todae, esp wif my running nose. purrleeeez!

It's only tuesday yet I am oredi looking forward to e weekend, though no plans made. oh wait, there's a weddin invitation this sat. yay2 dpt makan nasi briyani! haha. whereas for sun, if hubby's not werkin confirm he will ask us go kite-flying. he's addicted to it now, dono y.

On a diff note, im missin all my frens la! yana, yaya, nana, fira, titi, yunira, faz, miza, anna, lynna, inaa.... BILE NK JUMPE OI!!!!!!!!!!!!!!!!!!!!!!!!!!!!!!!!!!!!

Monday, July 13, 2009 3:51 PM


Am currently at home, on MC todae. had a bad migraine attack last nyt & managed to slip onli at 5pluz! even so, it was only for abt 3hrs. woke up at 8pluz & my head was super heavy. tried gettin back to slip but canot. so forced myself up & took a bath before hubby brought me to see a doc.

Back home entertained lil' boi awhile before popping down e medicine & get sum slip. filin better now, hopefully e migraine wun cum back! aniwae, yest brought lil' boi to central for a hair-cut. his tail is gettin longer now, i loikee. few more mths before sayin bye2 to it.

Aitt nw, gona go get sumtin to eat. til e next update then!


Saturday, July 11, 2009 11:18 PM


Yest nyt decided to go over my 2nd sis houz since we haven't been there since mths ago. baby alisha is now 10mths old & she is so0o0o0o00 cute!!!! u noe how much i adore kids ryt, esp baby gerls thus yest i spent e whole tym playing wif her. she was reali a switheart, all she ever do is smile. awww im missin her oredi now!

Lil' boi & afiq as usual everytym c each oder owaes fyt. hahaha. klau da anak lelaki dasa lelaki! n i like disturbin afiq sayin im gona bring alisha home..he will then start to get defensive. haha. aniwae, we left close to 10pm & thruout e journey home i kip tellin hubby i wana bring alisha home. member sampai malaz nk layan. LOL!




Whereas for todae was e dae ive been waitin for. y? coz it was my sec skul GF, Elisa's engagement dae! n of coz, gettin to mit e rest of e mates! its been ages since we last met as a whole ok. itz owaes mitin up wif each individual separately.

We left home ard 130pm & e tym we reached, e rest were oredi there. i was most excited to c elisa, lela & shima of coz!! oh i forgot to mention, e theme was white for e dae. n yes, all of us were wearin white which made Elisa reali heppy! all so pure for e dae. hehehe

We went crazy snappin here & there before e guy side arrived. Elisa was of coz, shivering durin e sarung cincin moment. soon after dat we started our camwhoring moment agn. haha. non-stop hit la kan, even e guys la ok! aniwae, we finally left ard 430pm. once again Elisa, heppy engagement! looking forward to ur weddin aitt. so, who's next? *smile*