The Lady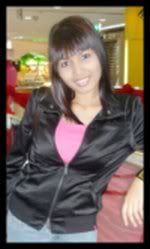 ♥Zura is the name♥
♥22-Dec-1987♥
♥A Wife & A Mummy♥


Her Love Ones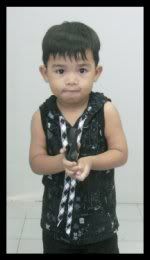 ♥Muhd Aniq Nufael♥
♥Born on 23/06/06♥
♥Son whom she loves dearly♥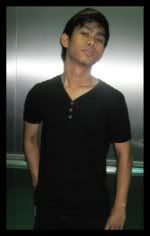 ♥Muhd Adam Firdaus♥
♥Blissfully married on 15/09/05♥
♥Hubby whom she is devoted to♥


Speak, don't bark.
Her Daily Reads
Wednesday, April 30, 2008 10:35 PM



I had wanted to update yest but gues wt..i actuali slept at 8pm...together wif lil' boi & hubby...all e wae to diz mrn ok...syiok or wt...wel actuali itz bcoz both me & hubby slept at 6am on mondae..eh wait, shud b tues mrn..yeah...so can u imagined i actuali had onli 1hr of slip? n den it was off to werk...i was literally tryin so hard to kip my eyes open thruout e dae...

So aniwaes, updates regardin werk...wt do i sae..i super luv e job!! hee...k basically my job is as a Customer Service Representative...to mek it ez, lyk a recept la...as mentioned before, itz almoz e same as my previous job in abecha..juz dat, diz is waeee more better..e co dat i werk for is actuali a provider for werkplace solutions...so we hv over 200 clients...both internally & external...n we have 2 reception, 1 at level 13 & e oder at level 12..level 12 handles incumin calls & faxes...as well as transferin of calls...warez for level 13, we handle mails...collectin, sortin, informin clients of e mails, redirection of mails & franking...

Currently im werkin at level 13...n i luv doin e mails...it sounds ez but we hv tons of it daily so it reali kips us occupied...n oh, e bez part bout diz job is dat every week, we wil change shift..meanin diz week i handle level 13 & next week i'll handle level 12...bez kn..atlez u wun get sick doin e same ting all e wae...

Colleagues...dey r damn cool ppl can...my partner, who is e oder recep is reena...she's actuali a malaysian but i tel u she speak damn gd eng..n she dun even luk lyk malaysian...e oder dae i told her diz & she said,

"den hw shud malaysian luk lyk?"

hahaha...funny la she...damn cool...n den derz my OM, reijean...i juz knew previously she was werkin as a CSR as well...for 3 yrs if im nt wrg...n den she was promoted to OM...bez huh...datz y i said diz co, as long as u perform well u wil move on to a higher position slowly...but of coz, teks tym la...so aniwaes, mayb coz she was previously e same post as me so she totaly understand...derfore she dun rush me & reali teach in detail...n lazly e GM, bruce...he's a cool chap...constantly askin if i can cope & givin advises every nw & den...n for him, as long as u do ur job he wun dizturb u...so der u go, my lovely colleagues..

So yeah...datz my update for werk..apart from dat, my life as a whole has been great...luvin every moments spent wif hubby & lil' boi...as usual dat lil' boi owaes hv tingz up his sleeve to iritate us..hehh...nt juz e smal boi ok, even my big man do iritate me moz of e tym! haha..but i do luv him so... =)

Well i guez datz abt all...2moro PH...myt b goin siwmin wif hubby's peepz...c hw...meanwhile, gona leave u guys wif sum pixies aitt...dhaa!


Monday, April 28, 2008 10:55 PM



I wana update but im juz so0o0 slipy ryt nw...wel guez i'll do it 2moro instead ya..

Niwae juz FYI, i super luv diz job!

=))

Sunday, April 27, 2008 9:07 PM



Itz been a long week for me...tomoro wil b startin my new job...im nervous yet xcited..juz hope everytin wil go wel for me..once agn lovelies, do pray for me ya.. *winks*

Stayin hm diz whole week lukin afta my lil' boi every single dae has been great..im sure gona start mizin him while im at werk..chey im talkin lyk as if im gona go werk overseas plak eh...hahaha..

Aniwaes, todae been walkin so much..in e mrn accompanied mama to e market together wif my BILs...n later in e evenin walked to J8 wif mama, ajan, hubby & lil' boi...initially wana tek train but hubby la...asked to walk instead...dala cuaca panas nk mampoz..aiyo...reahced J8 all of us were sweatin..haha...walked ard & mama bought for me a pair of shoes...also bought for ajan a shirt..lata we went to hv dinner at blk 4 before walkin back hm agn...1 dae of exercise..LOL!

Wel i hv notin much to update actuali...datz y been typin crap from juz nw..hehh...hubby's out nw..lil' boi as usual la kn slipin...wonder wt i shud do...hmm k la..wil update tomoro ya..dhaa!


Saturday, April 26, 2008 11:08 PM



Am currently watchin APM...mcm mlz la plak nk ngok sampai abez..hee...im juz so shagged todae..lack of slip i muz sae...guez wt tym i slept laz nyt? or shud i sae diz mrn actuali...6am la ok! all thnx to hubby la go out cum back so late..end up i canot get to slip til he gets hm...n worst stil i woke up at 8am coz lil' boi was awake by den..my eyes were super heavy sia...later ard 10am brought lil' boi to e market as i wanted to send my pants for tailorin...n since dat aunty said can collect todae itself i den decided to go to central while waitin for my pants to b ready...bought new clothes for myself..n also went to HDB to purchase hubby's season parkin coupon...dat man of mine if i dun go i doubt he'll eva go..so yeah, nomore fines from nw on..ahakz!

Can u imagined i actuali walk from home to e market den to central & later back to e market before headin back hm...furthermore e weather was so damn hot can...was sweatin lyk a pig wen i reached hm..haha...took a quick shower & later do sum housewerk before goin to slip wif my lil' boi...both of us woke up at 330pm & juz nice hubby came back from werk..

Ard 5pm we got ready & decided to head down to Go Go Bambini...initially wanted to go Explorer Kids at p.ris but since we've been der a few tyms we decided to try out GGB instead...lucky we managed to find e place wifout gettin lost...so yeah, we spent abt an hr pluz in der...was so damn crowded...but i noe my boi had lotsa fun...he even didnt wana get out from der ok...i had to bribe him wif ice cream den he agreed..haha...so bought ice creams from Ben & Jerry which is juz beside GGB...

As i gotta go find a blazer for my new werk cum mon i den asked hubby to bring me to anchorpoint since itz near..went to G2000 & saw a plain black blazer which is reali nice...n oh gues wt...e ori price is $119 but i got it juz for $39 as dey r havin a super sale...cool or wt..later shop for lil' boi's needs at cold storage before headin back hm..

Hubby werkin mrn shift 2moro...nt sure if he's gona bring us out afta dat..but i dun mind stayin hm doh..wana clean up my ehem "tidy" room..hehe...aitt nw, gona go cont watch APM...pixies tym!


Friday, April 25, 2008 8:53 PM



Im 1 heppy lady todae...wana noe y? coz i finally did my rebondin! woohoo i loike..hehe...well supposedly wanted to do it next week...yela since wil b gettin e gst la kn..haha..but since hubby's pae is in todae he volunteered to pae for it so i tot y nt...hehh...so yeah, left lil' boi wif e granparents & went to e saloon ard 12pm earlier todae....guez wt tym it ended? 4pm la ok! gosh my butt almoz burned from sittin too long..ahakz...n oh, i cut my hair short as well..i stil maintained e concave shape but e back i cut it real short...suke skali...thnx ya by!

Itz e weekend...2 more daes to go before startin my new werk on mon...oh did i mentioned dat im suppose to start diz mon? yeah reijean, e OM called me up yest askin me to report for werk diz cumin mon instead of e 5th...so i agreed...besides i tot if i start early perhaps i'll b paid for e laz 3 daes for diz mth...dat is if dey aint bringin it forward to next mth pae instead la...speakin of pae, abecha actuali paid me 1dae pae onli for diz mth...which is lyk, 60+?! lyk nbcb kn...myt as wel dun giv...was so damn pissed off...told ya dat women is juz so cunnin...ade je nk potong sini sane..tkpe, aku sumpa idop die tk senang...*&%$#

Nvm, juz gotta struggle a bit for diz mth...cum next mth Insyallah tingz wil start gettin better...lukin forward to a new life ahead.. =)

Aitt babes...gona go accompany hubby do his stuffs nw...til my next update ya...njoy e weekends...dhaa!

Monday, April 21, 2008 11:09 PM



I was havin a bit of mondae blues todae..prolly coz im havin my period...bleargh...aniwaes, early diz mrn at 10am went for my 2nd intv at novena...turns out dat dey r offerin me a account assistant post in deir marketin department at deir hotel in orchard...hmm i wazen sure hw to react..coz as u all noe, my previos job at tg pg was as a accts asst as well...even doh i didnt reali learnt much den, stil i reali dun tink i lyk doin accoutin..can reali b a big headache u noe..ish..on e oder hand, i do wana learn coz afterall, i shud b lucky to b given e chance doh i do nt any cert in accountin wtsoeva...dono la eh..but hey, i dun even noe if i get e job..coz eventually e lady said dey got oder candidates to interview...dun tink i stand a chance den...hmmm

On anoder note, tomoro is my intv at ngee ann...ok diz part im very2 nervous can? aiyo...dono y..i never reali fil nervous goin for intvs ok...but nt sure y im super nervous for tomoro...oh wel juz gonna get it over & done wif...best of luck to me!

Since e intv todae ended pretty early i den decided to head down to my ol' werkplace to hv lunch wif e babes der...but too bad anna wazen werkin..bacin ah kau gerl...2 kali aku dtg 2 kali kau tk werk..aku dala rindu kau..ish..wel aniwaes, had lunch before chillin ard wif yaya..awhile onli doh coz my mood was kinda down so i decided to mek a move by 2pm..headed back hm strait & reached hm at 3pm...lil' boi was den slipin wif e grandparents so i juz use e comp..but moments later he woke up..lyk as if he knew his mama came back..hehh

Waited for hubby to cum back from werk & later e 3 of us went down to united square toy r us to collect lil' boi's stroller...gd ting it onli teks a dae...n guez wt, dey actuali gave us a new set of stroller instead of changin e spoilt parts onli...so gd of dem huh...so nw lil' boi hv a brand new stroller...haha

As usual went for family dinner todae...went to our usual spot at woodlands...adeq was in camp so didnt tag along...i was so0o0 hungry til i ate alot sia...lyk, REALI alot...afta dat had stomachache...padan muke aku...kwang3

Oh wel notin much to update...i tink datz abt all...gona leave u guys wif sum pixies nw...dhaa!


Sunday, April 20, 2008 10:04 PM



Im bloggin juz for e sake of bloggin...lil' boi is slipin while hubby is out werkin..n im so0o damn bored wif absolutely notin to do at hm..hw lame..half an hr more to go before hubby knock off from werk..faster la by cum back lyn me..hehh

Derz sumtin worryin me..wt else if nt $$ ryt...after doin sum calculation i guez i'll bring back onli $500+ diz mth..dat is of coz my abecha's & bang singapore's pae..bang singapore is e co. i work for laz week at tg pg..dat amt is half den my usual pae per mth..gosh..i noe wif hubby's pae we wil stil b able to pull thru..juz dat gotta cut down on shoppin for diz mth..hmm even doh hubby didnt sae anitin sumhw i blame myself for bein itchy leavin abecha for hyatt...ended me up in a disaster...dat is sure 1 damn lesson learnt...

I guez diz week wil b a stay hm week for me agn...coz cum to tink abt it, even if i get e job at ngee ann (which i noe ive said ALOT of tyms but im reali2 hopin i get it!) dey wil prolly get me to start e followin week ryt...hmm wteva it is ive told myself dat once i get a new job, i'll commit 100% to my werk...nomore foolin ard lyk i used to is abecha...

Wel i juz hope tingz wil on fine for me..n lovelies, plz2 do pray for me on e interviews k...lup u all many...n oh, after i put up e counter hit i realize dat i do hv sum silent readers huh...babes, cumon do reveal urself..i wud luv to mek frens wif each & every1 of u... *smile*

Btw earlier diz afternoon went to united square to sent lil' boi's pram back to toy r us coz sumhw e wheel is creatin prob...lyk hard to control..dey did a check & verify dat e front left wheel is spoilt..n dey said dat we can onli collect back e pram on tues..haizz...terpakse la tgu..n we also went to get lil' boi's hair cut..been wantin to go since god-noes-wen but neva got e chance to..so nw my boi luks smarter..hehh

Aitt gonna end here..do hv a great week ahead ya..hopefully no mondae blues 2moro aitt..dhaa!


Saturday, April 19, 2008 11:32 PM



I've got lotsa tingz to update but i dono ware do i start..hmm ok letz c...

Yest was my laz dae at werk...shocked huh...well ting is, wen i 1st got dat job e consultant (e 1 who got dat job for me) mentioned dat i'll b on 1 week trial to c if i can mek it & whether i'll luv e job..so well of coz as i said before e job was fine..if fact even e ppl r nice ppl..juz dat i dun reali lyk doin accountin...yest wen me & e manager sat to talk she did mentioned dat dey wanted to find sum1 who was much more senior in accountin..n i told her as well dat i dun reali find e job suitable for me..so dat means i wun b continuing..but atlez i'll be paid $400 for a week werk so ok la..

On thurs i managed to go for 2 interviews..i took half dae leave u c..well e 1st interview was at ngee ann city, a recep post which was recommended to me by my X manager...while e 2nd interview was at novena, a recep post as well..e interview at ngee ann went well..was kinda confident..e manager told me i'll be called for a 2nd interview next week as he wans his partner to interview me as well...he wil den tel me e result on dat dae itself..n guez wt? wen i went for e interview at novena i immediately got e job...juz dat, dey can onli offer me 1.4K...wel i was ok wif dat la since itz near my houz pon kn...but to be reali honest im reali hopin to get e job at ngee ann..coz over der e jobscope is exactly e same as wt i did at abecha...n dey r wilin to offer me 1.6K...

Aniwaes, on fri e job at novena called me for a 2nd interview on mon as dey wana put me in e marketin department instead..n few hrs later, e job at ngee ann called as well askin me to cum for a 2nd interview on tues...so nw im kinda confused..i noe i accepted e recep post at novena but nw since dey wana do a 2nd interview wif me i can reject ryt....coz im reali3 hopin to get e offer at ngee ann...oh gosh headache2....

Btw, yest went for lunch wif dayah aka mrs zulki...we had bk...FYI, i had bk for lunch for 4 daes in diz week alone! amek kau...camne la tk gemok zura...haha...wel aniwaes, we managed to chat for a whole 1 hr..n babe, nice talkin to u...wun noe wen we'll eva mit agn but wteva it is do stay in touch ya.. *winks*

Hubby fetched me after werk & went back to get lil' boi before goin out to J8...helped MIL to buy a prezzie for her X manager...after dat went to e usual coffeeshop for my late dinner...super hungry ok..onli rahmat & botak came down..by 11pm since e rest stil haven cum we proceed back hm 1st...

While todae after hubby came back from his mrn shift we went out ard 6pm in search for his racin boots..but too bad all shops were closed...so we went to central instead..i finally did my eyebrow shapin n im so0o luvin it so0o much..much better den e laz tym i did..mama den called askin us to fetched her at woodlands...n so we did before mekin our wae back hm...hubby is out nw...was suppoz to follow him but dono y dun fil lyk goin out...nvm la, let him hv his nyt out...

Well dat is sure 1 damn long post huh...haha...ok i better end nw before i cont talkin crap...dhaa!!


Wednesday, April 16, 2008 11:11 PM



Gonna do a quick & random update for nw...i reali fil lyk i lost my ability to blog..haha..wt crap... :P

Aniwaes, yest nyt went over to kak maria's houz to visit lil' shah...n OMG, dat lil' boi is growin so0o big la ok! he's so round & sowie to sae diz but, heavy as well! hehh...he dun even look his age..n oh, he's juz 3 mths old btw..e laz time i saw him which is in feb he was juz a lil' bit chubby..but nw ketak2 everywae..haha..n he's so quiet juz looking ard wif his big round eyes..i wonder hw kakak carries him since she herself is such a petite lady.. *giggles*

Wel we left at 10pm since we were all tired...n diz mrn both me & hubby overslept! i actuali woke up at 730am but since itz kinda early i tot i'll slip a while more before wakin up at 8am..but damn wen i woke up e 2nd tym it was 845am! both me & hubby were oredi rushin..i managed to get myself ready by 930am & quickly rush out..n surprisinly i reached werk exactly at 10am..phew..dono whether e train was fast or i walked reali fast..hehh

Werk has been great so far..juz dat e finance guy wun b in til fri..so yeah, for e past 3 daes ive been helpin e manager wif her werk...da mcm personal asst die plak..hehh..but itz fun doh..i managed to learn new tingz along e wae..tingz which ive never done before..lyk flight booking, doin acct balance & more..experience babe.. *wink*

Lil' boi is gettin more & more mischievious...no1 except e dad is able to scold him..coz even wen i scold him, he'll run ard e houz laffin & mekin fun which wil result in me laffin as well..haha...cheeky2 boi..

Aitt nw, im gona get to slip before i overslept agn! tek care everyone...dhaa!


Monday, April 14, 2008 10:25 PM



1st dae of werk todae was great...luckily it wazen a monde blues for me..i reached tanjong pagar at 940am..siang kape..haha..nt semangat ok..i actuali left e houz at 915am tinkin i wil reached juz nice at 10am..but surprisinly i reached early..ok la 2 ehh..hehh

Der were onli 3 staffs in office todae..n e guy who was suppoz to train me didnt cum..n oh, i juz knew my post is actuali as a accounts asst..da la 1 bende haram accountin aku tk tau..haha..oh wel, atlez dey r kind enuf to train me...so im reali grateful for dat..so yeah, as mentioned my trainer wazen ard so it was e manager who told me wt to do...n bcoz she herself nt sure wt im suppoz to learn so she got me to settle e office errands instead..i had to go buy e stationaries & i even had to go all e wae to funan to get e cartridge for e printer as dey ran low on dat..well atlez dat helpz to kip me occupied rather den sittin doin notin ryt...

So far im reali luvin diz job...doh i noe ders more for me to learn..itz ok..im open to new challenges..chey mcm paham seh zura..LOL!

Ok enuf of my rojak entry todae...gona go tuck in to bed nw..dhaa!

Sunday, April 13, 2008 10:34 PM



It has been a long week for me..been stayin at hm since tues..lucky ive gt my lil' boi to kip me company esle im sure gona get real bored..sumhw i can imagine hw life gonna b if i bcum a full tym housewife..hehe...but of coz i noe datz nt gona happen..nt unlez hubby bring hm 3K hm per mth..haha...wel aniwae even hubby was off from werk for 4 daes..thurs til todae..thurs & fri as mentioned he was on leave..while sat & sun he aint gt any call back..so yeah, suke la die..hehh

I'll b startin my new werk tomoro..surprisinly im nt dat nervous..wel u noe e filin u get wen u r startin on a new job...new environment, new colleagues..mayb itz bcoz ders onli 5 staffs in dat co...n ive met dem all durin e intv laz week..so yeah, mayb dat xplains y i aint dat nervous..hwever i m a bit nervous on e jobscope..wteva it is, juz gona do my very bez..wish me luck yeah lovelies..

Niwae earlier diz afternoon me, hubby, lil' boi, adeq & mama went to central to buy for ajan new fon..walk ard e pasa mlm since itz e laz dae todae..suppoz to go wif leo but since she gt oder plan cancel..after eatin we walked back hm...later ard 7pm accompanied nana & baby tara to clinic..baby tara is so adorable la can..gettin chubbier each tym i c her..geram ok..bought sum tingz & later went back hm ard 8pm..

Lil' boi as usual is fast aslip nw..while hubby is watchin tv outsyd..wel i guez i'll go join him..wil try to update at werk if i can 2moro k..hehh..dhaa!


Saturday, April 12, 2008 11:53 PM



Todae was family dae out..in e mrn me, hubby & lil' boi woke up ard 9pluz & quickly got dressed to go swimmin..had wanted to eat Mac breakfast but sadly cuden mek it on tym..we left e houz at 1045am & by e tym we reached Mac dey were oredi servin lunch..so yeah gotta mek do wif it...while havin our meal e weather was oredi gloomy..stil we went ahead to jurong..n ya, as expected wen we reached chinez garden it was rainin..hweva we waited for nearly 1 hr & by den it was onli drizzlin so we juz proceed walkin to e swimin complex..juz nice wen we reached der e rain stopped.. managed to stay in e pool for nearly an hr..by 230pm we got off e pool & got dressed to go back..n guez wt, juz as we were leavin e place it started rainin agn..hehh..lucky us..

So took e train back hm & reached ard 4pm..quickly went hm as nani, adeq & lil' yuyun were waitin for us..intially wanted to go explorer kids at pasir ris hweva since we were rushin for tym we decided to head down to toy r us at united square instead..was lookin ard for lil' boi new pram..e 1 i wanted was sold out..n hubby fell in luv wif e esprit pram so in e end bought dat in blue..we left der ard 7pm & proceed to fetched mama & ajan at mama's werkplace..had our dinner at serangoon...finally get to eat e roti john der..afta eatin went to mustafa centre..it was damned packed i tel u..was havin a hard tym findin a parkin lot..after several rounds den managed to get 1..walked ard mustafa centre & since it was reali packed we left soon after...mama den suggested to grab a bite agn so hubby decided to go over e usual coffeeshop at tpy..all of us had sumtin light before headin back hm ard 11pm..lil' boi was oredi cranky as he's slipy..

It was reali a long dae for us..hweva, sure njoyed ourself..tomoro myt b mitin leona..c hw la eh dat gerl..well til my next update den...dhaa!




Lil' boi new pram...e laz one i hope..hehh

Friday, April 11, 2008 11:52 PM



Im startin to get lazy updatin..soon i guez i'll close down diz blog of mine..hehh..well aniwaes, gonna do a quick update for nw...

Hubby was on leave yest...in fact todae as well..dono wazup wif him tekin 2 daes leave..niwae, aya was on MC as well yest..so ard noon me, hubby, lil' boi, mama & aya headed down to geylang to hv our lunch...later after mama did her shopping der we proceed back hm...reached hm ard 230pm & all of us fell aslip...me & lil' boi woke up ard 5pm...spent e rest of e evenin chillin at hm...later at nyt ard 9pm me & lil' boi followed hubby to e coffeeshop..as usual juz laze ard til 12pluz before mekin our wae back hm since lil' boi oredi fell aslip by den..

While todae supposedly had planned to go swimmin at jurong early in e mrn before goin to my ol' werkplace ard noon..but since e 3 of us woke up onli at 10pluz hence our plan to go swimmin was cancelled..mayb tomoro..so aniwae, we got dressed to go over my ol' werkplace to mit e rest for lunch..after eatin chill der a while before goin back hm..reached hm ard 3pm & lil' boi fell aslip til 530pm..tot of goin out at nyt but laz min decided nt to since i dun fil lyk it..n surprisinly hubby stayed hm as well to accompany me..susa ok to c him at hm on a fri nyt..haha..

Well i guez datz abt it..gonna update 2moro if im nt lazy aitt...dhaa!


Wednesday, April 9, 2008 10:59 PM



Hi lovelies...

Been a while since i laz update..hv been bz diz few daes..im sure moz of u wana noe abt my job in hyatt ryt..well sadly to sae, im no longer werkin der..in fact i onli went on e 1st dae & decided nt to continue..e reason? well kinda lazy to elaborate...let me juz sae wt were agreed durin intv & later wt were bein told durin my 1st dae was totally diff..suckz big tym..wteva it is, im glad i left..n to yaya, seriously u dun hv to fil guilty..nt even ur fault..even if i didnt get hyatt dat tym i wud stil leave abecha..so no worries ya.. *wink*

N gues wt peepz? ive got myself a new job..yep2..had been job huntin since tues..n earlier todae i went over to my ol' werkplace to tek sum documents & sendin out resumes as well..n soon received a call to go for an interview at tanjong pagar..i swear i was havin a hard tym findin e place..haha..well aniwae, i got e job offer.. as a admin cum accounts assistant..rezeki anak i guez..syukur la..besides im reali lucky i muz sae coz honezly, ive gt zero knowledge in accountin..stil dey decided to giv me a chance..itz juz a small co. wif juz 5 staffs...itz a foreign co. u c..n bez part is, e werkin hrs is 10am-630pm..suke skali...n oh2, dey r offerin me 1.6K, lagi suke sgt2..hehe..

I'll be startin diz mondae..i reali hope i'll laz in diz job..i dun wana job hop ok..do pray for me ya lovelies..hopefull diz gona b a start of a new career for me..Insyallah..

Ok nw, pixies tym!!


Sunday, April 6, 2008 11:12 PM



I'll juz do a quick update on my weekends before i get to slip..on sat after hubby finished his werd at 530pm we decided to head down to my sis new crib at sk..along e wae fetched my BIL's mum since she's stayin in tpy as wel..i kinda lyk e new houz, doh honestly i stil prefer e ol' houz...mayb coz e ol' houz is much more bryter...warez for diz houz kinda dark..hehe..e rooms are big doh..nicey..my mum cooked mee soto which is super delicious la can..i even ate 2 tyms..hehe...later ard 9pluz we mek a move...back hm chilled awhile & after MIL came back ard 12am, me & hubby went out to meet his frens for rydin...ended up outsyd The Cathay & laze ard talk crapz til 4am before proceedin hm...besides hubby's werkin in e mrn thus didnt wana stay out dat late..

While todae was basically a stay hm dae for me..hubby was werkin til 5pm..nani was supoz to cum but since she wazen filin well she gave it a miz..after hubby came back i left lil' boi wif him & i went to do my nails...did e express french manicure..lyk finally la kn..i've been wantin to go since god-noes-wen...i reali lyk e results.. =)

Tomoro i'll b startin at Hyatt..do u noe hw NERVOUS i am?? gosh...reali hope i'll get nice colleagues...i gotta report at 9am & i reali hope i wun b late..datz y i wana turn in early juz in case i overslept..gah! aitt2 i juz leave u guys wif sum random pics nw k...til den, hv a great week ahead...dhaa!


Friday, April 4, 2008 11:28 PM


As moz of u wud hv known, todae was my laz dae at werk...after 8mths of bein wif diz company im finally leavin to tek a step forward in my future career..i'll b lying if i said i wazen sad...afterall, diz place had been lyk my 2nd home..itz ware i am 5daes a week, 9am - 6pm...i am my own boz der..everytin is my own tym own target..i mek mistakes & learnt from it myself..i dun rely on anyone...so in a wae, im thankful for werkin der as i get to learn to b independent..from knowin notin at all in admin line i managed to pick up alot of skills while werkin der..not forgettin my colleagues...i may nt noe half of dem as all r station in HQ however doz few dat i knew has been a great bunch of ppl..n ya leona..my gossip partner..im gona miz our yahoo conversation daily...within diz 8 mths we got e chance to know each oder better den laz tym...doh der were sum misunderstandins between us before stil im glad e frenship held on strong..do kip in touch ya..

But of coz wt im gona miz e most is my gerlfrens der...anna, inaa, shasha, shuting & lynna..btw it was laz dae for lynna as well todae...she'll be werkin wif Cisco cum mondae..gd luck to u yeah dearie...our 2yrs pluz frenship had been great..wif e rest as well...u gerlz reali proved wt true frens reali are..n i wana thank god dat our paths crossed..u gerlz had brought so much laughter & joy in my life..i reali hv no idea wen we eva gona mit agn but 1 ting for sure, i juz hope we wun eva lose contact..i luv u gerlz to bits!

Lazly to yaya...diz past 1 week wif u had been hell lot of fun...n i hope i hv managed to handover everytin completely to u...juz so u noe dat u can juz call me anitym oryt...i'll try my bez to pick up ur calls..i juz wan u to do a good job der..n yeah, Insyallah u wil b able to cont if e contract der renew later on...n ya as per wt we said earlier, we never noe wen we gona get e chance to mit agn...wteva it is, im gona miz u so...tek care ya...

Ok enuf of e mushy2 entry..i'll let e pixies do e talkin nw...til den, goodbye.......