The Lady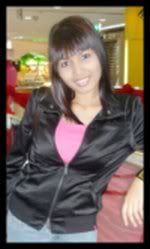 ♥Zura is the name♥
♥22-Dec-1987♥
♥A Wife & A Mummy♥


Her Love Ones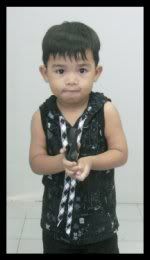 ♥Muhd Aniq Nufael♥
♥Born on 23/06/06♥
♥Son whom she loves dearly♥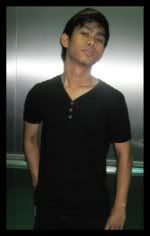 ♥Muhd Adam Firdaus♥
♥Blissfully married on 15/09/05♥
♥Hubby whom she is devoted to♥


Speak, don't bark.
Her Daily Reads
Thursday, July 31, 2008 3:35 PM



Let's c, so u did read my post earlier. which im glad u did. though u didnt show, im sure u did fil e pinch huh? but wel, bein thick skin (read: kulit babi), im sure u pretended it didnt affect u. wteva it is, get diz into ur brain missy. dun bring shame to our OWN race. nw if u didnt realize, diz is e reason y oder race look down on us malays. coz of ppl like u who try so hard to bring down ur own ppl, ur own race. a pity izin't it. so stop diz shit. know e limits ok? thank u very nice.

------------------------------------------------------------------------------------

On a totally diff note, me & hubby sort of lyk had an argument laz nyt. n bcoz urs truly here was in a not-so-good mood laz nyt, i vent it all out to him. EVERYTING. at 130am. from A-Z. afterwhich, i felt better coz he consoled & apologize to me. hohoho...

Cum to tink abt it, itz been 6 yrs since we known each oder & 3 yrs since we got married. e journey we went thru all diz yrs has been a real roller-coaster ride. we argue, talk tings out & den argue agn. but wel, datz wt r/s is all abt ryt. i dun bliv in a r/s soo0 smooth sailing thruout. from e arguments we had is ware we try to change & b a better person. which of coz, takes time. afterall, no one can change overnight ryt?

N to u hubby, if u r readin diz, juz so u noe dat i dun usually mean wt i said. itz all in a moment of anger. i admit, anger takes control of me moz of e tym. n i cant help it u noe. im known for my mulot celupah. dat i noe. but as promised, i wil try to control my werds. atlez for u. juz dun make my blood go up ok? n i promiz i'll b a gd wife to u. *keneng naek2*

10:14 AM



Ps: Diz entry wil b in malay. those who dun undastan go get a translator ok.

Sesungguhnya aku tk paham, knape mlayu ngan mlayu keje 1 tmpt pon tkle kasi each oder muke? knape mesti mati kn kwn sendiri? ape kepuasan kau dpt eh buat gitu? kire mcm, suke ah ngok bangse sendiri jatoh? otak kau letak pt mane eh?

Kau keje untuk tanggong keluarga kau. same jugak mcm die. so knpae kau mesti nk kacau periuk nasi die? ape, gaji die kau kasi pe? tu psl saket ati sgt? kau tk suke kau boleh blg ngan die terus terang kan. buat ape nk complain2 kt manager ke boss ke MP ke ape2 ah. knape eh? aku tk reti sak buat2 gitu. jijik pe aku ngan prangai kau.

Lagi 1, korg keje 1 company 1 department. tk bleh ke saling tolong menolong? mmg la position kau kire up siket dari die. tapi tu tak memberi kau alasan utk campak smue keje kat die. kau ade keje kau nk bikin, die pon ade. kau pk die dudok goyang kaki je pe?

Klau kau bace nie n kau tau kau sape, bagoz la. klau tk, den too bad. mmg dasa muke tempeh. n oh, 1 last ting. klau mmg kau tk suke die, tkya la nk pura2 concern depan die tapi blakang die kau mati2 kn die ok. sungguh tk perlu. n juz so u noe la ok, perbuatan kau tu da melampao. naek sedap aku rase. buat bende bia ade batas nye. tkt2 nnt kerane nk jaoth kn org laen, diri sendiri merane.

Igt siket, kite same2 mlayu. Jgn sombong, jgn suke merintah. blakang ari idop kau yg susa nnt. igt tu ok.

Wednesday, July 30, 2008 12:15 PM



Chilling & crapping over at nana's crib laz nyt was fun & total madness!! all gone wild..haha..wun elaborate much, let e pixies do e talkin instead...

Ps: dun mind our silly faces, we were juz so hyper yest...LOL!


Tuesday, July 29, 2008 3:58 PM



Yest was supposed to do OT til 9pm but later at 6pm my OM said dun have to stay thus i went back wif nana who finished werk at 6pm as well...we walked all e wae to e mrt & as usual, we'll talk abt our babies...n nana, aku rindu anak kau...hopefuly sun jadi la eh...dat is, if i dun hv to werk lor...haizz

Aniwae, i dropped off at novena yest since e whole family was at ttsh visitin mak long...lil' boi upon seeing me quickly asked to be carried & strait awae lay on my shoulder not wantin to let go...his temp was stil kinda high den...n bcoz he was sick, he was reaaaaaali quiet yest...nt himself at all...

We didnt stay for long doh...by 7pm we went off to taka to fetched nani afterwhich we proceed to simpang bedok for dinner...my oh my, we reali had 1 big feast yest...we ordered fish head curry, swit & sour fish, baby squid, thai style chicken, ginger beef, kangkong & oat prawn...yummmmmay! ok nw im filin hungry all over agn tinkin bout all doz foods! hahahaha

I managed to get lil' boi to eat his fries & chiken wing since mama told me he wuden eat much e whole dae...after doin a bit of shoppin at shop & save and after aya bought his durians, we den made our wae back hm...reached hm at 1030pm & after giving lil' boi his medicines, i den put him to slip...n he slept all e wae til 730am diz mrn... =)

Had lunch wif nana todae...after soo0o long la kn...went to Cahaya @ far east...since it was lunch tym it was kinda packed & even e waitin tym was kinda long..but yeah, managed to reached back ofiz by 2pm...2.02pm for nana actuali, which is considered late for her..hehh

2 more hrs to knock off tym...yipee! mitin lyn & nanafetana after werk...c u gerlz later!!


Monday, July 28, 2008 11:14 AM


Lil' boi is down wif fever...after so0o0o long lor..

He was stil fine yesterdae nyt...but suddenly ard 1am his temp got so high...later ard 4am he vomitted...kesian sehh...

N e worst part is, i cant tek leave! hw great is dat...i undastan dat diz week is impossible to take leave coz we gotta start packin & all...but as a mum, to leave my son at home wen he's soo0o sick, i juz fil so bad....

Lucky hubby managed to tek urgent leave...i juz hope lil' boi wil get wel real soon........ =(

Sunday, July 27, 2008 11:35 PM


Once agn, e weekend has cum to an end..nevertheless, diz weekend had been well spent indeed..yest my dae started as early as 12pm...went out wif lil' boi to mit lyn at central ware we had lunch at long john (yeah agn!) while waitin for e bdae gerl, nana...finally met her ard 2pm @ tpy mrt afterwhich we proceed to geylang...upon reaching we walked under e hot sun towards joo chiat to tempah my kain...lucky der's 1 boutique dat stil acept it else we wud had made a wezted trip...after dat we den walked all e wae to singpost to chilled..but i didnt stay for long doh coz hubby was oredi otw to fetched me...

Soon after hubby arrived i left wif lil' boi while e gerls cont chillin der...hubby was wif adeq, nani & yuyun...we headed down to pasir ris downtown east...initially tot of goin kids explorer but it was damn packed so we changed our mind...we ate @ gelare instead...e guys met deir long lost cuzzen & uncle over der...n since deir cuzzen was werkin at gelare we got a 15% discount...

Later we den walked ard downtown before mekin our wae back hm ard 6pluz....we took a rest til 9pm before i followed hubby to east coast for soccer..ajan & hilmi tag along as well...dey played til 12am before calling it a nyt...reached hm ard 1am but me & hubby slept onli at 3am..lucky for me lil' boi woke up late diz mrn...infact he woke up ard 10am but he didnt distured me...i woke up at 1030am n saw him playin on his own beside me...upon seeing me opening my eyes he den said, "mama mrn"...nw hw can i nt luv dat fat boi of mine?! hehh

Hubby's werkin e afternoon shift todae thus after im done wif e cookin i took lil' boi to sk...reached der ard 6pm & stayed til 9pm before my BIL sent us back home...so nw m waitin for hubby to reached home..i guez i better go iron e clothes nw else wil rush tomoro...aitt den, pixies up next...njoy & have a great week ahead!


Saturday, July 26, 2008 12:32 AM



HEPPY BIRTHDAE TO DIANA AKA NANA MOK AKA NANA FETANA!!

Wishin u all e bez in life & may happiness cum ur wae..stay bubbly & cheerful owaes!!

Hope u lyk dat lil' sumtin from me..Lup u!!

Thursday, July 24, 2008 11:42 PM



Am currently waitin for hubby to reach hm from werk thus wil b doin a quick update.. i went back wif nana after werk todae & in e train we saw sumone who has a weird "bulu tangan"...k im nt gona elaborate more else dat person wil start gettin geli2 all over...bottom line is, itz reali weird! LOL!

So aniwae, since hubby's werkin i decided to mit lyn at central...she actuali arrived at 730pm but i made her wait til 8pm... sowie eh babe...rainin mah, cant help it..hehh...we den went to kiddy palace 1st to get lil' boi new bottle after which we had our so called dinner at long john...i was stil kinda full from eatin nachos earlier thus cuden finished up my food...bleargh... lyn naek sedap kasi anak aku coke & ice...nk die jadi cam kau pe?!! hahaha...

After eatin since we had no idea ware to chill, i den decided to go over her crib...besides it was rainin n im wif lil' boi thus wil b difficult walkin ard here & der..reached der ard 9pm & soon after lyn's brother came back gues wat dey did? play soccer! my oh my...kt uma maen bola, kt uma org pon maen bola! ish..reali non-stop hit la dat boi...kip playin til he was sweatin...by 1015pm i left for home swit home...

Back hm after lil' boi had his quick shower i den put him to slip... n bcoz he was so0o0 tired it took him less den 5 mins to knock out...hehh... ok nw im gona end here..niwae, tomoro is fridae!! woooohooooo~


1:08 PM



Yest was e 1st tym i got reaaali sick...itz all bcoz i didnt slip a wink on tues nyt... yeah, serve me ryt.. i onli gt myself to blame of coz..i went to werk lyk a zombie yest...n for e 1st tym eva, i didnt put on any make-up...hehh.. i came in a bit late n thruout e mrn i was havin a hard tym kipin my eyes open coz of my migraine...reali bad i tel u... was so close to breakin down...almoz fainted as well..

Finally ard 12pluz my OM told me take haf dae...so ard 1pluz after my partner came back from lunch i left e office..hubby came to fetched me by cab...we den proceed to my family doc at tpy...asked for my usual medicine & at e same tym went for my jab as well...got haf dae MC for yest...

Back hm lil' boi was slipin thus i took e chance to slip as well...hubby gotta leave ard 3pluz to go back to his camp for reservist...i didnt get to slip for long doh...coz ard 5pm lil' boi opened e door & upon seeing me he woke me up...so no choice gotta forced myself up to entertain him...

I went to e kitchen to find sumtin to eat coz i was reaaaali hungry... e laz ting i ate was mac which was on tues nyt 7pm wif nana & lyn ok..which means i didnt ate for lyk, 22hrs?? cool or wt! hahaha...hubby came back ard 6pluz...n by 730pm, he was off to lala land...yes, DAT early...as for me, i watched tv til 830pm before goin to slip as well wif lil' boi...damn syiok get to slip for 11hrs... =)

So nw here i m at werk...waitin for lunch tym... todae faster end & tomoro faster cum can..cant wait..aitt nw, til my next update ya...dhaa!

Wednesday, July 23, 2008 12:43 AM



To our 1 n onli precious gem,




HEPPY 25TH MTH TO U!!

Itz reali great to c u turnin a mth older every 23rd..we wil nw wait for e dae wen u turn 4...coz datz wen mama & papa wil start tryin for a sister/brother for u...Insyallah

Let me juz share abit on his development aitt..well, he's learnin to speak sentences now...doh at tyms only few werds will b clear after which he'll mix it wif his baby language stil..but atlez we understan wt he says better nw...

A reali hyper active boi who simply luv runnin ard all e tym...gets excited wen we tel him we'll bring him out..will go to his drawer & pull out his clothes & later run to get his shoes to b put on immediately...nwadaes he dun require us to carry him unlez he's reali2 tired..which is a gd ting coz we no longer nid to bring his pram often...

N oh, he reali noes hw to get on our nerves! at tyms he wil do tings he noe we wun lyk juz to get our attention...very observant as well... looking at wt ppl do & eventually he'll end up doin it...

Well at e end of dae, we r juz glad to c him progressin well...juz 1 ting, nakal tu kurang kn siket leh? hehe.. luv u baby!

Tuesday, July 22, 2008 11:00 PM



As e month end gets nearer, we r gettin busier each dae.. but den agn, it helps to kill e tym...as much i dread for aug to cum, i guez i juz gotta accept e fact ey...im stil prayin for e bez..

Aniwaes, todae afta werk as usual went back wif nana & met up wif lyn at brad..padahal die yg tk keje, tgl tpy die yg lbt...suke eh jadi star karat..haha.. we ended up goin to mac & KAK LYN kite nie blanje mkn la seh... hohoho... makaseh eh... laen kali jumpe lagi buat lagi ok? :p

After eatin we den walked all e wae to my block...haha.. cian pe lyn, die pk kite bwk die lepak mane aje la...check2 bwh blok kite.. hehh...n so i went up to change & brought lil' boi down...he was kinda shy at 1st coz maklom la 1st tym saw lyn..but after a while he warmed up & started runnin ard..saw tara for a while since she's goin out wif her mummy & daddy...damn adorable lor! lil' boi as usual la kn nmpk gf gatal..LOL!

Soon fir arrived & so nana leave wif him...me & lyn chatted a while more & 15 mins later after rafiq came back from his i-dono-hw-long toilet trip we den parted waes...we'll mit agn tomoro in msn ok bacins!

Ive notin much to update nw...juz dat i cant wait for fri...pae dae babey... wooohoooo!


Sunday, July 20, 2008 10:18 PM



As mentioned yest, todae we spent our dae goin to weddins...1st up was to azrin's weddin at simei...reached der ard 1230pm & since it wazen dat crowded yet we ate 1st...soon by 145pm we proceed to escort e groom to e bride's place at tamp...lil' boi was bein reali adorable wen he waved at every bike dat passed by our car..hehh...upon reachin e bride's place lil' boi fell aslip...n so i juz sat wif him slipin on me since i was oredi too full to eat anitin...

By 3pm afta lil' boi woke up we den left to fetched ajan & off to e next weddin invitation at lagun sari...was havin quite a hard tym findin e place...we had sumtin light over der & juz nice wen we arrived, e bride & groom was juz abt to cut e cake...we left ard 430pm n went back hm strait since no oder plan in mind..

Later in e evenin me, hubby, lil' boi, ajan & adeq went downstairs to accompany hubby to wash his bike...e boys were bz playin ball so i juz sat & godeh2 my hp...stil gettin use to it..hehh...

Im havin a reali bad flu since mrn thus i'll juz let e pixies end my entry aitt...hope u guys had a wonderful weekend...dhaa!


Saturday, July 19, 2008 11:43 PM


I was so excited wen hubby agreed to get e fon i wanted yest...had wanted to go central yest nyt itself but den all starhub shops closed at 6pm yest for deir D&D..so no choice i had to wait til todae instead...n since i was oredi so impatient, i quickly did e laundry early in e mrn & by 1030am i brought lil' boi to central since hubby's werkin e mrn shift...i was so sad wen e 1st starhub shop i went to said dat dey had no more stock for dat fon...lucky derz anoder starhub shop nearby so i quickly rushed der...n diz tym round, im glad dey stil hv stock...phew.. i had wanted to grab e 1 in wyt but den i was afraid it wil get dirty easily thus i bought e 1 in black instead...wel wt matter is, i've finally got it..thnx a million by!




Btw i tried cookin chicken rice todae & it turns out juz e wae my mum cooked it! didnt expect my 1st try to b a success...hehh... hubby came back ard 530pm & he had a short nap til 7pm before we get ready to head down to O'kidspot... reached der ard 8pm & let lil' boi played ard til 9pm before mekin a move..i lyk e place coz itz nt too crowded & itz quite spacious...wil go wif nana & son e next tym k babe...

We had no oder plans in mind derfore we headed back hm strait...hubby is out nw to his fren's houz to help out for his weddin tomoro...we've got 2 weddin invitations tomoro...cant wait...i juz luv goin to weddins.. *smile*

Ok nw im gona go get to slip since im reali lackin of slip nwadaes...wil update agn tomoro ok...dhaa!


Thursday, July 17, 2008 1:01 PM



I had a reali bad dream laz nyt...it was abt e incident dat happened exactly a week ago...juz dat in dat dream, itz lyk e continuation of wt happened...it was reali scary of coz...i ended wakin up perspiring & immediately turned to look at hubby...i had diffuculty slipin afta dat...sumhw im afraid e dream wil turn out to be reality...of coz, datz e laz ting i wud eva wana happen...ders juz too many 'What ifs' in my mind..sumone plz tel me im juz paranoid........ =(

------------------------------------------------------------------------------------

On a totally diff note, im havin a bad diarrhoea since yest...all thnx to e mee hongkong which i cooked on tues nyt...tu la cam paham letak cili tk agak2, padan muke aku! n to add on to it, i actuali go & eat sambal tumis which mama cooked yest...n dat caused my stomach ache to get worst! gosh...

I woke up ard 2am goin to e toilet & later wen i try to get back to slip, derz more pain cumin...diz tym round, it was my menses cramp...great or wt... stomach ache + menses cramp = syiok!! *roll eyes*

Hubby helped to massaged my tummy til he fell aslip himself..haha.. i den went to e kitchen to get a bottle of warm water & placed it at my tummy...surprisinly, dat helped me to get to slip lyk immediately...didnt knew it wud actuali werk...

Lil' boi is reali sick...down wif flu... i fil bad dat i cuden b der for him... but i noe he's a strong boi...n nw itz ez to get him to eat medicine rather den e previous tym wen he got sick...so yeah, hopefully he wil get well soon..we've got plans made for him for e weekend.. *smile*

Ok nw im gona get back to werk..countin down to knock off tym! (chey padahal lagi 5 jam seh..LOL!)




Ps: my x-colleague juz sent me diz pic...diz was taken in dec 2006 wen my boi was juz 6mths old! hw much i miz him bein DAT small...hahaha!

Tuesday, July 15, 2008 10:58 PM


Been havin late nyts ever since dat incident...moz of e tym accompanied hubby watch tv til he can get to slip...every mrn gotta wake up by 7am...n even of weekends im nt spared...gotta wake up latest by 830am...wt to do, my lil' boi is an early bird...oh wel, im nt complainin m i...nola, sae onli...hehh

Werk has been ok...juz dat, im reali sad dat im left wif onli 3 weeks... if i have 1 wish, dat wil b to freeze tym...oh august, plz dun cum so soon...but den agn, mayb it wun b dat bad ryttt..im juz bein paranoid i guez...wt to do, datz juz e wae i m...sighhhhh

Pae dae next week...i so0o cant wait... e 1st ting i wana grab is dat hp...n im gona give hubby my hp since his hp gona b k.o soon...so yeah, juz e ryt tym for me to chnge hp ryt by? hehh...still tinkin if i shud hilight my hair agn...nt sure wt colour to get...conpuse2...n oh nt forgettin hubby's shoe...had promiz to get him a shoe diz mth...conferm die choose yg mahal nk mamz tau...haha!

Lil' boi is havin a bit of flu nw...nw diz is wt i hate... coz wen he fall sick, he can get reeeeaaali cranky...to e extent of wantin to b carried 24/7...juz hope it wil go awae by tomoro...

Okiedokie, im gona end here..hubby kpo wana use e comp..haha...ok dhaa!


Sunday, July 13, 2008 11:12 PM


Initially e plan for todae was supposed to follow hubby to his fren weddin @ jurong...but laz min i decided not to tag along since im nt done wif e cookin yet..so i spent e afternoon at hm cleanin & cookin while hubby went wif his cuzzin...waited for him to cum back but since he was late i decided to go out 1st & mit him later..n so ard 530pm cabbed to tpy central to fetched nana & son and off we went to harbout front..

Upon reachin walked ard awhile & hubby reached soon after...we den went to have our dinner @ KFC afterwhich we proceed to e open space @ vivo...hubby den let lil' boi play ard in e water...mcm swimmin dibuat nye..haha! let him play ard for abt half an hr before cleanin him up...

We den started to walked ard & ended up in Zara...had wanted to find a top for myself but in e end i bought notin..instead hubby bought for himself a jacket...reali nice, even e price is nice...LOL! walked ard & bought a few more stuffs before partin waes wif nana ard 9pm...thnx eh babe temani kite jln2.. hehh

We had wanted to tek a cab back hm but den lookin at e taxi Q kn, tk jadi terus..panjang pe! ish.. so we ended up tekin a train back hm...tau naek train ngan kau na..hehe... we reached hm ard 10pm & lil' boi was off to slip by 1045pm...

Ok nw im gonna go iron e clothes & off to my lala land...have a great week ahead ya ppl...dhaa!