The Lady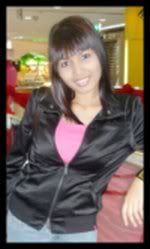 ♥Zura is the name♥
♥22-Dec-1987♥
♥A Wife & A Mummy♥


Her Love Ones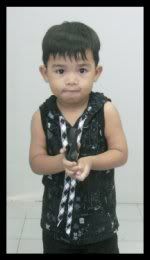 ♥Muhd Aniq Nufael♥
♥Born on 23/06/06♥
♥Son whom she loves dearly♥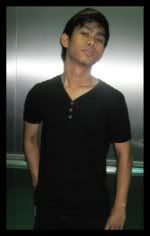 ♥Muhd Adam Firdaus♥
♥Blissfully married on 15/09/05♥
♥Hubby whom she is devoted to♥


Speak, don't bark.
Her Daily Reads
Sunday, January 31, 2010 10:07 PM
PICTURES GALORE!

Last sat, 23/01/10 : Durian @ Geylang & chill out @ ECP.




Last sun, 24/01/10 : Kite flying @ Sengkang.




Sat, 30/01/10 : Movie Date with Yaya & Awi, Avatar.




Sun, 31/01/10 : Sentosa with Sid & Dee.


3:21 AM



I can see myself updating lesser & lesser nowadays, I reali dono y. As I look back on my archives, I realized how I used to be so active before..updating almost everydae. I dowan to stop bloggin as this space is meant for me to remember my past, be it e bitter or sweet memories. But well, no point in me saying I'll be active now..coz eventually I noe I wun. =P

Werk is gettin abit stressful but that dozen demotivate me but instead, Im takin it as a challenge & hoping I will be able to overcome it all. U tell me which werk isn't stressful, true? This job is by far my most fav of all. I reali hope to make it my last if possible. Oh btw, congrats to Fiqah for gettin e job at my werkplace! Though we wun be werkin in e same branch still, I'll see u during every meeting k babe? Hehe. All e best darla! =)

My weekends has been great so far, with great plans with great ppl. Let's just hope every weekend will be like this for this whole year. Hehe. Watever it is, I just cant wait for 2013. Wana noe y? Read my blog again in 2013 & u'll get e ans. HAHAHA!

It's 3am now, I reali should be turnin in already. Will be goin to sentosa with abg & Dee tomoro. Luge, here I comeeeeeeeeeeeee!

Tuesday, January 19, 2010 11:50 PM



Y izit that everytime I wana update I'll simply get very lazy & end up not updating anytin at all. I feel so bad, reali. This space used to be updated almost daily but now? Haizz. Now who's e one again who got me all addicted to FB?! Yes ppl, FB is e reason y Im abandoning this personal space of mine. Bad, bad me. =(

Anywae, Im just gona make this a quick one. Hmm lemme see.. Well, last week was e 1st time ware I felt e week was passing by so0o0o0 fast! Mainly bcoz of werk. Idk y but last week, werk was crazy! There were simply lotsa paperworks to be done, one after another! Thank god I had my manager with me else I think Im gona die then! Ok la bedek. But still, it was reali bz ok! But heck, I managed to pull thru e week so wth ryt?

Trained down to d.ghaut twice last week to have lunch with bestie yaya. See, I very e jiwa ok. On thurs we had pizza hut & that was e 1st time after so long we cam-whored just e 2 of us. haha. Bein with that shawty simply make my dae. Swit tk aku? Ckp yes now! HAHAHA! =P

Oh btw, I got an iPhone for hubby last fri. It was reali an impromtu decision, I wasnt even plannin to get it till that mrn itself. haha. Well one ting for sure, I knew his previous hp was well, almost gona k.o soon la kan. And another ting was, he was reali engrossed with my iPod touch. So I was thinkin, y not I get for him an iPhone ryt? I called up starhub to make general enquires & when they said that if I re-new my contract for another 2yrs & get e iPhone 16GB it would be FOC so I tot, y not?! And that's how e decision came abt. =)

Last sun was my niece Inka's cukur rambot cum her brother, Engku's 2nd bdae. It was great to meet up with hubby's side coz they are reali very onzz want. Esp when it comes to pictures time. So gerek want. Oh have I told u how pretty/handsome, adorable, cute my niece & nephew are?! E boy is truly a heartbreaker & his sister, simply gorgeous. N their eyes very e big big want!! Ok Im goin crazy over babies agn. What's new? LOL!

Ok now, time to hit e sack. I hope this post will make up for e time Ive neglected my blog. Hehe. Till e next update then, toodles! =))


Monday, January 11, 2010 2:23 PM
HAPPY 24th BIRTHDAE TO MY BRO!

Last fri Dee asked me how she should surprise my bro on his bdae. When she randomly told me she had 24 heart-shaped balloons, I suddenly tot of an idea; which is to do e surprise at a hotel. E idea was to make Sid think wrongly of coz. haha. It was reali funny when we were planning ware to go, sampai geylang smue jln terus. LOL!

I ordered a heart shaped brownie from my colleague Lanny, thank god she can do it despite e last min notice. On sun afternoon went over to Dee's werkplace to take e balloons from her. Basically e plan was for me & hubby to check in 1st to do a simple decoration with e balloons & cake afterwhich Dee would bring Sid over at 12am.

They reali came in at 12am sharp. hehe. When we saw them outside we quickly off e lights & hide 1 corner. Dee brought Sid in, walked a few steps in & we jumped out on him. Boy, u should see his expression. It was reali priceless! He was very surprised indeed. Spent e next hr simply chilling ard, eatin e brownie & camwhoring. hehe. Made a move close to 1am & separate ways with them since both me & hubby werkin in e mrn.

To be honest, this is e 1st tym I ever celebrated my bro's bdae, just like how he 1st celebrated my bdae last mth. Im reali glad that our bond is getting stronger. ILY hor koh. =)


Saturday, January 9, 2010 2:31 PM
Im just plain lazy to update nowadays. I guess e only time I'll update is on Monday after my weekend. So I guess that's e only day u guys should come back here. Else, let's just pretend my blog is dead. -____-

Monday, January 4, 2010 3:43 PM
Thursday, 311209:

My fav uncle was goin back to Dubai on Sat therefore on New Year Eve he asked us out for dinner @ Spize. We reached ard 9pm & spent nearly 2hrs there eatin. Right after eating we went home strait with no plans for countdown. Borin I noe. -_____-




Saturday, 020110:

Few weeks back Fiqah told me that I was invited to her dad's bdae party on Sat. She even told me I HAVE to sleepover no matter what. Not only that, I was also told that e theme for that day was Pink. Little did I knew that I've been pranked, it wazen her dad's bdae that I was invited to but instead, it was a bdae bash for Ila & me!

Oh and e best part was, hubby was involved as well! No wonder he keep insistin I bring all e things to sleepover though I told me we shuden as Fiqah's relatives would b ard. N lucky I did bring everytin ok! haha

Basically yaya, fiqah, fandi & awi were oredi there at Regency House since noon doin e decorations & what-nots. We arrived at 730pm & I then saw awi's bike & so I called yaya but then she told me that she was stil at home. Later hubby went 1 corner to call awi & came back tellin me awi was upstairs but yaya haven reached. That part I was startin to get suspicious coz well, in my mind how could awi be there without yaya when it was actually fiqah's dad bdae?!

Soon fiqah msg-ed me sayin they were havin doa selamat & so I actually believed & didnt think much. When Ila arrived we proceed up to e apartment & e moment we opened e door they surprised us! I was totally in shocked lookin at how beatiful they decorated e place & e effort they put in to make it happened. =)

After cake cuttin we went up to e rooftop for bbq-ing & swimmin tym! We spent 3hrs there till 11pm before goin back to e apartment for chill out time. I reali love that moment, reali wished we could freeze e tym there & then. =)

Next mrn woke up ard 9am, bought breakfast at Mac before eatin at e rooftop agn. Ryt after eatin we had our 2nd round of swimmin. This tym round we did many2 silly stuffs, climb here & there, wrestling, jump shots & throwing one by one into e pool. haha. We spent 3hrs in e pool, syiok or wat?! haha. By 1pm got back to e apartment, showered & started pakcing before checkin out @ 3pm.

It was definitely e best 1st weekend of 2010! Reali wana thank those who made it happened. F&N rocks! =)




Sunday, 030110:

I had made plans with my bro to surprised Dee at her werkplace. Met him @ PP ard 4pm afterwhich we proceed to Swensen. Dee sure was surprised when she saw us. hehe. Had our lunch cum dinner there while lil' boi enjoyed his ice-cream. Since Dee knocked off at 5pm we waited for her before leaving together. Walked ard tryin to find school shoes for lil' boi but they dun have his size. Too small la. hehe. Since we were reali shagged we decided to head home strait.

Thank u to my bro for e treat even though I refused. Grrr.




Monday, 040110:

It was lil' boi 1st day of sch today! Both myself & hubby are on leave to send him to sch. I guess we are more excited then him. hehe. A good ting he was reali positive abt it. Well not that I was expectin him to cry, I knew he wuden. In fact he was even excited as well, esp after puttin on his uniform.

We went to have lunch 1st before proceedin to his skul which starts at 1pm. Upon reachin there were few other kids & lil' boi made fren with 1 of this malay boi where they started talkin immediately. When it was time to go in they even went in & sat together. So cute. He's endin skul at 4pm, cant wait to fetch him & ask how was his 1st day. Hehe.