The Lady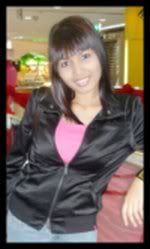 ♥Zura is the name♥
♥22-Dec-1987♥
♥A Wife & A Mummy♥


Her Love Ones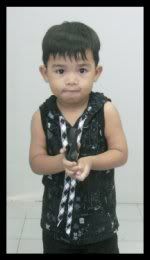 ♥Muhd Aniq Nufael♥
♥Born on 23/06/06♥
♥Son whom she loves dearly♥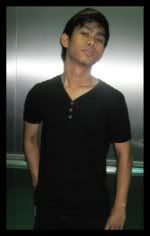 ♥Muhd Adam Firdaus♥
♥Blissfully married on 15/09/05♥
♥Hubby whom she is devoted to♥


Speak, don't bark.
Her Daily Reads
Tuesday, September 29, 2009 11:48 AM



Last sundae had a open house & surprisingly most of my frens turned up. There was also a few who just called saying wanted to come for raya visiting so yeah, joined in e fun. hehe. am really glad to see CT & her super adorable dotter! also e widya babies who turned up, thnx alot too. E last grp which is leo & clan left at 11pm thus we started cleaning up & i finally went to slip at 2am. felt like cryin havin to wake up at 7am for werk. -____-

Yest nyt after soo long i managed to have an early nyt. a good ting lil' boi didnt had his afternoon nap thus got him to slip with me by 930pm. this mrn woke up feeling so refreshed. syiok ahhh. hehe. and now i cant wait for e weekend agn. wahh this year btol nye raye sakan eh zura? LOL!

As usual, lazy to update so yeah, let e pixies do e talkin. dhaa!


Saturday, September 26, 2009 11:58 PM


Last wed nyt went visitin to fish & elisa's house at hougang. since we started late at 830pm, only managed to go to 2 houses. it was nice to mit up wif fish since e last tym we met was like wat, 6yrs ago i gues?? yeah dat long. her sisters r all grown up now, all so tall, i feel like so bantot standin next to them. hehehe

Whereas for todae as planned went visitin wif my parents. fetched them at my 2nd sis house & at e same time visited her & family as well since we didnt get to mit on e 1st dae of raye. my bro was there as well. sumhw i wished my 1st sis was there also, it would b complete that way. hmmm

Aniwae, we finally started our journey at 530pm. went to woodland, chai chee & lastly tamp, visitin a total of 5 houses. we finally left e last house at 1030pm, sent my parents home to sengkang & we proceed home ourselves. gona go have my shower now, enjoy e pixies!


Wednesday, September 23, 2009 11:19 AM
HEPPY 3YRS 3 MTHS TO OUR PRECIOUS GEM!

A very2 talkative boi now, cant keep silence for more then a min. a very curious boi who will keep asking lotsa qns, though sometimes he will noe e ans to it. he has this habit to menyakat org, a habit both me & hubby has. hehe.

He's starting to talk to us in english. of coz not perfect, sometimes he will messed up e sentence. but we are glad he's tryin. we want him to learn at his own pace, dun wana rush him.

Oh, he'll be gettin a PSP from hubby todae. suke ah tu eh? hehe. well babyboi, always rmb we love u so much, more then our own lives. =)

Tuesday, September 22, 2009 11:12 PM
Pertama sekali, Zura ingin mengambil kesempatan ini menyusun 10 jari memohon maaf kepada semua jika ade terkasar bahase ataupon terguris hati. Semoga makan minum zura selama ini dihalalkan yeee. =)

---------------------------------------------------------------

And so we have reached e 3rd day of raya. Im sure all of u had a blast on both e 1st & 2nd day ryt.. well, same to me! this year i was kinda excited abt raya only bcoz preparations was made early thus puttin me in e mood. unlike previous years ware we would owaes make preprations last min. on e eve of raya e whole family decided to head down to geylang for last min shoppin. this is reali rare ok coz usually PIL dun like to go geylang on e last day coz of e crowd. but well, since they were e 1 who asked, y not ryt??

We reached ard 10pm, walked ard & later yaya joined in while waiting for her frens. she left close to 12am & we walked another round before decidin to make a move by 1am. sent nani & yuyun home 1st & we reached ard 130am. super2 shagged!

On e mrn of raya i woke up at 930am & guess wat tym e rest woke up? almost 1pm la ok! nie la anak2 tercontoh. haha. everyone got dressed before startin e most touchin moment, maaf-maafan. this year i got kinda emotional, i started cryin e moment i started off wif aya. hehe. even lil' boi had his round of salam-ing everyone with e help of hubby on wat to sae. very cute indeed.

By 3pluz me, hubby & lil' boi head down to my grandma's house. as usual, everyone will be there. had a lot of fun with all my relatives. made a move by 10pm, sent my parents home to SK & home swit home for us.

2nd day as usual went out with hubby's family, together with nani & yuyun. we set off at 2pm, while at e 3rd house which is Tok Sani's, met wak malik & family thus they joined us for e rest of e raya outin. since abg yan was drivin as well we squeeze everyone in e 2 cars. it's great to walked in 1 big group, though unplanned. =)

We went to total of 10 houses, leavin e last house which is kak maria's at 12am. Sent kak marina home before sendin nani & yuyun. we finally reached home at 1230am. i turned in at 1am but then thruout e nyt i keep havin diarrhoea & vommited twice thus no choice, had to take MC todae. well enuf werds, let me end this with pixies. enjozzz!

1st Day Raya...


2nd Day Raya...
Friday, September 18, 2009 2:15 PM
Tomoro will be e last dae of e fasting mth. I realli hope i will be able to fast for e last time tomoro, but then agn, i doubt so. This red army just refuse to stop! It's been a 9days to be precise. lame pe! well atlez im proud that this Ramadhan Ive been fasting from day 1 till e day my period came. except for e 1day when i was down with fever. Alhamdulilah.

Preparations for raya...so far so good. just that, I HAVEN CLEAN MY ROOM! hahaha. well actuali i myself chose not to clean up earlier. datz just me, i like to do everytin on e eve itself. so yeah, im sure im gona spend hrs in my room tomoro spring cleaning. me like!

I have noting much to blog abt actuali. i will sure update agn on e mrn of raya itself so.....stay tune!

Tuesday, September 15, 2009 12:45 PM
HEPPY 4Th ANNIVERSARY TO zuraAdam!!


Alhamdulilah, it's been 4 years since we married. Though for some of u it might be a short period of time still to us, these years means alot. We've been thru lotsa challenges together to get to where we are todae. And nope, we are no-where close to perfect. In fact, we still have a long wae to go to "polish" up on our r/s. I guess 1 main prob with us is that, dua2 ego besar. at times both dun wana give in. hehe.

Basically i just want him to noe that, im proud to have him not just as a good husband to me, but as a great daddy to our son. Will be looking forward to spend the rest of my years with him & our kid(s).

I love u Adam Firdaus.


ps: it makes me heppy seeing how heppy he is receivin e watch... =)
Monday, September 14, 2009 11:48 AM
6 MORE DAYS TO RAYA!

Ramadhan is coming to an end & we will soon be celebrating Hari Raya. This yr Ramadhan i've been kinda emo, tinkin abt my past, my family in particular. The times where me & my 2nd sis weren't married yet & still living with e others under 1 roof. In those years I cud still rmb how every Ramadhan me & my sisters would spent time baking cornflakes, how every malam raye my mum & 1st sis would b bz cooking in e kitchen while me & 2nd sis would be at e living room puttin up e curtains etc while watching e shows aired on TV. I really2 miss those days. Now..look at wat's happening to both my sisters. haizz. watever it is, i want them to noe..i luv them very much.

Ok now, i shall not get too emotional ya. aniwae, finally ive done my hair for raya. i noe in my previous post i mentioned im gona do sumtin diff to my hair ryt? well initially yes, i tot of perming my hair. in fact last week i even went to do a temp perm to my hair to c how it goes. at 1st glance i do love it but after much tinkin, i decided not to perm but rebond instead. y? coz 1st, im e type of person who dun look after my hair well thus it might get spoilt easily n 2nd, i tink short hair wif curls just look funny. hehe. so yeah, rebond it is. =)

Oh btw, hubby highlited his hair as well. he accompanied me when i was doin my hair yest & just randomly i asked if he wana do anitin to his hair as well thus he choose to highlite it. sumhw i tink e highlite is a bit too much at e back part, looks like he coloured it rather then highlite. hehh. but ok la, after applying some hair gel i tink it's ok. now just have to get lil' boi hair cut by fri latest. his hair is growing so long now, aku yg rimas!

Last sat iftar with e starbucks clan @ Mckenzie. those present were lisa, ajis, lela, linda, dayah, fas & fahez. after that we planned on goin to grandlink for karaoke. when we were abt to go off, sum shit happened. dun wish to elaborate but basically, am just glad everyone's fine. so yeah, off to grandlink, 2hrs of karaoke till 11pm afterwhich we parted ways with them & we then met up with sufi & wan for their computer game session. me & lil' boi just watched them for e 2hrs. sumpah boriN! well by, next tym u just go ahead wifout me aitt. bleargh. ok now, pixies tym. njoyzzzzzz