The Lady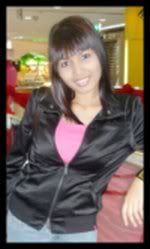 ♥Zura is the name♥
♥22-Dec-1987♥
♥A Wife & A Mummy♥


Her Love Ones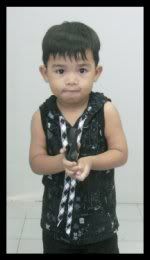 ♥Muhd Aniq Nufael♥
♥Born on 23/06/06♥
♥Son whom she loves dearly♥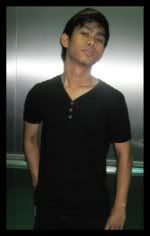 ♥Muhd Adam Firdaus♥
♥Blissfully married on 15/09/05♥
♥Hubby whom she is devoted to♥


Speak, don't bark.
Her Daily Reads
Saturday, February 28, 2009 2:11 AM
Time check: 1:58am

I noe i shud b slipin now but fira is currently here in my room thus im gona accompany her first. we went out earlier to town, supper at newton & mustafa centre before she followed us home. itz been almost 3 weeks since we laz met, we sure do miz each oder. yela, takan nk jumpe2 slalu kn. nnt org ckp rimas la pulak. *roll eyes*

Earlier at werk todae i almoz cried, serious shit la ok. it was by far e most tiring dae for me. can u bliv it, for e whole dae i didnt even sat at my desk. i was bz doin e move in/move out of e clients thus walkin here & der. i stayed til 7pm before rushin home. a gd ting hubby came & fetched me else i dun tink i cud had made it on tym since MIL was rushin to go to werk.

Im juz lazy to blog further so til here la k. niwae juz wana ask u readers out der;

Anyone knows e defination of BEST FRIENDS? looks lyk i need to learn from someone what's e meaning la kan. kwang3



Tkmo cam paham eh tlg!


Thursday, February 26, 2009 5:17 PM



Well3, 1 more dae to e weekend. cant wait, cant wait. sat as usual gona bring lil' boi to his class & later afta dat we've got a weddin invitation at woodlands. wil be goin wif MIL as well. later at nyt wil c wt plan hubby has in mind. as for sundae, hubby will be werkin e mrn shift derfore i've made plans to mit up wif darlin anna. gosh im missin her so much, tym for a real catch up. actually we were supposed to mit last sat but dat gerl so gundu la she actually forgotten all abt it. i was supposed to give her a bdae treat since her bdae was last thurs. sumore she actually didnt informed me dat she changed her num so i had no wae to contact her den. but itz ok, had re-planned wif her. sundae we shall mit. *smile*

I tink sumtin is wrong wif me. u c, on normal bright sunny daes i will usually fil very cold, all my goosebumps will stand strait la ok! haha. but on rainy daes lyk todae, i dun even fil cold at all. weird huh. dasa kulit babi kn aku? kwang3

Less den an hr more to go before knock off tym. myt b goin geylang wif MIL later tonyt. c how, else wil juz rot at home. btw, before i end diz post juz wana put up an ol' photo of mine. wana c?




JENG3!!! hahahah.. diz was in 2005 if im not wrong. hmm mcm rindu la pulak rambot panjang eh.. k ppl shoot me now. LOL!!!

Tuesday, February 24, 2009 12:57 PM
"Don't play e game if u don't know e rules"

Isn't this ur quote, bitch? It's funny coz u r someone who had never know e rules to a game yet u wana get it started. tsk3. what a shame. Go, go rant it out to ur BEST BF. Didn't u owaes sae he's ryt about so & so. but den again, i wonder;

Why izit that he's never ryt about u?

*smirk*

Monday, February 23, 2009 5:30 PM



I dono y im owaes so unlucky but mayb diz is my fate. Ppl just lyk to take advantage of my kindness, mayb i shud just stop being e nice person all e tym. it sure dozen pae to b nice. i have to kip telin myself not to trust ppl easily, esp after e last incident dat just happened.

How stoopid & naive can i b, only now den i realized who she reali is. but itz a good ting she reveal her true colours, else i wuden get to noe wat a bitch she is. no point going into detail, she wil only sae im a coward for bloggin it out. but den again, im just learning it from her. coz if u wana noe, datz wat she's good at. bloggin & dissing abt ppl in her LJ account.

To u missy, if u r not heppy wif me bloggin abt u, den by all means give me a call. coz ive been msg-ing u to return my money but u r ignoring my msgs arent u. so b it. e more u kip quiet, e more i'll blog abt u. so yeah, we'll c how long u r keeping silence ok?

ps: for goodness sake, itz not dat i need dat 40bucks dat much. i can simply let u keep dat money since u r jobless. but well, rmb how u used to msg-ed a fren of urs demanding she return ur money e next dae? so now, im juz tryin to play e game u did. but it seems u r juz so thick face. berkali aku msg suro kau baya maseh buat bodo. itz ok, take ur time. e longer u delay, e more u will get to read stories abt urself. =)

12:25 PM


Fridae:

Werk was hectic on dat dae, everyone were reali bz due to e migration thingy goin on. i finally knocked off at 730pm, quickly rushed back home as hubby & lil' boi were waiting for me. hubby was being such a switheart to do e laundry for me since i came back late. hehh. we had actually planned to go out but since we were both tired, we decided to stay in instead.

Saturdae:

Woke up at 10pluz, did a bit of house chores before getting ready to bring lil' boi to his class. hubby wazen werkin so he tagged along as well. we went out at 1130am since we had wanted to had lunch at compass point first. however while we were topping up fuel at esso, der was sumting wrong with hubby's card. so no choice had to rushed to e branch itself juz to withdraw cash. so stoopid sia, waste alot of tym. wen we were all done, it was oredi 1pm. derfore no tym to dine at cp since lil' boi class starts at 1.15pm.

After class den we went to banquet for late lunch. i was craving for e chicken rice der. all time favourite. after eatin walked ard for a while before heading back home. once we reached which was at 5pm, me & lil' boi strait awae went to slip til 7pm while e hubby as usual, played his ps3. later dat nyt met up wif nana & tara downstairs for a while. dat tara super cute la, canot take it. juz lyk e dae before, we spent e nyt at home wathcin dvd til 1am before off to lala-land for us 3.

Sundae:

Woke up early to accompany mama to e market. had breakfast at our usual prata stall, buy all e stuffs needed & cabbed back home. it suddenly started to rain heavily. me, hubby & lil' boi slept from 2 - 430pm. super syiok. later at nyt all of us together wif nani & yuyun except ajan went to JB for supper. reached at about 9pluz n we strait awae headed down to Pandan City for a lil' bit of shopping & supper der itself. we finally left close to 1am. sent nani & yuyun back home and we reached home at 2am. super2 shagged i tel u, diz mrn almoz cuden wake up!

There u go, my updates on e weekend. n now, i cant wait for e upcoming weekend! =)




I luv diz man ryt here.... =)

------------------------------------------------------------------------------------




HEPPY 2 YRS 8 MTHS TO OUR PRECIOUS ANIQ!

So big now, so notorious! still, u r being loved by everyone. mama & papa are reali proud of ur development, though we find u very talkative. hehe. just dun ever let us down ok? n oh, we cant wait to give u a brother/sister soon u noe dat?

*giggles*

WE LUV U ANIQ NUFAEL!!!

Friday, February 20, 2009 10:44 AM
Thank God It's Friday!!!

This week seems to pass by so fast, even hubby said so. Im just glad e weekend is here. Not much plan up in mind but as long as i get to spend it wif my loved ones im contented. btw, wana noe wt i did yest after werk? jogging!! haha. very e semangat kan i noe. well i was bored & since hubby was free laz nyt i drag him & lil' boi to tpy stadium. bliv it or not, dat lil' boi of mine also jog ok! so cute i tel u. ok i guez itz more lyk running for him la. haha. but u shud have seen it, i will take a video if we go again ok? hehh

I actually jog a whole 5 rounds which ended up in me sweating lyk a pig. furthermore, wen was e last tym i jog sia. durin sec skul years which was lyk, 5 yrs ago?? my oh my. n todae my leg is cramp lyk hell. kwang3.

On a totally diff note, yest i met nana under e void deck & we had a long chat. all clear now i hope. let bygones be bygones shall we? *smile*

Ok now, im suddenly lazy to blog further. wil update again wen i fil lyk it ok. have a great weekend ppl!




I'm suddenly missin diz fat boi so much. faster 6pm pls!!

Wednesday, February 18, 2009 2:11 PM



I was watching Kepak Bing2 yest & i was really hooked onto e show, actually only e topic. haha. yest topic was on marriage life, financial prob, challenges in marriage life, etc. I dun reali watch e show every week but yest topic reali interest me.

I lyk e part ware norfa was talkin abt how ppl owaes gossip abt newly wedded couple who gets pregnant within a few mths, senang ckp bunting pelamin la. so0o0 like me! n true enuf as she said, we cant help it wen ppl's tongue starts wagging abt wen e couple get married, how many mths are dey pregnant now, wen dey get pregnant, yadaa yadaa yadaa...

HOW FREAKING TRUE!!

It reali happen in my case as well. i got married in sept 05, got pregnant in oct 05, n my baby was born in june 06. so if ppl noe how to count, it was exactly 9 mths after marriage den i gave birth. tu pon jadi ckp org! even up til now, wen my aunties whom i seldom mit saw me wif lil' boi, dey wil kip askin;

"anak nye? bile kawen? bile branak?" *roll eyes*

There was also a part ware nurul was talkin abt life in marriage. abt how both couple should have trust, understanding & what-nots. she also did mentioned abt marriage being a lifetime event, not sumtin u go thru for a few yrs & den datz it. sumhw i wonder, y did she get divorced wif ajai den?? reali a waste kan, dey were oh-so-perfect. but well, who are we to judge am i ryt? we never noe wat happen behind e scene.

Wteva it is, im juz glad dat my marriage is stil standing strong as of now. yeah of coz, we can never run awae from problems & argurments. but at e very least, we always try to werk out any challenges we have together. n of coz, i do hope diz marriage of ours akan kekal hingga ke suyrga.

Insyallah. =)

Monday, February 16, 2009 10:34 PM



I was posted to UOB plaza todae, juz for a dae thank god. reason i had to b der was bcoz one of e staff der was on leave & e oder staff had to cover at 1F. i was very reluctant to go actuali. itz not dat i dun lyk e ppl der, in fact all of dem der esp e OM, Lina were very nice. itz juz dat i was filin kinda awkward u c. but lucky i managed to pull thru e dae. n i muz sae, it was an experience werkin at oder centre. u can c how tingz r done differently. wteva it is, CT is stil e bez. =)

Hubby fetched me home & earlier we had sum family dicussion, together wif nani who was present. well, juz hope everytin goes smoothly. i of coz, wud luv nani to bcum part of e family soon. Insyallah.

Itz only 10pluz now yet i m filin freakin slipy. well i had a late nyt yest & diz mrn i woke up at 630am ok. i dun rmb wen was e last tym i woke up dat early. haha. so now u noe wt, im gong get to slip. before i end, juz wana sae;


I MIZ U GERLZ SO FREAKIN MUCH!! MIT UP REAL SOON OK!!
Sunday, February 15, 2009 11:28 PM



Weekend was great, as usual spent wif family. yest hubby gotta werk e mrn shift derfore i brought lil' boi to his class alone. every week he is gettin more & more xcited to go to class. n every tym he comes back from skul, he wil kip singin e songs he sang & do e tings he did. hehe. super adorable him!

Aniwae after his class yest saw my 1st sis & her kids at pungol plaza n she den asked me drop by her place. wuden be nice to decline so i agreed. reached her place lil' boi as usual play ard wif e kids & soon he was cranky derfore i put him to slip. i joined him as well as i was reali tired. we both woke up at 530pm. called hubby & he said he just reached home & so we both cabbed back hm as well. later ard 6pluz, me hubby & lil' boi went to a wedding invitation nearby. hubby's relative. didnt stayed for long doh. we left abt 45mins later.

Hubby suddenly wanted to eat ice-cream at pizza hut so went to central. however upon reachin pizza hut had a reali long Q derfore we ditched e idea. walked ard central & suddenly hubby received a call from aya sayin mama had a accident while otw to werk. n so we quickly rushed to her werkplace. lucky it wazen anitin serious. she was riding her bicycle crossin e trafic light wen suddenly a white sports car juz zoom by doh it was red light. dat made her lose her balance & fell off a few meters off e bicycle. e car didnt even stopped to check on her. stoopid shit! too bad mama cuden recognize e plate num.

She insisted on continue werkin thus we made our wae back hm. e rest of e nyt was juz spent watchin dvd. todae hubby wazen werkin so e 1st half of e dae was juz spent lazing at hm. later ard 2pluz we went to our neighbour's weddin invitation. it was juz at our void deck actualy. haha. as per wt mama said, "siap makan berejam pegi nye kt bwk je". hehe. back home me hubby & lil' boi fell aslip til 5pluz. later at 8pm hubby was hungry so he decided to go sakunthala to have roti nan. itz our 2nd tym diz week dining at sakunthala. haha.

We walked ard mustafa centre for a while after eatin but e crowd was reali terible i tel u so we decided to juz head home. lil' boi is fast aslip now. i shud slip early as well, tomoro have to report werk at uob plaza as i have to help cover a staff der. hope u ppl had a great weekend as well, dhaa!


Friday, February 13, 2009 11:59 PM


Earlier we went to vivo to catch The Wedding Game. hubby was so cute la. he die2 tot he were watchin Bride Wars. n so wen e movie juz started, it was showin the casts & all. suddenly he saw Fann Wong & he turned to me;

Him: Eh, fann wong pon act dlm crite nie? *blur face*

Me: Nie mesti u pk kite tgk crite bride wars kn?

Him: A'ah la! tk ke?

Me: Nola! kn i da ckp the weddin game! hahahaha.

Sotong ryt him, tu la org ckp tanak dgr btol2. kwang3. aniwae, i super luv e show! i rate it 4/5. reali nice show, very touchin. sumore im sumone who lyks watchin local show. so yeah, it was reali my cup of tea. hubby did njoyed e show as well, c.. told u my taste very good wan kn by? hehehe

After e movie we walked ard vivo juz window shoppin. suddenly hubby said, "jom i li kn u kasot". haha. tkde angin tkde ribut nk li kn kasot. but well, since he offered of coz i said ok! haha. i tried diz high heel at Primavera which to be honest, was my 1st tym der, n immediately i grab e shoe. it was reali comfy lor. good2. i loike. thnx again by!

We reached home at 6pluz, rest for a while & at 730pm we went out again wif lil' boi diz tym to Causeway Point to mit fira. i was missin dat lady so freakin much & since she was lazy to travel aniware far, i bein e good fren i have always been, decided to go all the wae to woodland to mit her. swit of me ryt? i noe. LOL!

Bought sum tings der, had sum fun at Time Zone & later had dinner at Banquet. since we had no plan after dat, decided to laze ard at fira's crib. went to pasar malam at her place to buy sum foods & up to her hous. we didnt stay for long doh since hubby was tired & is werkin e next dae. by 11pluz we were oredi back home. super2 shagged. but well, i luv my fridae!! im sure weekend gona b fun diz week. enjoyzzzz!


*Pic of me & fira deleted coz she asked me to! hmmph!!*
Thursday, February 12, 2009 4:14 PM



Somebody wana volunteer updating diz blog of mine on a daily basis? Im gettin lazy la! haha. well aniwae, ive been reali2 tired for diz week. lyk reaaaaali tired. furthermore laz tues I had to OT til 10pm. i tel u, it was scary la ok as e nyt passes by. it was only me & a client left den. by 9pm hubby came together wif lil' boi to accompany me. i den told him i was suddenly craving for roti nan. immediately he said ok we'll go sakunthala after werk for dat. heppy jap kakak. hahaha!

N so after i knocked off at ard 1015pm, we proceed to sakunthala. it was yummay! hahaha. after eatin we proceed to blk 4 to mit up wif hubby's frens for a while before finally goin home at 1130pm. i was so0o0o tired dat i fell aslip wif my make-up stil on. -__-

Earlier todae i had lunch wif grace & reena, my old colleague back in NAC. missed her so much, we managed to catch up on a lot of tingz. we had Thai Express, which is her 3rd time dining there for this week alone. haha. soon it was time to part ways. wil c wen we'll have lunch together again ok babe.

I can go on & on & on but im juz plain lazy. so yeah, will c wen im not lazy to update la hor. niwae, juz wana share a pic. itz my niece wearin a dress i bought her in melaka previously. super cute la dat montel!


Tuesday, February 10, 2009 7:55 PM



Since young me & my siblings had always been taught by our dad that if we wanted sumtin, we have to earn hard for it. well, we weren't born wif a silver spoon. our family was average, my dad was e only 1 werkin back den to support e family. still, he has diz principle ware he wud never turn to others for help, no matter how hard up we were. but Alhamdulilah, we owaes managed to pull thru as a family wifout e help of others. datz y my dad always reminded us siblings, dat no matter how hard our life is, we shuden depend on others. he wud owaes said, "bia susa dulu, senang kemudian"

Dat is y since my teenage years, everytym i wanted sumtin i wud save up on my daily pocket money & finally buy e tings dat i wanted. sounds pathetic to u? well atlez i dun trouble my parents for e tings i need. i do werk hard for it.

Wen i started werkin back in 2004 & started earnin my own money, i still didnt used to spend on myself. half of my pae wud owaes go to payin bill, hp bill dat is. well wt do u expect, teenagers back den luv to sms rmb? haha. n it seems my fingers were very hardworking back den, per mth my sms wud go up to 600-900. yes dat much, crazy huh!

Apart from paying the bills, e rest of my pae wud usualy go to my parents & daily expense. e few is wat's left for shopping. so yeah, even up til werkin i didnt really njoyed spendin. it never was e, 'i want it i get it'

Later i got closed to hubby family, n i tel u, FIL luv to spent on me previously. everytym i went out wif dem he wud owaes sae,

"zura nk ape amek je k, tkmo malu"

But i guez coz of e wae i was brought up, e 'u wan sumtin earn for it' which my dad used to said, made me not used to how FIL was treatin me. i wazen used to juz gettin wt i want. it was juz awkward. even up til now wenever we go out wif PIL n dey told me to juz get wt i want, i wud decline. i was & am stil shy.

Wen me & hubby 1st got married, i must admit, we were quite hard up den. furthermore der was a period ware i wazen werkin & hubby was bringin home only $800 den. stil we pull thru every mth wifout any help. der was even once wen lil' boi was onli 5 mths old, hubby suddenly quited his job coz of a misunderstandin dat occured at werk, n i was juz werkin part tym earnin $500-600 mthly den. sumhow or rather, we did survived, wif lil help from MIL every now & den.

Later hubby got himself a job & i also started werkin full tym den so tingz started to get better. slowly, we c ourselves gettin more stable financially. n todae, Alhamdulilah, we are quite stable. i wun sae very stable, we wun noe wt wil happen tomoro, next mth, next yr. but atlez, our savings is starting to grow n we can now simply buy wat we wan. of coz, derz a limit to dat.

Overall, i juz tink itz all abt self-disipline. dat is y, i realli owe it to my dad for raising me wif such disipline. i so agree wif his saying, susa dulu senang kemudian. n juz fyi, me & hubby is totaly oposite of each oder ok! im so used to e 'earn to get wat u wan' while he is more of e 'i want it i get it'. haha. but well now dat we r both on our own, we sure do discipline ourself. n of coz, im e financial controller in e family. wat do u expect?

*smile*

Monday, February 9, 2009 11:55 AM



The past weekend was by far e most borin weekend ever. ive expected it to b sucky since on fri itself, e dae was ruined for me. wun elaborate more on dat. niwae, dat fri i knocked off from werk onli at 830pm. was super shagged, cabbed back home wif grace & reached at 9pm. i was havin a terrible headache den, hubby did asked me out but for e 1st tym eva, i said no. was juz too tired. e plan to mit fira also went down e drain. bleargh.

I dun have to sae much abt sat i guez since ive blogged abt it earlier. on sun, hubby was supposed to werk but he gave his shift to his fren since he wazen filin well. im not sure wat's wrong with him but lately he's been havin endless headaches & frequent fever. hmmm. juz hope itz notin serious.

Niwae on sun mrn i accompanied mama to e market together wif lil' boi. as usual, will take e bus to e market & walked back home. good exercise huh. haha. back home helped mama wif e cookin & by 1pm me & lil' boi went off e slip since we were both up at 830am. we actuali slept all e wae til 5pm, super syiok. even so, our slip was actuali disturbed by hubby, else i tink we cud have slept longer. ish. hubby was askin us along to expo coz derz sum Nike fair goin on i guez. but i was still tired & besides e fair was ending at 6pm so i told hubby to go ahead wif his bro.

He came back at ard 7pm & e rest of e nyt was juz spent watchin tv & playing ps3 with him. haha. by 11pluz i put lil' boi to slip, iron e clothes & i went off to lala land myself. diz mrn almoz cuden wake up, super tired la. well juz hope e week wil go fine for me. til e next update, toodles!


Saturday, February 7, 2009 11:46 PM



Todae is sat yet i woke up as early as 7pluz. datz bcoz i received missed calls & msgs from my colleagues. tried to get back to slip afta dat but i juz cant. from 7pluz til 9pluz i juz tido2 ayam. so iritatin. by 930am i forced myself up since lil' boi was also up by den. bathed him, gave him breakfast & i did e laundry. by 11pluz woke hubby up since we need to bring lil' boi to his class at 1pm.

Went to have a quick lunch at serangoon before rushin to pungol. lil' boi was all xcited for his class. n unlike last week, todae as soon as e class start he was co-operatin. good2. kip it up lil' boi!

Ended at 230pm & we den headed down to east coast as planned. i actuali wanted to try roller blading but too bad upon reaching, e weather wazen on our side. it started drizzlin, bummer. we den drove down to siglap road instead since hubby wana have gelare. tk abes2. i actuali watched him eat as i wana diet. k mcm paham i noe. kwang3

By 5pm we were oredi otw back home since mama wanted to go adam road for dinner. me & lil' boi tagged along leaving hubby at hm since he's havin a headache. i ate e worst nasi goreng ever, reali terible i tel u. i didnt even managed to finished half of it. wuek!

Reached home juz laze ard watched dvd & suddenly, hubby took out e vacuum & started cleanin e room. takde angin takde ribut terus kemas bilek. funny ting is, he didnt even told me to. datz y i said dat man of mine very funny. dtg die nye rajin, rajin abez! bliv it anot, he cleaned e room from 730pm - 11pm. yes dat long! good job hubby! hehh

My eyes is droopy now, i better get to bed now. pixies wil b uploaded in e next entry aitt. njoy e weekend lovelies!

Thursday, February 5, 2009 9:50 AM


Yest while i was otw back home hubby called sayin aya was askin us along to JB wif his frens for supper. initially i didnt wana go coz i noe for sure we gona b home late & im werkin e next dae. but den again, itz not owaes we go JB for supper so i agreed immediately. waited for aya to reached home, got changed & we finally went out at 9pluz. headed to woodlands 1st to mit aya frens der, dey arrived only at 1015pm. -__-

After getting in to JB, we headed to Pandan City (if im not wrong) to buy dvds & lotsa chocolates. haha! hubby bought 12 dvds in total, seow! he's reali 1 dvd freak lor! i wanted to grab Bride Wars but e guy told me itz not clear. i guez we'll juz catch it at e movies 1 of e dae.

Niwae after buyin e stuff aya's fren den brought us to diz makan place, i dun remember ware exactly. all i noe is dat itz near New York hotel. anyone noe ware? e food damn nice la. lil' boi was engrossed eatin his otak-otak. haha. cam paham onli, after every 2 bites kip askin for water coz itz hot. LOL! oh btw, aya's fren dotter reali gagah i tel u. she's onli 9 yrs old but e wae she eat scary la oK! can u imagine, 1st she shared a plate of maggie goreng wif her mum, later she ate a burger. next she shared a plate of nasi ayam penyet wif her dad. fuuuyoohh! n funny ting is, she is verryyyyyyyyyyyyyy skinny lor! haha. very cute la she, im sure she wil b 1 pretty lady wen she grow up. =)

We finally left JB at 1am. a good ting it wazen jam at all, smooth journey all e wae back hm. as usual, lil' boi slept otw back home. as for me, i was forcing myself to slip actuali coz hubby & aya was listenin to misteri jam 12. bingettttt je. aku nie dala penakot, dgr kuat2 plak tu. grrr. we finally reached home at ard 145am. super shagged i tel u. quickly washed up & off to bed.

Diz mrn i woke up late. i freaked out wen i saw a msg from my partner sayin he's on MC. rushed lyk a mad dog & no choice gotta cabbed to werk. lucky my other colleague helped to open up e centre. i reached at 845am, realli gotta cut down on my lateness la. self-discipline from now on, yes i can do it! haha ok cam paham.

Gtg now, til e next update. 1 more dae to e weekend. weeeeeeeee~


Wednesday, February 4, 2009 2:39 PM



Have u ever wonder how long are we gonna live in diz world? will we live to c our children get married? will we even live to c our grand-children??

Life is so unpredictable. we will never noe wen we or e person we luv gona leave diz world. they could b healthy & strong 1 day but gone e next. just tinking abt it is scary, wt more e person going thru it? i dare not imagine. though i noe, each & every one of us will have to go thru diz phase 1 dae, however itz not lyk we are given a sign ryt. dat is y i sae, life is scary.

To yaya & awi, do be strong for the family. u guys will need each oder support. Insyallah, everytin will b juz fine.

To everyone out der, pls do treasure e ppl ard u. u reali wil never noe wen wil b e last tym u'll c each oder. life is short, do not hate. instead, learn to luv.

Lot of luv,
Zura.

Tuesday, February 3, 2009 4:08 PM



I take back my werds, im nw satisfied wif my layout after putting dat pic at e top. earlier i was havin trouble wif dat hence i said i wazen satisfied. hehe. n also sorry my frens to dissapoint u but i did had my hair cut earlier! yes i gatal i noe, but itz my hair lor. i noe wt im doin dun worry. hair can grow, i'll try mek sure diz wil b e last tym i cut it ok? *zura lying*

hahahahaha.

wana have a sneak preview of it? here goes......................................


k da siket2 je, kate sneak preview. for clearer view, pls cum n c me in person. LOL!!
--------------------edited @ 10:04 PM--------------------

Ok im finally done editing this new layout which to be honest, im not satisfied. haha. but nvm, gona use diz for now. basically i juz wan sumting simple wif of coz, black & pink. n diz is e simplest i can get so far. i'll edit further wen im not lazy.

Aniwaes, im kinda stress ryt now. wana noe y? coz i dono if i shud cut my hair short!! ok here's e deal, i do wan short hair coz to me, it suits me better & besides itz easier to maintain. fyi, im not someone who can take care of her hair well, dat i admit. i very bochap wan. so ya, wif long hair, itz gettin reali messy for me! ive managed to persuade hubby agreeing to me cuttin my hair short. now e prob is, im juz afraid i will regret wen i cut it later. told u i very fickled minded one....how ah??!

On a totally diff note, weather hasn't been so good diz past few daes. cant b e rainy season is back ryt? itz onli feb lei. hopefully it wun rain todae, i very lazy lor wana go home take train. bleargh.

Notin much to sae now, wil update again wen i fil lyk it. toodles!

Monday, February 2, 2009 11:35 PM



Here are e leftovers pics taken last sat from fira's cam. njoyzzz!


4:36 PM



A short convo wif hubby earlier;

Me: Hello by, buat pe?

Him: Biase la kt pungol tgh werk

Me: U call back nari?

Him: Tak ah.. i kasi org.. mlz ah nk buat.. penat...

Me: Pemalas kan u nie.. abeh amek i tk?

Him: Huh.. oh tk ah, i mungkin kene standby ah nari


HAHAHA!! Kurang asam kn u by..tanak amek suda.. bluek!

Sumhow, diz is what meks me luv u more.. ur sense of humour... luv u la bacen!

2:01 PM



Hola ppl! Im back for updates, but wil be updating only on e weekend aitt. Well, weekend was indeed well spent wif family & frens. On sat our dae started as early as 1030am. I had actually booked a trial class for Lil' boi at Tumbletots for the literacy programme. We were supposed to be der at 1030am but since we went out at 1030am itself, i den called to informed them that we'll come for the afternoon session instead. Mama & adeq tagged along derfore while waiting for the afternoon class to start, we went to City Plaza first since mama & hubby wana dine at Arnold's. been a while since we last dine in der, yum2!

After eating we sent mama & adeq back home since mama wazen filin well. by den it was oredi 12pluz derfore after sending dem we made our wae to Pungol Plaza. reached juz on tym & so both me & hubby accompanied lil' boi thruout e class. it's actuali a 1.5hrs session, lil' boi was initially very quiet & didnt wana co-operate. well cant blame him, all diz while he's been mixing wif adults wat! haha. however after 15mins or so, he finally loosen up & started responding well. reali proud of him, very fast learner. after e class me & hubby finally decided to enrolled him in, made e payment & off we go.

We headed down to downtown east next for lil' boi to njoy himself at Kids Explorer. jgn ckp anak, mak & bapak die skali njoy! hahaha. we spent abt an hr pluz in der before havin desserts at Gelare. we had no plan in mind after dat & hubby suggested for us to laze ard at ecp. called fira & lyn to asked dem along but lyn cuden mek it. fira agreed & so told her to get ready & mit us at tamp. while waiting for her e 3 of us went to pasir ris park to take sum fresh air. it was realy windy sia, super syiok. we sat one corner laffin, camwhorin & joking ard, reali luv dat moment. lil' boi lyk lone ranger stand one corner luk at e sea. cam paham tu budak. haha.

We were der til 6pluz & dat alfera was stil at home. chet! i told hubby y not we go sembawang park instead & he agreed derfore i told fira we'll pick her up instead. n so off we went to woodland to pick e "princess" up & grab sum food at Mac before mekin our wae to sembawang park. i was expectin it to be quiet but turn out to be packed since der's a family bbq goin on der. we stayed for abt half an hr playing e swings whcih lil' boi was luvin so much afterwhich we left to proceed to the nearby hdb park instead. all of us were lyk small kids can, playin wif e slides & all. haha. terselah kebudakan maseng2. kwang3.

By 9pluz we were all tired & not sure ware to go next derfore i suggested for us to laze ard at fira's crib instead. she agreed & so we went to buy rojak near her place & back to her crib. only her mum was ard. bathe lil' boi & all of us were den sitted in front of e tv watching Anak Halal. lil' boi fell aslip hafwae thru e movie. e show ended closed to 1am & so we called it a dae & decided to head back home. reached home ard 130am & both me n hubby dozed off almoz immediately!




(my cam died on me ryt after i snapped diz pic! n so e rest of e pics were taken using fira's cam but she haven send them to me. grrr. wil upload it once i get it)

--------------------------------------------------------------------------------

On sun hubby was werkin e mrn shift. after he left for werk i cont slipin wif lil' boi & gues wat tym we woke up? 12pm sia! i panicked coz i had promised to mit yana & nana at sk at 1pm. quickly rushed & went out at 1pluz. by e tym we met it was 2pm, oh well, janji melayu rmb? =P

We dine in at pizza hut afterwhich we went to our old place ware we used to lived. seems so quiet now. i reali2 missed doz daes, ware we wud laze ard under e void deck almoz every dae. playing hide & seek, catching wif e boys, haha. fun2 moments. but well, all doz r meant to b kept as memories. what important is dat we r stil here together, after 8 yrs. ily babes! =)

We went our separate waes at 5pm, me & lil' boi went home strait since hubby was oredi back from werk. back at hm did e house chores before e 3 of us went down for a short while to accompany lil' boi at e playground. by 6pluz we went back home, had dinner & juz laze ard watched tv. niwae lil' boi was very kesian la laz nyt. he had a fall & was cryin so bad. later he was laying on top of me, stil cryin & mins later, he fell aslip, ter-sedu2. kesian kn! i tink he's juz tired la since he didnt had his afternoon nap.

Me & hubby den cont watchin tv til 12am before turnin in. diz mrn hubby sent me to werk, hopefully he wil fetch me as well. haha. wokey now, dat's realli 1 long entry huh. njoy e pixies!!