The Lady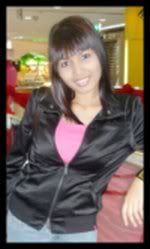 ♥Zura is the name♥
♥22-Dec-1987♥
♥A Wife & A Mummy♥


Her Love Ones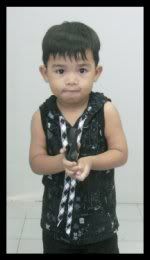 ♥Muhd Aniq Nufael♥
♥Born on 23/06/06♥
♥Son whom she loves dearly♥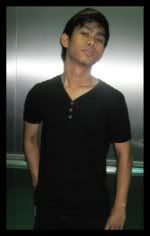 ♥Muhd Adam Firdaus♥
♥Blissfully married on 15/09/05♥
♥Hubby whom she is devoted to♥


Speak, don't bark.
Her Daily Reads
Tuesday, June 8, 2010 11:26 AM
"Life is never easy, we cant expect it to be smooth sailing thruout. Shits are bound to happen & we just gotta accept it with open arms. And I believe, once u managed to overcome 1 hurdle, e next 1 coming shouldnt be much of a problem for u. Most importantly, be calm & hopefully, you will find e route to happiness."
Thursday, May 27, 2010 5:45 PM
I've locked my tagboard for the moment becoz there's been too0o0o many tags on the online spree & all. VERY IRRITATING OK! So to all those blogshop owners pls, when I've finally unlock my tagboard (hopefully soon!) pls stop tagging me all ur websites watsoever. If I want to shop online, I'll look for blogshops myself. THANK U VERY NICE!

Meanwhile, have a super great long weekend lovelies! =)

Tuesday, May 18, 2010 5:15 PM



Last weekend I did sumting which I've always wanted to try for so long, GMAX! I've been asking ard for ppl to accompany me since hubby didnt wana take e ride & finally, Syfa said she's been wanting to try as well! Niceeeeee. N so we went last Sat. E moment we reached & I saw how it's done, I had goosebumps all over. Hahaha. It sure look damn scary lor! But e more Im scared, e more I wana try. Hahaha.

E ride lasted for only 1 min but heck, for that 60seconds I shouted like nobody's business! My face, priceless. LOL! It was indeed scary n no, I wont try it agn for e 2nd tym. Haha. BUT, I do wana try e other ride, the GX-5 Extreme Swing. That sure looks scary as well! Soon soon, for sure. =)

Anyway, that nyt I finally watched IP Man with hubby, syfa & jimi, her bf who's also my cousin. Haha. The show damn nice la! I likeeeeeee. Very inspiring as well. Esp the last part where he said, "Everyone has diff status in life, but we all have e same dignity." Yaaa something like that la. I dont mind watching agn for e 2nd tym, but DVD la. Haha.




On Sundae went to JB with Yaya & Awie for seafood. Ive been craving for crabs since idk when & since my fren recommended a restaurant in JB that's nice & cheap, we decided to give it a try. N walah, it was superb indeed! Me & yaya concentrate on the crab e most. Haha. For 8 dishes which we ordered, its only 192RM. Damn cheap ryt! For sure will go agn, mayb with my parents & in-laws soon.

So that's basically how I spent my weekend. N this weekend will definitely be damn fun! Wana noe y? Stay tune! =)


Thursday, May 6, 2010 12:30 PM
Wow.. Its already May now, how fast! Just like last yr, this yr seems to be passing by very fast as well! Which is a good ting of coz. I cant wait for 2013 to quickly come. That's when dreams will start to become reality. Insyallah. =)

Anywae, I've been enjoyin life so far. Been goin out with e loved ones almost every weekend. Ya I noe, I very e tk-tau-dudok-rumah want. But hey, I work 5 days a week, I dun usually go out on weekdays except to go for dinner so I dont tink it's wrong for me to go out weekends ryt. So ya, many events had happened & lots more to come. Cant wait for this mth end, next mth & sept event! Wahhh syiok2... Let's just hope nothing gets in e wae!

On a random note, I'll b takin a car license instead of bike as mentioned before. Reason? Well lets just say my hubby is very worried. So ya, I don wana end up worrying him everydae when I have a bike later on. Therefore, car license it shall be. Besides, hubby is plannin to get a car of our own (e current car is shared between him & his dad) so yeah, hopefully I'll pass ASAP so can start to drive ard! Ok my imagination is running wild agn. HAHAHA!

My Lil' boi is, as usual, hyper as ever. Oh wait, it should b getting more hyper now! Pffft~ Everyone is askin y he's gettin thinner now. Pls eh, not dat Im not feeding him well. He eats alot but he plays ard alot as well thus e reason y. School wise, he seems to b doin good. Well they arent doin much in sch now anywae, just learnin nursery rhymes & alphabets. And oh, he's learnin chinese as well. Even have chinese homework ok! This part I seriously not very happy abt it. I mean, they give out chinese homework but I know nuts abt e characters so whenever Im teachin Lil' boi & he asked me abt it, I cant ans! Imagine wat he will tink of me? Sheesh.

The weekend is almost here once agn. Ape lagi, time to enjoy ah! Hahahaha. Aitt now, gona leave u guys with some random pics of previous events. So as usual, do stay tune for my next update which i-dono-when. LOL!

[Anna's dotter cukur rambot]

[Hubby's colleague wedding @ JB]
[Widyasari performance @ Japanese Garden]
[Gatherin @ Ritz Carlton]
[Karaoke with loved ones @ Ming Arcade]
[Prayers cum family gatherin - Hubby's paternal side]
Saturday, May 1, 2010 2:35 AM
Proper update real soon, promise!
Friday, April 23, 2010 4:03 PM
HAPPY 3 YEARS 10 MONTHS BABY!

2 more months before u turn 4. FOUR lei!! So freakin fast! I haven had enuf of u yet. Dun grow up too fast can......... =(

Monday, April 12, 2010 4:09 PM
My weekend was a blast! Mainly becoz I get to spent it my e loved ones. F&N outin planned by Fiqah since a month back. Votes on Ice Skating or WWW & finally decided on e 1st one. Kallang Leisure Park was our meet up point. 1st tym for some of them thus e excitement. My 1st fall ever which was damn hilarious. LOL!

Next up went to arcade. All kids in us unleashed but heck we had a great tym in there! Ended with an empty stomach for us all therefore off to Simpang Bedok for dinner. I guess our table was e noisiest, thnx to e guys for making endless jokes. Overall, we had a great tym yesterday. Its purely quality tym spent with much love. =)